Barre HIIT Workout (you can do anywhere)
All you need for this barre HIIT workout is a wall. 😉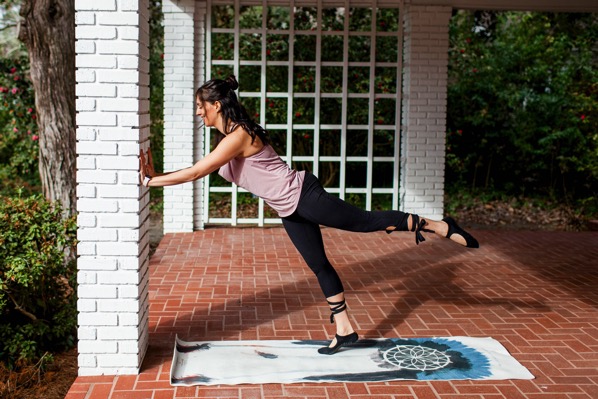 Hey hey friends. How's the morning going? Did you watch The Bachelor last night? I'm the worst ever and Googled for spoilers a couple of weeks ago, and I was still pacing around the living room with my glass of Syrah and my jaw on the floor. Let's chat about it in the comments! (SPOILERS will prob be in there – if you haven't watched yet, just don't click over to the comments.)
Barre HIIT Workout
For today, let's talk about barre! It's one of my all-time favorite workouts because I love how versatile it is. It's always so hard no matter what. I've been doing barre since before Liv was born (so prob 7 years now?) and it never feels easier. It always lights my quads on fire in the best way possible.
Here's a little workout I put together that you can do anywhere! It's a combo of traditional barre exercises and HIIT for an awesome burn and sweat. Please let me know if you give it a try.
Here's what the workout looks like!


Form cues and tips:
Curtsy lunge with knee raise – Start with one leg forward, and toes angled out 45 degrees. Step your other foot totally back behind the front, so that your foot is behind the opposite shoulder. Sink low into a curtsy lunge, them as you exhale, lift the back leg, bending the knee as you lift it in front of you in a knee raise, toe pointed down. Make sure that you take a nice big step back and to the side for your curtsy lunge.
Triceps push-up with leg up – Knees or toes, with hips in line with your spine and core tight. Lift one leg off the floor, keeping the hips parallel. Keep your elbows close to your body as you lower down, and avoid letting them go above your torso. Exhale to rise.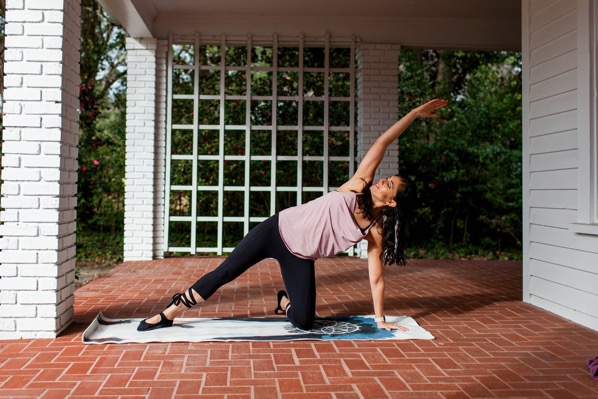 Oblique crunch leg extension – Kneel with one leg extended. Exhale to bend your knee up to meet your elbow. Straighten back out to repeat.
Barre burpees – Sit into your low pile squat and bring both hands to the floor, firmly planting your entire hand. Walk or hop back to a plank position (push-up here optional), walk or hop your feet back to a plie squat, and jump vertically, raising your arms overhead.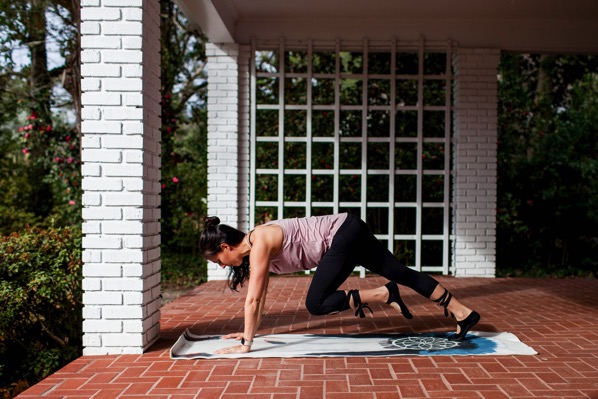 Mountain climbers – Get in plank position with your wrists under your shoulders. Bring one knee towards the elbow on the same side. Move back to plank and switch to the opposite side. For more of a challenge, move as quickly as possible.
Plie squat to lunge combo – For this squat variation, you'll take a SUPER wide stance and turn your toes out. As you sink down, keep your chest lifted and endeavor to get your thighs parallel to the floor. Make sure your knees extend towards your toes but not past them. Stay low and rotate to one side until you're in a lunge position. Return to the plie squat and complete all reps on one side before switching to the opposite side.
Lunge leg lift – For your lunge setup, make sure your feet are hip distance apart, and think about sinking down instead of forward as you lunge. Watch the front knee to make sure it doesn't extend past your toes. When you lift up to come to standing and lift the back leg up behind you, then set it down and repeat.
Walkng pushups – Start on your knees or toes, with hands wide and knuckles pressing into the floor. Keep your hips down as you perform your pushup, exhaling on the way up. Walk your hands and feet to the side and perform another pushup. Walk to the same side again, perform a pushup, then walk back the other direction and repeat.
Barre friends: what's your favorite studio? What should we watch now that The Bachelor is over? Or even better: any awesome books you're reading right now? I'm looking for something new to check out when I finish "Crushing It!"
xo
Gina
Wearing: Fabletics top, Willow Bloom pants
Photos: Lindsay Colson