Hair routine + fave products for healthy hair
Hey hey! Happy Tuesday! How's your week going? I hope it's been a good one so far!
We're having the best time being back in San Diego. I feel like we jumped back into our old life, minus any real chores (wahoo!), and minus P having severe reflux (YASSS). Needless to say, it's been positively wonderful. We're spending a lot of time catching up with friends and eating all.the.things. I'll have a recap up soon!
For today, I thought we could chat about hair. I've been asked to share some of my favorite hair products + the latest hair routine and thought it would be a fun kinda different post. My hair has been through so many crazy stages over the past six years. From luxurious pregnancy hair, to postpartum shredding + regrowth (the lovely Frankenstein baby bangs), changes in texture (my hair got super wavy after I had P! We joke that it's because the reflux and everything stressed me out that much) and environment (beach air, dry desert air, and swampy humidity), and getting rid of anesthesia from my system 3 times (<— which can make you shed and your hair do funky things).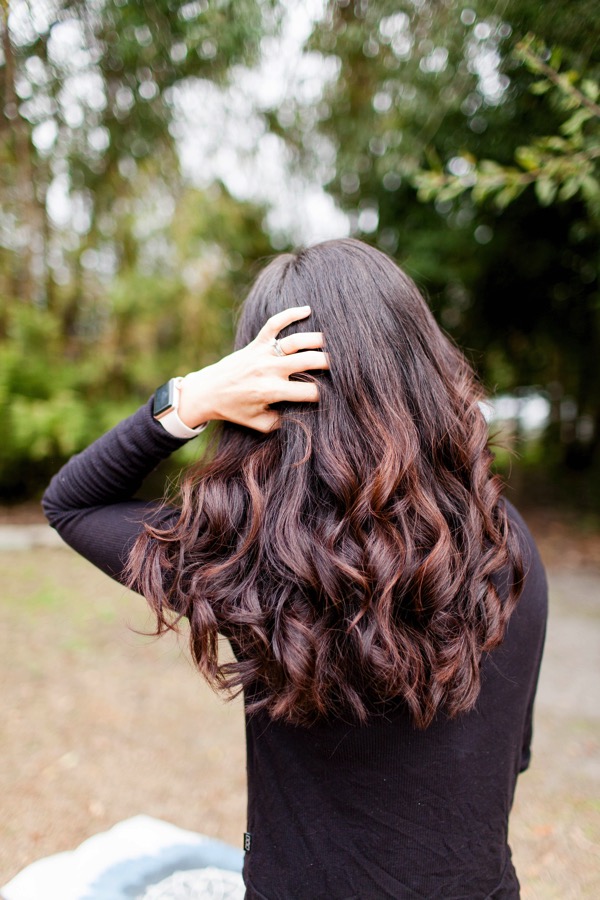 Just this past year, I've noticed that my hair is actually growing! I feel like I'd hit a growth slump, and would often have to get a trim merely because the ends were shaggy; never because it was "too long." Just this past summer, I noticed my hair was growing like crazy. While I've been working hard to take care of it, I also think that getting my implants out and decreasing the inflammation in my body has made a positive impact.
Here are some of the things I do to keep my hair healthy:
-Supplement. I take Garden of Life prenatal vitamins every day. I'm not pregnant, nor do I plan to be ever again, but a doctor once recommended taking a prenatal no matter what.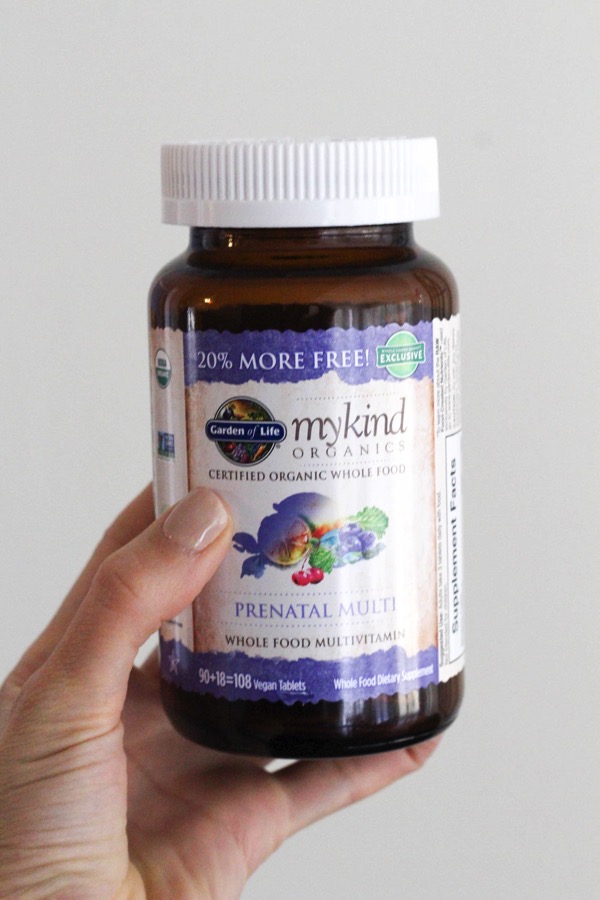 I also have a scoop of collagen either in my [decaf] cup of coffee or smoothie.
Collagen has been hyped up for a long time, but it wasn't until I took it on a regular basis that I noticed a difference. My skin looks smoother, and my hair and nails are noticeable stronger. It doesn't taste like anything, so it's easy to add into hot or cold drinks. You can check out more about collagen and why I love it in this post.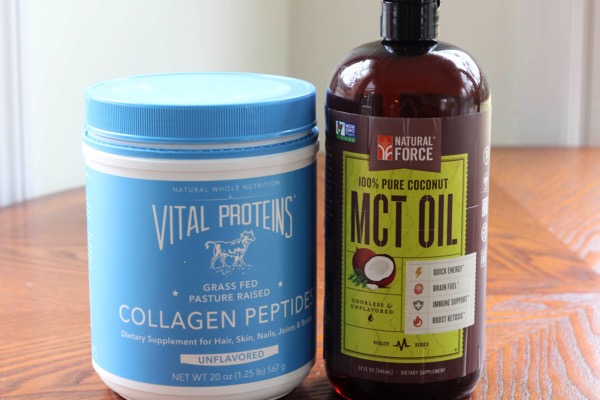 I also take MCT oil (usually in my smoothie or coffee) for a quick dose of healthy fat. You get the the huge bottle at Thrive Market.
-Watch the heat! This one is hard for me because I like showers that literally burn my skin. When I take a super hot shower, I bring the temp down to wash my hair. My mom is a hair stylist and has always told me to rinse my hair with cold water because it closes the hair follicle and makes it more shiny. I've actually started listening to this advice. 😉 I just turn the water to ice cold before I get out of the shower and lean my head back so the freezing ice water doesn't touch my body.
When I know I'm going to heat-style my hair, either with a blowdryer or styling wand, I pick 1 thing to use for heat styling. So, if I'm going to round-brush it with a blowdryer, that's it. If I know I'm going to curl it, I let it air dry first, so I'm not doubling up on hot tools.
-Get regular trims. This one is tricky with the kiddos, but I've noticed a difference in my ends since I started getting regular trims this summer. Before, I'd go anywhere from 3-6 months without cutting my hair. Now, I'm trying to go every 8 weeks or so. It's common for me to leave the salon with wet hair – it takes so long to dry it – so I can pick up the girls on time. Also, when my mom visits, she'll often give us haircuts when she's here. It's the best ever.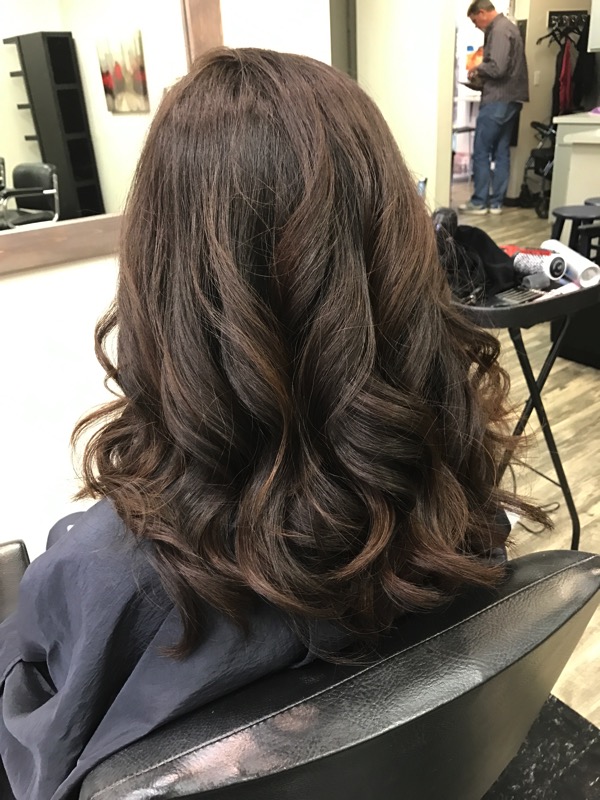 -Don't wash it a lot. I wash it 2-3x a week max. If I need to take a shower because I taught a sweaty class, I'll rinse my hair with water and just put conditioner or do a mask on the ends. I think shampoo can be really abrasive and drying, and if you shampoo every day, it can make things crispy fast.
While I don't wash my hair a ton, thankfully my hair doesn't get too greasy – it will get a little dandruff snow if it's been a while – but dry shampoo comes to the rescue. I've tried SO MANY, but this one and this one top the list.

Favorite hair products:
-Moroccan oil: I've been using this for years, and it's the best ever. I've tried the light and really like it but prefer the heavier oil. We've also been using it on the girls since they've had hair. 😉 We never have to use detangler on their super long hair because Moroccan oil does the trick.
-Hair mask. This is my #1 favorite hair product. It makes SUCH a huge difference in the texture of my hair! My stylist in San Diego first recommended the Kerastase mask to me (the one in the pink jar), and I couldn't believe how smooth and silky it made my hair. It was pricey but well worth it. Since then, I've tried a few different ones and really like the Loreal silicone-free. The only bummer about good hair masks is that you have to get them from a licensed salon for the most part. I'd hop into one (especially if you have a local salon with Kerastase products) and see what they recommend for your hair.
-Heat protectant. This is another huge one. I love the Drybar Hot Toddy and the Kerastase Discipline.
-Hairdryer, styling wand, and Revlon styler. I use the Revlon styler after my hair is about 80% dry if I want straight smooth hair. I'll finish it off with the Drybar round brush and my regular hairdryer. When I want waves, I'll let it air dry and fix the crazy pieces with this styling wand.
So, tell me friends: what's your hair routine like? What are some of your fave products? A friend of mine swears by using apple cider vinegar instead of shampoo, but I'm scared to try it.
Any crazy hair stories?
I have two:
-When I was little, I would cut off chunks of my hair and hide them in my toy box. My mom quickly noticed what I was doing.
-My friend wanted me to dye her hair blonde in high school. I didn't know you had to bleach it first, so I just covered her hair in blonde dye. The roots were the only thing that took the color, so she looked like she was wearing a bald cap with hair sticking out. She cried, and I felt like the worst friend ever. Thankfully, madre fixed it.
Have a great day and I'll see ya soon!
xo