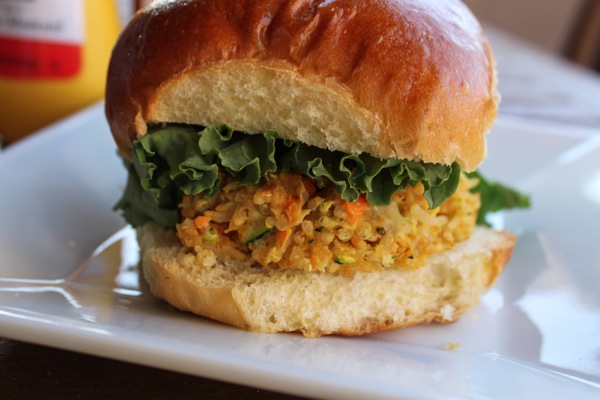 I always think it's so weird to write about eating and eating habits. Part of me can't help but think that it's silly that I think anyone should care about how I choose to feed myself, but at the same time, I feel like it's important to be transparent with my readers, especially when things change.
For quite a while now, I've been eating everything.
Not beef or pork -I haven't had those as a staple in my diet since I was about 7 years old- but there's been gluten, cow's dairy, candy, fried and beer in my life.
It's been pretty awesome.
So you're probably wondering what the heck happened to my gluten and dairy sensitivities? I still have them, but they were never huge issues -I'm fortunate to be sensitive to them instead of full-blown intolerant- and I still find that if I have too much dairy or gluten my digestive system and skin start to freak out. It still bothers me physically, but I can handle the reaction.
To be totally real, I just don't care that much anymore.
Since having Liv, I've developed a serious "ain't nobody got time for that" attitude as far as food goes, and getting a meal on the table is a feat that I'm proud of. If people make or give me food and there's no pork or beef: I eat it. Last week, nana brought over a dozen bagels. I had a white jalapeño bagel with a smear of goat cream cheese and it was freaking amazing.
The main reason I initially cut most gluten out of my diet was because my naturopath said that it interferes with ovulation and that my test results indicated that I was sensitive to it. Since I really wanted to get pregnant, I was happy to cut it out since it made my stomach hurt and I usually felt bloated after eating it. I did everything my doc told me to do because I really wanted to have a baby, which included taking boatloads of nasty and expensive supplements. Now that I have the little love of my life, and have no plans to get pregnant again for a while, I figured some gluten here and there is NBD. The same goes with dairy. I don't have it very often, but sometimes I want a cheese enchilada or some gelato… and I eat it.
My eating habits have changed so much since I started the blog, and I've changed a lot too. I like to think (hope?) that I've grown up a lot on the blog -it's been almost 5 years!- and things that used to matter so much… well, they just don't anymore. After I lost the initial 40 lbs, I continued to educate myself on health and fitness, and while I know in my heart that I had the best intentions and wanted to be as healthy as possible, some of the things I used to do make me give myself the side eye. With all of the things I learned about health, I started removing more and more from my daily life. I didn't feel deprived since I had so many other things to choose from, and if you go without something for long enough, you don't miss it anymore. I don't miss eating donuts every morning before school, but I did miss my mom's enchiladas. As they say, hindsight is 20/20.
I've never claimed to be perfect, and I'm sure we all have things we wish we could change about ourselves. I wish I could have started the blog immediately knowing what works for me as far as fitness goes, but it's been a long journey, and I'm grateful to all of you who have been on the ride with me. Along with all of the recipes and workouts I share on the blog, it's also been a form of online diary with an incredible community behind it. When I first started blogging, I really got into food, which I think came from the trend of taking photos of every single morsel that went into my mouth. Since I stopped posting all of my meals a few years ago, it's been freeing to not think about food all the time.
I often feel the pressures as a blogger to be "all or nothing," but in my life there are so many grey areas. I'm a stay-at-home mom, a work-from-home mom, a work-away-from-home mom, I used breastmilk and formula, cloth diapers and disposables (but mostly disposables), I have goals pulling me all over the place… the list goes on and on. With all of the grey areas, and everything I have going on, I think I've finally found what health and balance mean to me.
I want Liv to have a healthy relationship with food. I encourage her to try and eat anything she wants, and everyday endeavor to set a good example for her.
I won't be a mom who's afraid of having ice cream or cake with her daughter.
I want her to see a woman who's confident, works hard, fuels her body with nourishing foods for her body and soul, but most importantly, one who loves her family more than life.
Thank you for following along with me through all of the craziness, the grey areas, and the eating changes. Nothing will change about the blog from here on out, but I just thought it was worth mentioning, in case you see me have a beer or something 🙂
Love to you all <3