Helloooooo 😀 Hope you're having a great morning! Loved all of your comments to Mara's pizza guest post… just wished I lived a little closer to her so I could take the leftovers off her hands 😉
Last night, after errands/work/packing all day, we met up with some friends at Bleu Pub for dinner.
The Pilot and I split a blurry Greek salad: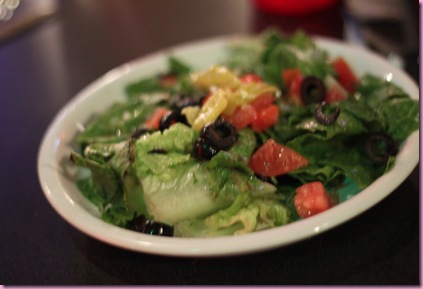 and for my entree, I chose the vegan black bean burger with no bun (my fave!) + the best restaurant sweet potato fries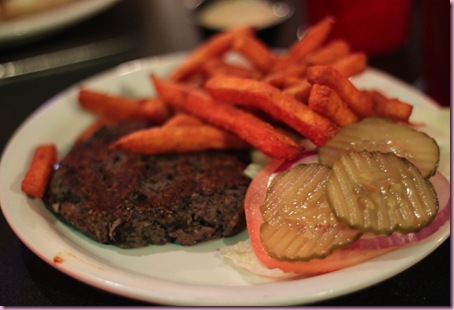 The Pilot had the "Dirty Bird" which is a beef burger, topped with bacon and a over easy egg.
It was as big as his face 😀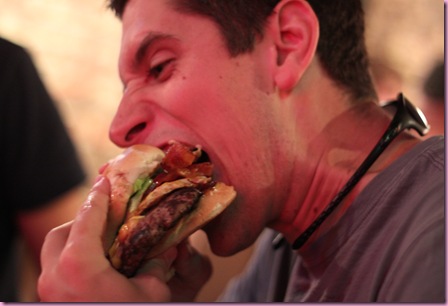 That's a ferocious burger face right there 🙂
We came back to the casa, chilled with the puppers and called it a night <3
This morning, I'm about to do the workout thang and then will most likely make some b-fast cookie dough cereal.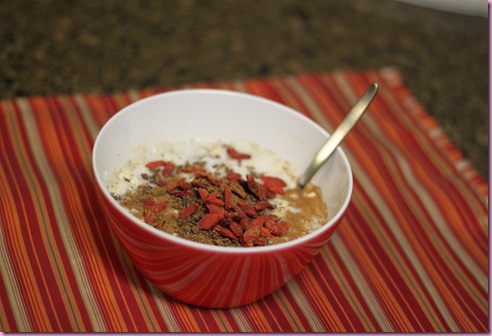 I'm pretty stoked because SunFoods, the makers of quite a few of my favorite superfoods that you see on the bloggy, generously offered to do a fun goji berry promo for those of you who have been wanting to try them, or those who need to replenish their stash. 
Sunfoods supplies incredible goji berries. By far the plumpest and most delicious ones I've tried, and I've been around the goji berry block a few times 😉
From their website:
Sunfood's Organic Goji Berries grow in protected Chinese valleys in million-year-old soil in wild and cultivated areas. The plants grow like bushes with vines that reach over 15 feet. The berries are never touched by hand as they will oxidize and turn black if touched while fresh. They are shaken onto mats, then dried in the shade.
Our Organic Goji Berries are a deep-red, dried fruit about the same size as a raisin. The Goji berry tastes somewhat like a cross between a cranberry and a cherry.
Out of the 8,000 food-herbs in the systems of Traditional Chinese Medicine and the thousands of years of history that back it, Goji Berries are considered the number one food-herb. They have the number one ranking.
Goji berries are an antioxidant POWERHOUSE – the little guys also contain vitamin A and are used to treat diabetes, high blood pressure and age-related eye problems
They taste great, too 😀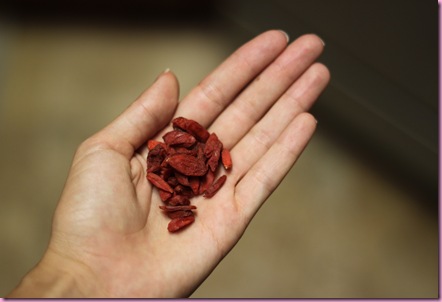 The promo is $15 for 8 oz and you get a free Raw Food Community tote bag. There are only 50 available and they'll go fast. *Click here* to get your goji on 😉
Off to SWEAT! What's your workout of choice today??
See ya later this afternoon <3
xoxo
Gina
Something to think:
"The shortest way to do many things is to do only one thing at a time."
Richard Cech
Upcoming:
Goofy moving pics 🙂
Zumba video (it's taken a little longer to upload since our internet has been wonky, but I'm going to try and go to Starbucks and get it on the bloggy)