Family: stickers for days
A couple of days ago, we brought back something that I'd been hesitant to implement: the good ol' behavior chart. (We had tried it in the past with stickers, but didn't really keep track of them because after a couple of days Liv lost interest.) It just feels weird to me to track behavior? I don't know. It's not even a store-bought or fancy one. It's one that I scrawled out on a piece of scrapbooking paper and gave her some crayons to decorate. It was past 10pm on a weeknight, and I was looking for anything that might bring some positive results to the latest parenting *thing* we're experiencing.
Don't pin this. haha.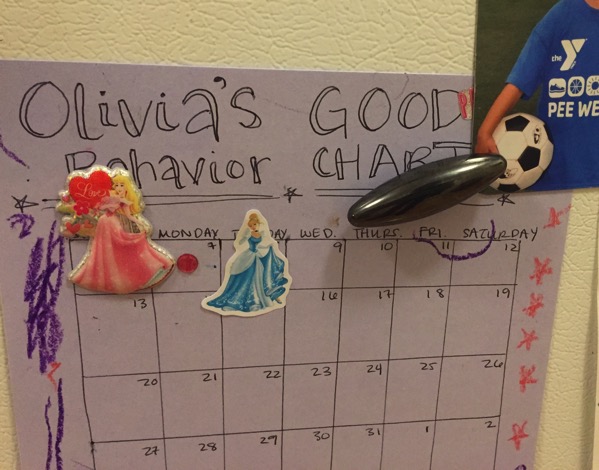 I've learned that parenting is all stages. You move through a challenging stage, get the hang out it, and then switch gears to the next thing. It definitely keeps you on your toes. 😉
I've kind of alluded to this on the main page of the blog, but we're still going through some transitional challenges after P's birth. I've been talking with my friends about it, and Betsy had a great point: during the height of P's reflux, my own medical issues (and constant doctors' appointments between the two of us), Liv handled it all like a champ. Sure, there were some initial growing pains (especially when we first brought P home and P was crying/vomiting nonstop), but for the most part, Liv has gone through the transition exceptionally well. Now that things have stabilized a bit with P's reflux under control, my surgery scheduled, and life easing into our new normal routine (for now), I think it's all starting to set in. We're having bit of a challenging time.
It all really started while I was pregnant. Liv started waking up in the middle of the night and crawling into bed with us. I understood because I used to do the same thing when I was little. I didn't want to wake up my parents, so I'd sleep in the laundry basket at the foot of their bed. I just wanted to be close to them. When Liv started doing the same thing, and crawling into our bed, I savored every second, because I knew myself that things would be changing (and the guilt of going from one baby to two is REAL). As I got more pregnant, enormous, and uncomfortable, something had to change. So, we got Liv her own cot and put it in our room next to our bed. We told Liv she's welcome to come into our room at any time and sleep in the cot.
Then, the middle-of-the-night tantrums started. Sometimes they're about big things (like being scared or needing to use the bathroom) and other times, they're about losing a toy.. which happens to be on the pillow next to her. The tantrums also started happening during the day, and nothing has worked to help them. I've tried everything: acknowledging her feelings, hugging it out, taking a time out with her (to breathe and calm down then discuss what happened. This used to work really well, and doesn't anymore), taking toys/TV away, positive reinforcement when she doesn't throw tantrums, the list goes on and on. Also, 99% of the time, the tantrums occur while P is sleeping, so then I have two screaming babies on my hands haha. Thankfully, the tantrums are just for Tom and myself, because at school and ballet, she's a great listener for her teachers, kind to her friends, and fantastic for our babysitter.
At first, I was frustrated, especially because I love sleep so much and P was sleeping through the night. But, I remembered:
While she's so big, Liv is still a baby.
It must be hard to be four, dealing with an entire dynamic change, magnified by a new family member who currently has a lot of needs. Her tantrums are her way of getting our attention. In the middle of the night when P's sleeping, it's just her, and us.
So Tom and I talked a lot about it, and came up with a game plan:
1) Behavior chart. Every night that she goes to sleep without a tantrum and doesn't cry when she comes into our room during the night, she gets a sticker. After a certain amount of stickers, she gets a new toy. Her huge milestone (20 stickers) is a day at Legoland, which she's been begging to visit.
2) Carve out special time with Liv, especially when she comes home from school. It can be something like playing dollies or Playdoh, a walk around the neighborhood, or something fun before I start dinner. Once a week, Tom or myself will take Liv on a special Liv-only date. This one is really important for me, because while I have both kiddos during the week, I very rarely get time with just Liv.
3) Continue to be direct without blaming or becoming emotionally attached to the tantrums. When she throws a tantrum, I have no reason to be sad or offended by it, because it's not personal. Before, I was really letting them affect me. It made me feel like I was failing as a mom, and also broke my heart because she'd cry so much. Now, I'm trying to remain objective, try to determine what sets her off, and show her as much love as I can.
I'd love to hear any insight you have, or things that helped your own family. I've also heard that the fours can be rough in general. My mom said I drove her up the wall until I was 5, and then I was magically normal again. 😉
xoxo
Gina