Bodyrock is another one of my major workout loves. It's an extremely effective low-cost workout solution –the videos are posted for free and you need minimal equipment- and I think it's what helped me bust through my own workout plateau.
Before I got pregnant, I felt STRONG and my bodyfat was the lowest it's been in a while. I totally attribute this to a balance of my favorite workouts: Zumba, Turbofire and Bodyrock.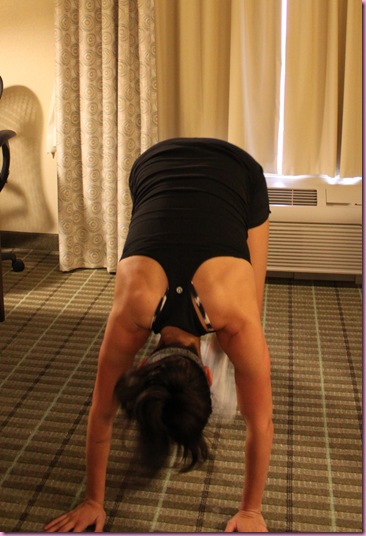 I first stumbled upon Bodyrock quite a while ago (maybe last year?) when I Googled for a HIIT workout. Zuzuna came up on the screen, and I thought that there was no way she worked out for a few minutes –I had no idea you needed to repeat the moves and time yourself on your own- and look the way she did.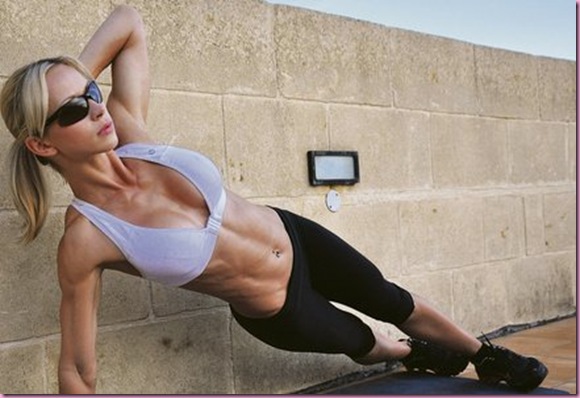 [When I was explaining Bodyrock to the Pilot, I was like, "This girl doesn't look real. She looks like a video game character. And the workouts are HARD. It's crazy"]
She actually does do the workouts, offers fantastic clean eating advice and is so refreshingly *real*. She has a totally down-to-earth and laid back personality (not mean or judge-y in the least).
What is it:
A home workout program, utilizing interval training, your own body weight and plyometric moves. In each video, Zuzana will go over each exercise for the set (along with modifications), and below the video is a breakdown on how to split the workout up. Usually you'll repeat it, or go over certain parts more than once, and time yourself using an interval timer.
What to expect:
-To be a little confused at first. Definitely watch the entire video before giving the workout a whirl, because it will help you understand the order and breakdown. Write down the exercise order on a small piece of paper, along with the times or rounds you're supposed to complete to have close by.
-To SWEAT. The workouts are short, but extremely effective. If you're pushing yourself, you'll get an awesome workout. I'm not sure what the calorie burn is, since I never wore my heart rate monitor during a workout, but I was maxed out and the afterburn for interval training is much higher, too.
What to wear:
-Whatever the heck you want- it's your house 😉 I prefer shorts, a tank and supportive sneakers for jumping.
Pros:
-The workouts are SHORT. 20 minutes-ish and that's it. It's perfect if you don't have a lot of time to workout or for transportation to and from the gym.
-Minimal equipment. All you need for the workouts is your own body + a few extras: interval timer (can use the one on your computer for free), jump rope, dip station (I never bought this and would just do a modified exercise instead), sandbag (can make your own with a duffel bag filled with bags of rice) and a pull-up bar (I would use the assisted pull-up machine or lat pulldown at the gym instead). For this reason, you can do the workouts pretty much anywhere. I've busted out quite a few hotel Bodyrock workouts 🙂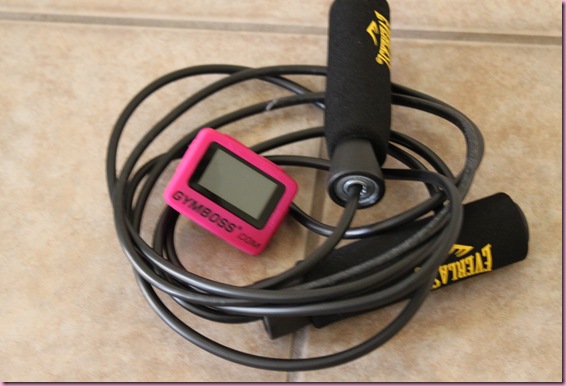 -Bonus nutritional information + community atmosphere. Zuzana often posts eating goal videos and the site is filled with enthusiastic "Bodyrockers" cheering each other on and posting recipes. It's fun to go through and read the comments.
Cons:
-You have to motivate yourself. No one is there to watch you, push you or correct form (another bummer). It's important to pay attention to your form to prevent injury- go for quality over quantity. The best ways for me to motivate myself for Bodyrock is to blast a Pandora station at home (like "Muse" or "30 Seconds to Mars") and git it, or to do the workouts at the gym. People will stare, but they get over it. Bonus: you feel hardcore 🙂
-Almost all of the workouts I've tried are set up a similar way: interval training and heart rate sky high. For this reason, I don't recommend doing Bodyrock everyday. Your heart is a very important muscle and needs rest, just like our other muscle groups. There's no reason to work it to its limit every.single.day. I prefer alternating Bodyrock days with steady state cardio.
Have you tried Bodyrock or any online workout videos before? What's your fave?
Here's some more info for ya, if you're interested: