I tried SH'BAM…
and I liked it.
Is it weird that the reason I'd been holding off is because the name kind of turned me away? I thought it sounded like wizard aerobics, and in my head, I say it way more enthusiastically than probably intended (SH'BAAAAAAAM!!!!!!). I pictured myself dancing around to mystical music in genie pants or a long cloak.
[Obviously] It's not like that at all.
I told you guys I've been having a lot of fun with Les Mills On Demand, and have been excited to check out some new formats. BODYPUMP and BODYATTACK are my faves for now, and when I saw that SH'BAM was offered, I figured it could give it a whirl in the safety of home, and turn it off if I didn't like it. I ended up doing the whole 30-minute workout, and had a lot of fun.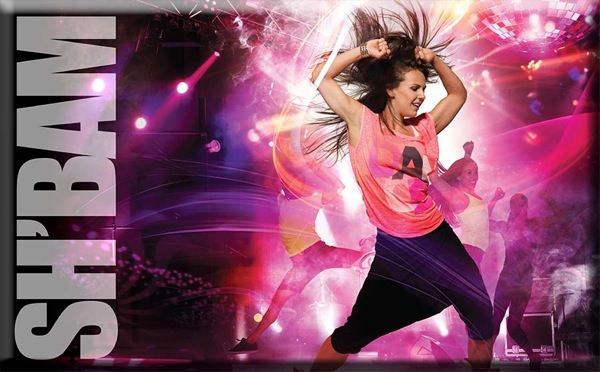 Here's some more info about SH'BAM:
From the website:
A fun-loving, insanely addictive dance workout. SH'BAM™ is an ego-free zone – no dance experience required. All you need is a playful attitude and a cheeky smile so forget being a wallflower – even if you walk in thinking you can't, you'll walk out knowing you can!
SH'BAM is available as a either a 45 or 30-minute workout.
What to expect:
To move the entire time. The instructors don't really break down the steps during the class (even though there is the option to watch a video that will demonstrate everything for you before you begin). They provide simple cues so you follow along as well as you can.
This particular workout combines a few different dance styles: there was more traditional jazz-type moves (chasse ball change, anyone?), some hip hop, Latin, fitness, and Broadway. There were also some light jumping movements, with the option to keep it low-impact if you prefer.
The sizzler for release #20:
Pros:
Dance cardio is one of my very favorite types of workouts because it doesn't feel like *work*. It's just fun! If you're moving, you're burning calories. I feel like these types of fun workouts can encourage everyone to get in activity, regardless of dance or fitness background, and that is amazing.
The instructors had great energy, and I feel like they made the workout feel very approachable.
The moves are simple and repeat themselves for each part of the music. Similar to Zumba, if you do something during the verse, chances are that you'll do it again for the next verse. The movements would build, with the option to progress if you would like. For example, they'd start with a simple walk and then add the option to turn instead of walk.
Each song is short (about 3 minutes), so if you aren't in love with a song, you know it will be changing quickly.
Cons:
Too,much.instructor.karaoke. Don't get me wrong because I LOVE Les Mills and know they use the song lyrics for motivation, buuuut I feel like sometimes this goes a little too far, and it becomes instructor karaoke. Since the instructors in SH'BAM don't cue the moves the entire time -they mostly hype up the crowd and dance- they sing or speak the lyrics a lot, at least in the On Demand version.
I wasn't particularly blown away by anything. For the On Demand version, we did the previous release (19, while 20 is what current classes are teaching). I liked the variety of songs, and some of the moves were pretty sassy (like partsin "Womanizer" and "Black Widow"). There wasn't anything that made me say YESSSSSS or want to watch/do it again until I got it right. This happened every.time I went to Dance Trance in Orlando. I couldn't wait to learn the choreography because it was so sassy, involved the perfect amount of techniquel, and FUN. I didn't quite get the same magic from this workout, but I think I'd have to take a live class to fully assess.
Have you tried SH'BAM? Dance cardio: yay or nay?
After my last Focus On post, so many of you told me to try Jazzercise. I found a class close by and am hoping to give it a whirl this weekend. 🙂
Have a great night!
xoxo
Gina
More Focus On posts: