Focus On: Bootcamp Workouts
Hey everyone! Happy Wednesday! Hope the week is smooth sailing from now on 🙂
For this week's Focus On post, I thought it would be fun to do one of my favorite workouts to teach: bootcamp.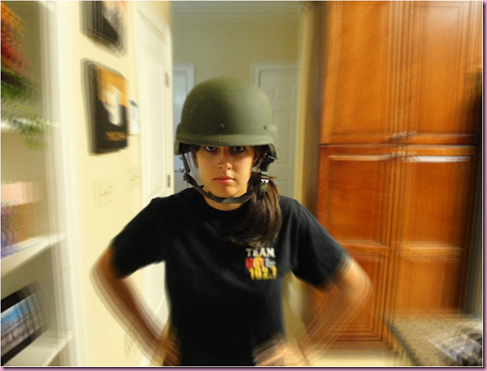 The great thing about bootcamp classes is that they're always different, so you're constantly utilizing different muscles and switching things up. It really depends on who's teaching the class and what their format is, but here's what you can *usually* expect from a bootcamp-style fitness class.
What to expect: To get your booty kicked. Some teachers take the whole *drill sergeant* thing a little far and use whistles and the like, and other instructors (this is how I teach it) just instruct and yell like they would in any other class. These classes are based on a series of drills, which can focus on muscular endurance, calisthenics and plyometrics. Some classes may use dumbbells or resistance bands, but will consist of mostly bodyweight exercises. Even though the *meat* of the workout is unknown, you can depend on having a safe warm up and cool down as the bread of your class.
Here are some of the exercises you might experience in one of your local bootcamp classes:
1) Plyometric drills: Fast, powerful and functional movements. These can help to improve athletic performance and the functioning of the nervous system. The goal of plyo movements are to create a very strong muscle contraction in a short amount of time, and the movements consist of a quick lengthening phase followed by a resting phase. In bootcamp classes, these movements can be used to spike up the heart rate so that you're burning more calories during the strength exercises.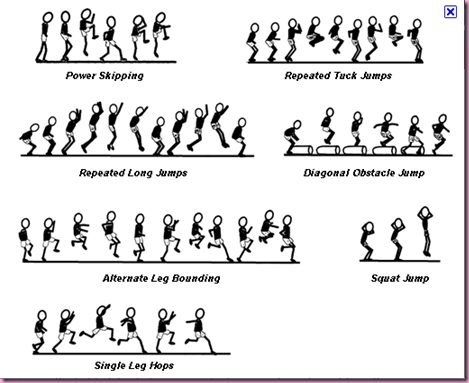 Source
Other examples:
-Tuck jumps
-Box jumps
-Plyo push-ups
-Jumping lunges
-Burpees
2) The basics: Standard calisthenics that you've most likely seen before. These exercises can benefit muscular and cardiovascular fitness, and will consist of quite a few reps or sets during a class.
-Lunges
-Squats
-Calf raises
-Dips
-Jumping jacks
-Push-ups
-Sit ups
-Crunches
-Flutter kicks
3) Props. Your instructor may use different props for class, including dumbbells, resistance bands, an agility ladder, medicine balls, or even hurdles.
4) Intervals or timed stations. There could be different stations set up, and you can rotate through each station during class. Along with the rising popularity of Tabata intervals, I've noticed that many instructors are using this technique in their classes, so you can also expect to be timed for intervals, like 10 seconds rest, 20 seconds on, repeating 8 times for 4 minutes total.
What to wear: Whatever you're comfortable in, but make sure you have good supportive sneakers for jumping, running and lateral movement. My favorite is a pair of shorts, tank, headband (to keep sweaty bangs out of my eyes) and sneakers.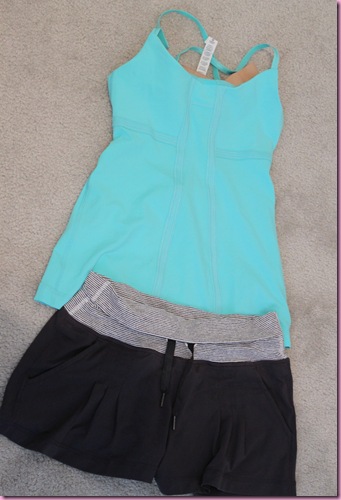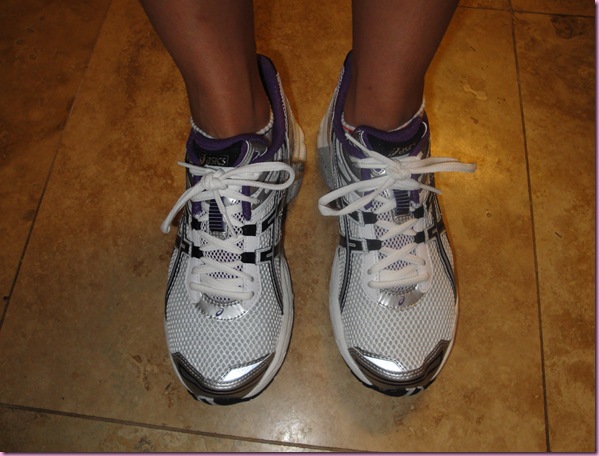 Pros:
-Variety. Changes are that class will be different every time, so as I always say: change creates change. This is a very good thing.
-Strength and cardio rolled into one workout! Fitness efficiency at its best.
-Group fitness energy and motivation. There is something so exciting and motivating about taking an intense class in a group setting.
Cons:
-As with any group fitness class, the instructor and music make the class. If you don't like your instructor (or he/she plays lame-o music), find another class.
-Make sure your instructor is correcting form and ensuring the exercises are done properly. Because of the nature of bootcamp class, it would be easy for someone to get injured if they're not executing proper form.
-Not being sure how to combine this type of workout with a regular weight training and cardio schedule. Since it includes strength work –often to fatigue- I would recommend taking active rest, or only doing cardio on consecutive days with bootcamp-style classes.
For example:
Monday: Active rest
Tuesday: Bootcamp
Wednesday: Cardio
Thursday: Weight training/ light cardio
and so on.
Have you taken a bootcamp class before? What's your favorite plyometric exercise?
More Focus On posts: