First date with a chiropractor
Yesterday was my first time seeing a chiropractor, since I've never had a need or desire to before, and for all of the reasons I discussed in this post. I was a little nervous about it, but was glad Tom could go with me… he always makes me feel a little braver. This chiropractor was highly recommended by our Bradley instructor- she works with pregnant women and babies every day, and promised not to hurt me or the baby.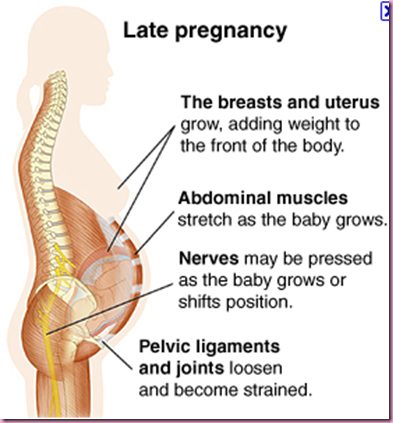 Source
We filled out paperwork and talked to her for a while, and one of my major sources of comfort with medical professionals is when they take the time to thoroughly answer questions. She thinks the reason why the baby may have flipped could have to do with my hips, pelvis and round ligament- all of which were extremely tight. Lately, while my back has been in sporadic pain (mostly at night and in the morning), my stomach has also felt uncomfortably hard and tight throughout the day.
She adjusted my back, which to my surprise didn't hurt at all- all of my mental images of chiropractors involve body-slamming. Just some slight movements, and she had a comfy belly-rester thing for me to lay in. No crazy popping or cracking, but I could definitely feel that it was making a difference. She showed Tom the difference in my hips, which I know have been out of whack for quite a while. When I used to get massages from my friend Ashley in Valdosta, she'd always tell me "your hips are out. I'd go see a chiropractor." Of course, I never went.
After she worked on my back, she rubbed the round ligament on the lower front part of my belly. When she first started touching it, I could feel how insanely tight it was and how it could have prevented the baby from turning back into place. It was really like a massage more than anything, and when she was done it felt much looser. Also, the appearance of my belly changed shape.
This week, while everything has been tight and the little baby has been flipped over, the belly has taken on a very wide and round appearance. Leading up to labor, bellies usually look more egg-shaped as the baby descends into the pelvis- my round ligament and tight pelvis were keeping this from happening. She said that she wants an update after tomorrow's midwife appointment, and it may take a couple of sessions or she could not flip at all, but that she's had very good success with things like this in the past. When I left the appointment, I felt like I had just taken a yoga class, minus the yoga. Slightly sore (but not in a bad way), very loose and relaxed. The baby moved and kicked as usual throughout the night, and I hope she was happy from the endorphins and extra room to move around.
Today, my belly looks entirely different and as far as the pain factor goes… I feel so better than I have been. My hips aren't hurting, my back is sore from being adjusted but not in pain, and my belly is lower and not as rock hard. I'm going to skip Zumba today since I don't want to shake everything around that she just adjusted, and can't wait to see what the midwife says tomorrow. Who knows? Maybe little baby flipped throughout the night.
The good news is that whether she's flipped or not, I'm a lot more comfortable. I'm grateful for that as the finish line draws near… 🙂
If you've never seen a chiropractor before, and don't have a need to, don't. As I mentioned before, some people swear by them, others aren't fans, but it's up to us to educate ourselves and determine what's best for our bodies <3 If you're going to see a chiropractor for the first time, make sure that he/she is highly recommended from someone you trust.
Something to read: Tips and workouts for a strong and safe pregnancy