Last night, I did something I haven't done in 5 weeks: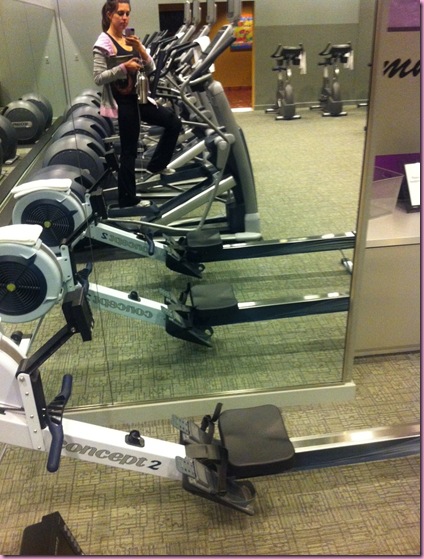 went to the gym! It felt so good to be back.
I was cleared to workout again on Monday, but didn't quite feel energized enough for a gym workout until last night. The Pilot was home, Liv had a full belly, so I went to the gym at work for a short cardio and strength session. I ended up staying on the elliptical for 40 minutes reading a magazine and skipping the strength, because it felt so good to shake my legs out.
Steady state cardio always gives me a chance to clear my mind a little, and just solidified something that I already knew: I'm not going to walk/run the half marathon in March. As much as I would like to, the timeline is too short and even though I feel much better, I'm still not quite ready to jump into a half training plan, even one that includes walking. I haven't ran long distances in quite a while (I'm more of a sprint/HIIT kinda girl) and lets be real, a half marathon is long enough when you run the entire thing.. walking, and having it take longer to finish, sounds kind of terrible.
The major reason why I set that goal for myself was that it gave me something to look forward to when I was recovered. When you're healing and missing out on the things you enjoy, having things to look forward to can speed up the healing process, or if anything, give you something to be excited about. The funny thing is, why did I pick running? Why not a Zumbathon or 30 days of yoga or something that I actually do on a regular basis? Oh yeah, because sleep deprivation be a tricky little beast 😉 I would like to get back into fun running as time goes on, and maybe set a more realistic half marathon goal, like one in the fall.
When I set that goal for myself, I knew it was a little far-fetched, but that's the fun thing about goals: they're supposed to stretch your boundaries a little. If goals were always attainable, they wouldn't be goals- it would be a to-do list.
One of the mistakes I've recently made has been comparing myself and my recovery to friends and even blog friends who seemed to get back into things so quickly. Just goes to show that everyone's body is different, whether you had a baby, are coming back from an injury or just getting started with fitness.
Lesson of the story: set your goals high, but let your body be your guide and don't be afraid to shift or change things as necessary. Looking back at some of the goals I've set for myself, many seem absolutely ridiculous now, but others managed to change into accomplishments and opportunities.