Veteran's Day Half Marathon Recap
First postpartum half marathon: done!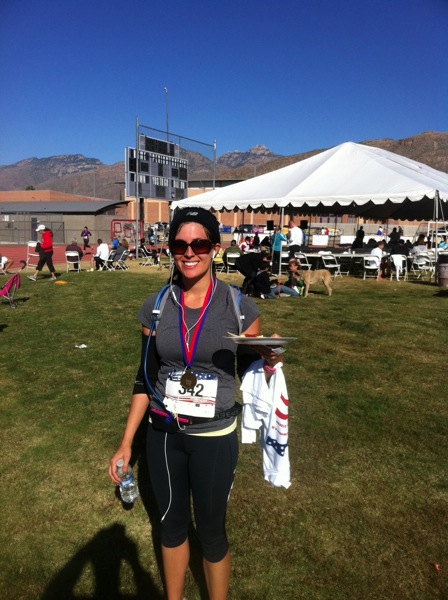 It was a little bit of a last-minute decision to sign up, but I'm really glad that I went out there and did it. I have a goal winter half that I've been training for, and one of my friends suggested running the one this morning as a "practice" for the distance, with just enough time to forget how much it sucked and taper before my goal race.
"But what if I get there and I want to RACE?"
"Then picture me, running past you at the mile 8 medic station while you're crying or throwing up."
"Or both. Simultaneously."
"Exactly."
I told myself that I'd go out there with the goal to finish, run most of it, and to give myself an idea of how the next half will go.
Lovely weather for a race, right?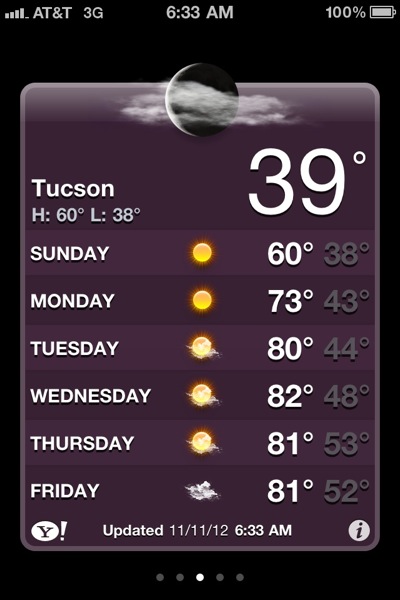 (I know it's much colder other places, but I'm a weenie)
YIKES.
Tucson suddenly got the "it's winter now" memo, decided to skip fall entirely and catapult into the freezing range. I didn't have any winter running gear (besides my ear cover headband thingy) and didn't want to make the mistake of dressing too warmly (which I always do), so with the help of the girl at Fleet Feet, picked up some arm sleeves that came with gloves – easy to remove without dealing with reattaching a number bib- and new running tights.
Last night, I laid out all of my race stuff, filled the Camelbak and put it in the fridge, made an eclectic playlist,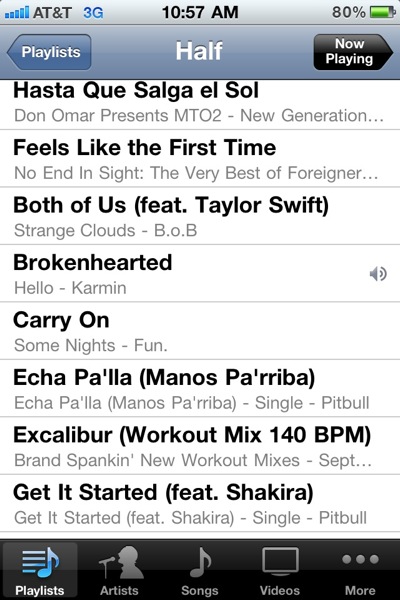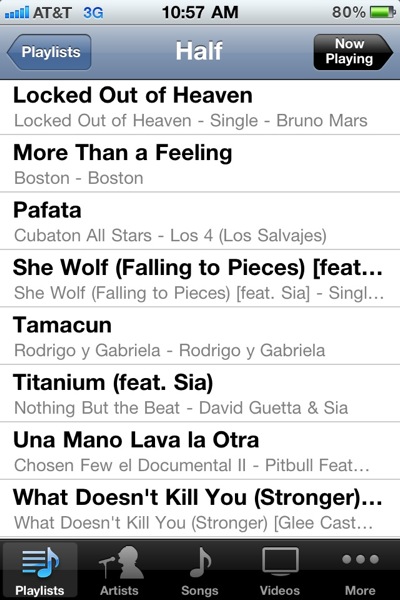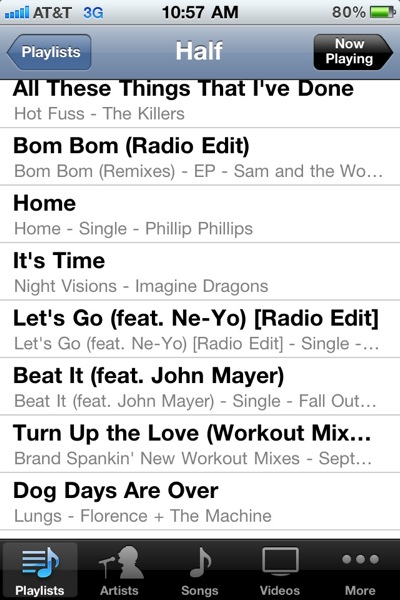 and woke up nice and early to head down to Sabino High School (my rival high school! Cougars for the win).
So how'd it go?
It was awesomely terrible and triumphant.
For the first portion of the race, I picked a comfortable pace and was so stoked to see how much EASIER it felt than my training runs at Sabino Canyon. Most of my distance runs have been at a steep incline, so the flat course felt like a dream. That is, until I got to mile 10, where I hit my wall.
My playlist ran out, I started doing the walk-run combo since my not-so-fresh legs started to feel heavy (teaching 4 classes yesterday did me no favors, but that's entirely my fault), and the girl who was my "rabbit" the entire race also started to walk.
I started to give myself a mental pep talk. It's times like this when cliches -while they can be soooooo lame- can be really helpful.
"You can't have light without darkness."
"You can't have happiness without sadness."
"You can't have triumph without challenge."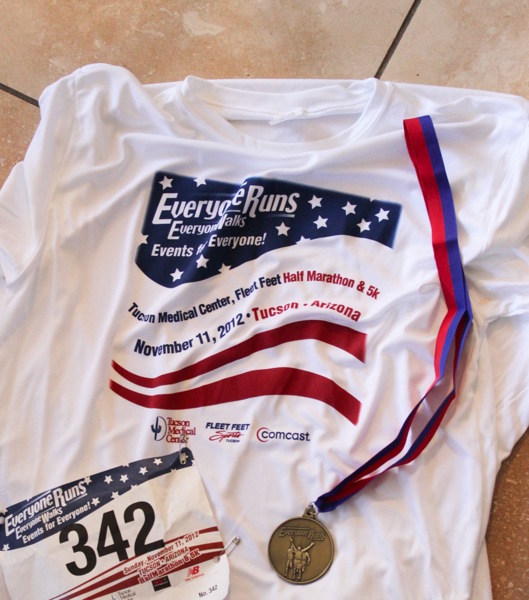 And then of course, there's the necessary cliche of comparing my race experience to labor.
I have an interesting habit of internalizing certain memories, making sure to soak every possible detail in, because I know I might need them at a later time. Like when I nuzzle my head down to smell Liv's hair each time I put her down for a nap, reaching over to rub the Pilot's back and reminding myself that he's here now, only to know that he would be deployed a week later, and a certain point in labor when I was pushed to my max and frightened, and I thought to myself about my next big race.
At that point in time, I was draped over a hospital bed seriously thinking that I was going to die. To distract myself, I thought about what my next big race would be like. I was thinking that I'd probably pick a half marathon and that Liv would be almost a year old (is the time really here? Insane….) and that she'd be waiting for me, either at home or the finish line. The pain I was going through was temporary, and that the reward of having a healthy baby girl would be more than worth a little bit of hard work. For my next race, I would need to remind myself of the moments where I really was challenged to the extreme, be thankful for my family, the ability to run, and push through.
So that's exactly what I did.
Around mile 12, I reached into the Spibelt, re-started my playlist, then sprinted to the finish line.
Final Garmin time: 1:59.
When I finished, I felt pretty good. My legs and hip flexors were tight, but I didn't feel like I pushed too hard (thanks to the walking). We'll talk again when I have to go up and down the stairs all day tomorrow 😉
After crossing the finish line, I got my medal and tech tee, chugged a bottle of water and was greeted by a legit post-race breakfast: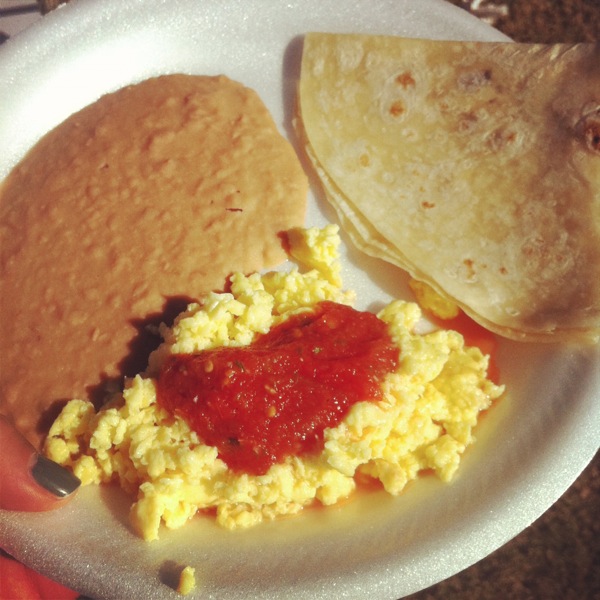 beans, tortillas, eggs and salsa.
They also had smoothies, bananas, peanut butter sandwiches, music and freebies. I ate my food, caught up with a few friends who also ran and headed home,where my sweet baby girl, husband and Bell were waiting for me <3
I'm excited for my official return to racing, and for my upcoming winter half. Word on the street is that a certain Pilot is running it, too.
Hope you have a very happy Sunday!
xoxo
Gina
What's your current workout mantra? Any new power songs I should add to my next playlist??