For the half marathon I didn't run.
I'm supposed to be finishing the race as this post goes up, but instead, I'm at home drinking coffee after a nice night of sleep. I'll never know if I would have crossed the finish line triumphantly, because in my mind, I pictured myself hobbling to a medical tent and not even finishing.
As you guys know, I fell down the stairs in our house almost four weeks ago. It was awful, but it could have been a LOT worse. I was sore -kind of felt like I was in rear-ender car accident- and my hips, legs and knee are still on the mends. As I was falling, I was trying to break the fall with my right heel and in the process threw my hips out and tweaked something in my knee.
I feel fine teaching and doing everything else I used to do, but for now, running doesn't feel the same. After a few miles, my knee starts to hurt -feels like it's tight and stuck in a weird way- and I've had a rough time finishing long runs ever since the fall. I'm taking some time off running to let it completely heal. I haven't been to a doc yet, but I also haven't fully rested it yet, and that's usually the first step they tell you to do. I'm going to try running again in a couple of weeks (which will be three full weeks with no running), and if it feels the same, I'll get it checked out. Military medical care is awesome, but there are a lot steps involved to get care from a specialist. Since it hasn't bothered me for my other activities and everyday life, I figured I'd wait it out for a while longer and go from there.
With any other half marathon, I would have just canceled it, looking forward to the next one, but this race was a little different. I was being sponsored by Women's Running Series, and that's a huge reason why I invested so much time into adequate training. I wanted to do really well! I was worried when I told them about my injury -feeling like a failure even though I know it wasn't my fault- and offered to run another one of their races later in the winter or spring. Of course, they were extremely wonderful and understanding; it was a huge relief to know that they weren't disappointed.
I'm bummed that I wasn't able to run this morning, but I've gotten to the point where I know my body and its limits. We can impose mental obstacles on ourselves, and pushing through those can be a valuable skill, but at the same time, it's not worth pushing physical limitations or trying to do too much with an injury. I knew that running the race was a gamble, and one that could dramatically affect my ability to teach. I could feel it in my heart that racing was a bad idea.
The hashtag for Women's Running Series is #beamazing, and while that can come with the accomplished feeling of crushing a goal, being amazing also means honoring your body and its needs along the way. I'll miss running for a couple of weeks, and look forward to the next 10-miler I can do without pain. In the meantime, there's a variety of enjoyable activities I can do while I'm healing.
Here's the playlist for the race I didn't run: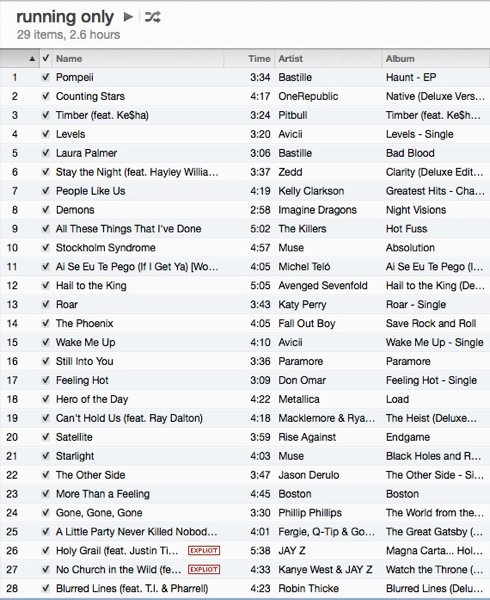 I guess I'll be doing a rocking' yoga flow to it for now 😉
Good luck to all of you with upcoming half marathons or fitness goals! Push yourself, but listen to your body. It usually tells us what it needs and wants– it's up to us to pay attention <3
Hope you have a wonderful day.
xo
Gina
This post is part of my partnership with Women's Running Series, a paid campaign through Fitfluential. Of course, all opinions are my own. I'm very thankful to WRS for the opportunity to work with them this year, even though I wasn't able to complete the end goal. To those of you who ran this morning, please let me know how it went!