Hey everyone! IT'S FRIDAY!!! Yahooooooo 🙂 Hope you have something fun planned for the weekend.
After yesterday's workout, I chugged this shake before taking a shower and heading back to train a client and teach.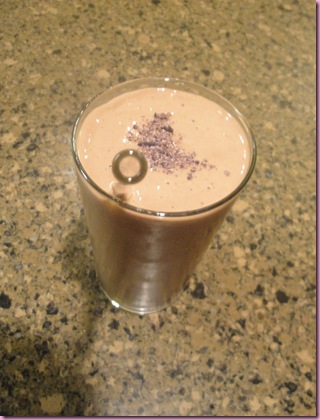 -1 C almond milk
-1/2 frozen banana
-1 scoop Sun Warrior
-1/2 T raw cacao powder
-1/2 T maca
-Stevia, vanilla and a pinch of sea salt
-a lil xanthan gum and ice
Slurped up with a Glass Dharma straw– they make smoothies so much fancier 🙂
Bootcamp was AWESOME, and then I met the girls at Two Friends Cafe for dinner.
Like last time, I asked if they would make me a salad with goat cheese and roasted veggies, with balsamic on the side.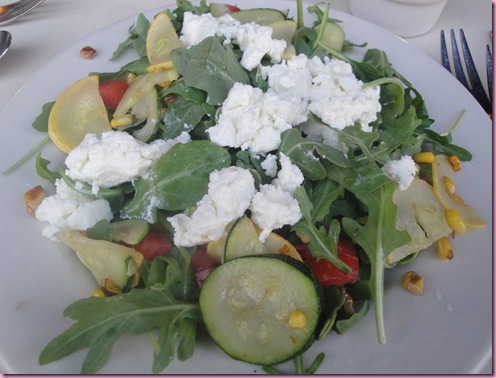 There's CORN on there! And I ate it. I hate corn, haha. Just give me greens and goat cheese and I'm a happy kid, every thing else is just a bonus 😉
I also ordered a side of grilled asparagus, which I chopped up and added it to the salad of justice.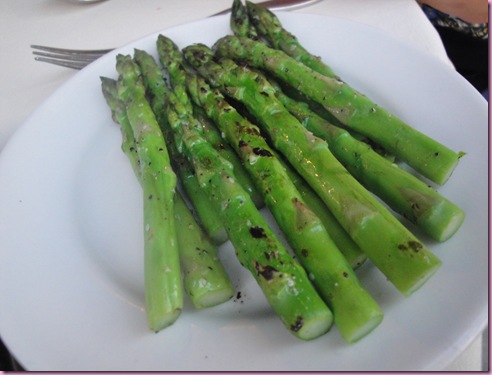 Total salad domination.
The food was glorious, the company was lovely and it was a good night 🙂
This morning, I'm off to teach early bootcamp and then going to get some iron pumping action in.
-1/2 C oats
-almond milk
-1/2 banana
-cacao nibs, goji berries and maca
-cinnamon
-1 hefty TB almond butter
I'm out like [raw] sauerkraut.
xoxo,
Gina
Thank you SO mucho to all of you who are spreading Summer Shape Up love! I'm so thrilled you like the program. Holler to my friend Trish who started Week 1 this week- she said it hurts to sneeze 😉
Something to talk about: Is there a vegetable that you DESPISE? I can't stand corn, really. The fact that I ate it last night is a huge milestone. Also, are you a worrier? I find myself worrying a lot lately about the oil spill. It breaks my heart into a thousand pieces. I always try to remind myself that worrying doesn't fix or change anything, but easier said than done, eh?