Guest post: Hungry Runner Girl
Hey guys! We're enjoying the California beach, seals, shopping and sunshine for a few days, so I invited some blogger friends to guest post while we're away. I'm taking lots of pics for a fun re-cap when we're back!
Summer Shape Up friends, don't forget to check in at the end of this post when you've finished workout 4 and/or your HIIT for the day. The July calendar can be found here, too. 
I'm really excited about today's guest post because while I've never had the chance to meet this girl, I've been lurking her blog forever (I'm not a very good commenter but there are a lot of blogs that I adore and read on a regular basis). I emailed Janae to step out of lurkdom and tell her I'm crazy about her blog, even though I was pretty sure she would think I was a random creeper 😉 I hope you enjoy her post and take the chance to check out her amazing blog <3 xoxo
_______________________________________________________________________________________________
If you are reading this blog you obviously love fitness (or delicious recipes and pictures of the cutest baby ever).  When it comes to exercise there are a lot of HIGHS and a lot of LOWS.  The highs are easy, we continue to exercise and we feel like we are the bomb.com. It is the during the lows where we struggle to keep positive about exercise and stick to it.
One of my all-time favorite quotes that can apply to fitness setbacks and how we have the choice to overcome them is by Martin Seligman:
"My definition of optimism is simply the belief that setbacks are normal and can be overcome by your own actions."
It is common to think that YOU are the only one that experiences fitness plateaus and setbacks but in reality we all struggle with these at different times throughout our training.  I wanted to talk about 3 of the fitness setbacks I have experienced and how I overcame them (hopefully you can help me out in the comments with more ways to overcome different fitness setbacks).
Setback #1:  Injuries.  I love running so stinking much but a lot of times it doesn't love me back.  I have had everything from Plantar Fasciitis to Femoral stress fractures.  Injuries are huge setbacks in terms of fitness both physically and mentally.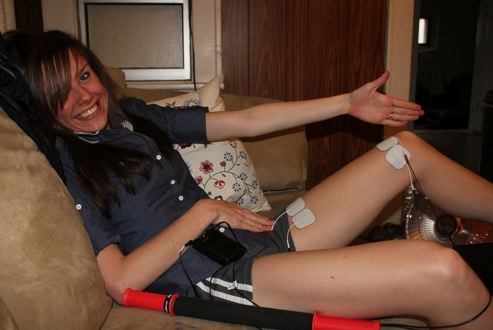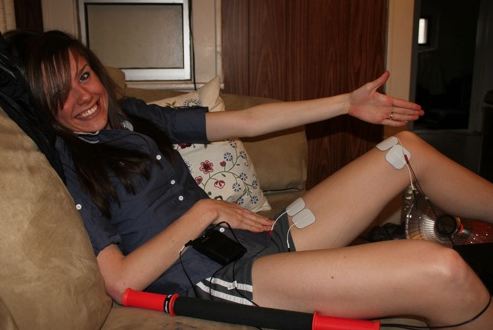 (I know, I know, I am amazed that Gina didn't have me write a guest post for her fashion page with outfits like this one)
How to overcome an injury setback?
-Something that really helped me was reading about other athletes that had injuries and came back better than ever.  Almost every elite athlete has gone through some type of serious injury.  They allowed their body to recover, learned from their injury and came back stronger and more determined.  It is so helpful to learn about people that have gone through what you have and then overcame it.
-Talk to other fitness freaks that understand.  Most people in the world are not going to understand why you are so sad that you can't get up before it is light out to hit the pavement anymore because you are injured.   Talk or vent to people that truly love fitness as much as you do and can be sympathetic.
-Find other passions.  If you have always gone to spin classes for your work outs but you are having a knee problem then try out swimming or something else that you can do without pain.  Don't give up.  If an injury prevents you from doing your favorite activity then get out of your comfort zone and try something new.
Getting into swimming was definitely out of my comfort zone when I was injured and posting pictures like this REALLY get me out of my comfort zone: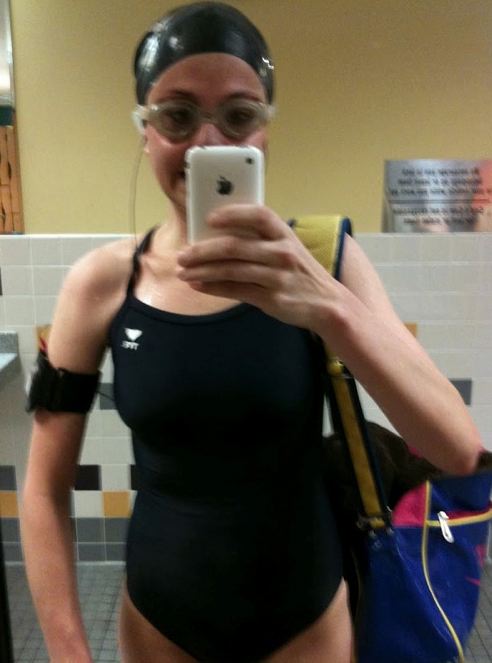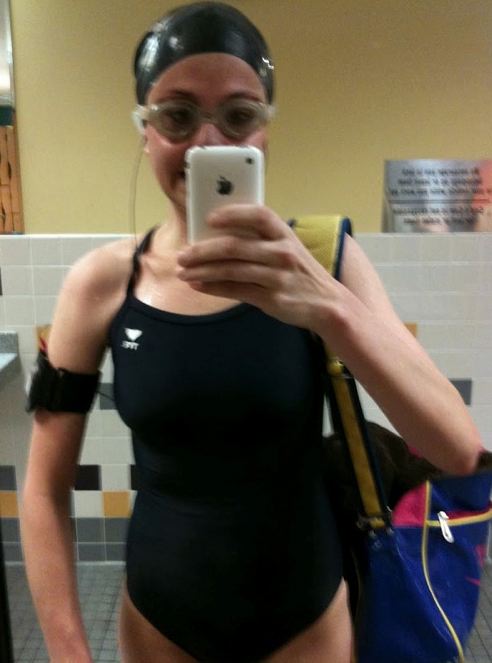 Setback #2:  Burn-out.   You are mentally and physically spent.  You are tired, your stress levels are high and you are dreading your workouts.
-Sometimes our body is screaming to us that we need a break.   Listen to your body and take a break, your fitness level will not go down over night.   Every now and then you have to just lay on the floor, eat chocolate cake and relax.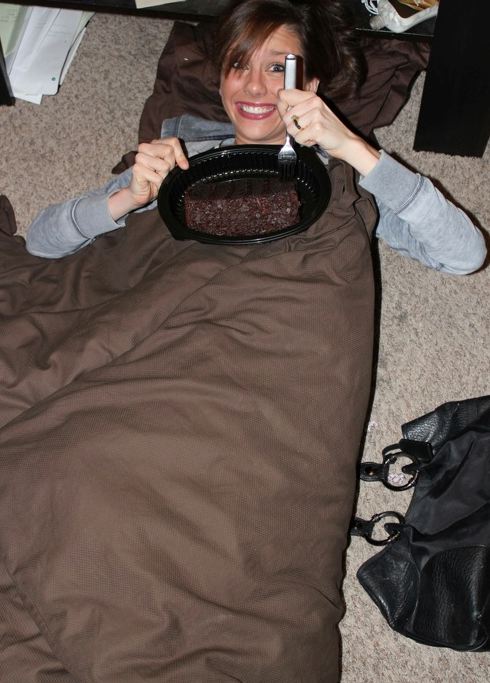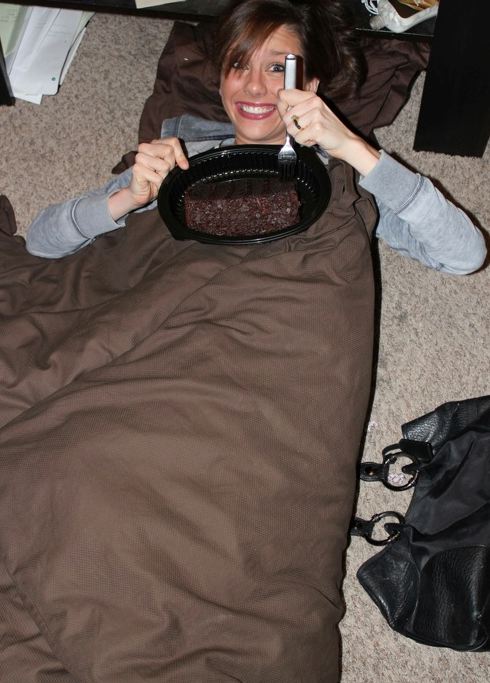 -If you are mentally bored with your workouts then it is time switch it up.  I find that getting outside to work out, making a new playlist, setting new goals and working out with a friend helps me with mental burn-out.  I also like to force my husband to come run with me while I do awkward poses.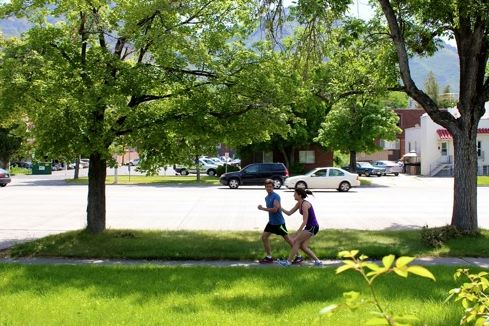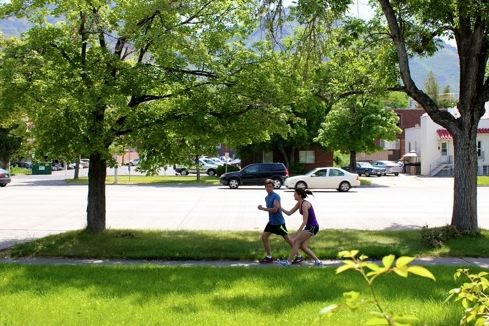 Setback #3:  Life getting in the way of your fitness… Don't bosses know that our workout is much more important than some silly deadline?
-I was a teacher for the last 3 years and so during the school year I would wake up at 5 to get my workout in because I knew that was the only time I could run.  You have to make fitness a priority because I swear life just gets busier and busier.
-Sometimes life really does get too busy for you to do your normal workout.  Sometimes somebody needs you to be there for them and that is way more important than getting your sweat on.  That is okay. Don't worry because running/working out will ALWAYS be there for you when you are ready to come back to it.
————————————-
What fitness setbacks have you had and how did you overcome them?
Check in by leaving a comment when you finish Workout 4! How did it go?