A Chocolate-Covered Guest Post
Hi friends 😀 It's been a crazybusyawesome day over here, so I'm very excited to post this guest post from a very good bloggy friend, Katie 🙂
She's the mastermind behind so many delicious vegan recipes (banana bread in a bowl? yes please), and I was so glad she stopped by!
See ya in the morning 😉
xoxo
Gina
OpenSky followers, check your emails if you'd like the savory goodie pack from Twin Cakes- today's promo 🙂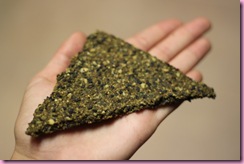 __________________________________________________________________________________________
Hi chocolate pudding pops!
I'm Katie, of the blog: Chocolate-Covered Katie, and I'm so super-honored that Gina asked me to write a guest post for her, because I think she's basically the coolest thing since sliced bread (or sliced chocolate cake. What's so cool about sliced bread anyways?).
Lately, I've been on a raw-milkshake kick, giving healthy makeovers to sinful milkshake flavors such as:
With healthy milkshakes on the brain, I knew that's what I wanted to write about today. So here's my healthier (and 100% raw) version of a chocolate chip cookie dough milkshake:
Raw Cookie Dough Milkshake
(Based off the Mint-Chocolate Chip Milkshake)
1 frozen large banana, as ripe as possible
cacao nibs (or chocolate chips), and raw oats (blend some in the shake, and save some for the top)
2/3 cup milk (For an extremely rich, "ice cream"-like shake, try coconut milk. Also, use more or less, depending on desired thickness.)
A few raw Cookie Dough Balls (pictured below)
Optional: 1/4 tsp vanilla extract, a pinch of sea salt
Optional: Add a pinch of xantham and guar gums (or just reduce the milk) to turn the shake into pudding or ice cream.
Blend everything together and pour into a glass.
Then proceed to crumble a Raw Cookie Dough Ball on top.
Voila! Liquid Cookie Dough!
On my blog, I try to show that healthy food can taste amazing when it's prepared the right way. One shouldn't have to choose between good health and good taste; you can have your cake (preferably chocolate!) and eat it too.
Please do stop by sometime, at Chocolate-Covered Katie, and say hi. I love meeting new bloggie or reader friends!