Hamilton Inspired Total Body Workout
A total body workout you can do anywhere with some Hamilton-inspired moves. Crank the playlist and get in an awesome BURRn. 😉
Hellooooo. Hope your morning is going well! We're just hanging out this morning, seeing where the day takes us, and in pure last-minute fashion, I'm trying to brainstorm ideas for our anniversary. It's on Friday. I'd like to plan something special, even though our big celebration is in September: we're going to Chicago and meeting up with some friends! We're eating at Alinea (WHAAAAAT) and got some tickets to see Hamilton. I've been anxiously awaiting to see it for about 2 years now, and it's finally happening!!!! I.Can't.Wait.
My Hamilton love tends to bleed into all things (Liv has some of the rap parts memorized… probably inappropriate… and I learned some songs on the uke), but this is next-level ish. We all know it needed to happen.
The Hamilton workout!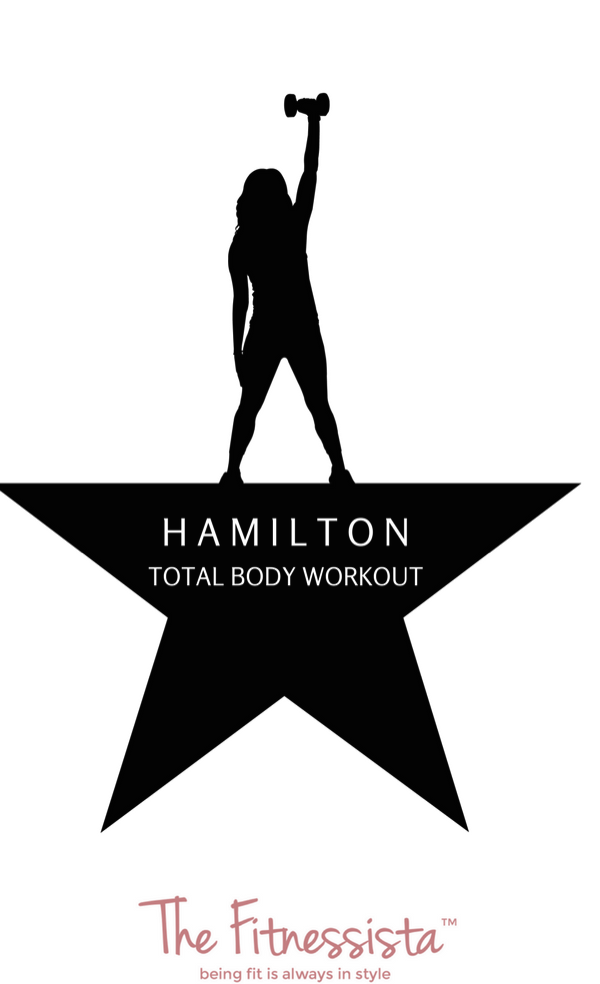 Let's get past the fact that it's a liiiiittle bit cheesy -hopefully my fellow Hamilton lovers will rejoice- and is an intense, fun, total body workout.
Here's what it looks like:

Form cues and tips:
Aaron Burr-pees: Sit into your squat and bring both hands to the floor, firmly planting your entire hand. Walk or hop back to a plank position (push-up here optional), walk or hop your feet back to your hands, and jump 180 degrees. Land with a soft knee to squat on the opposite side. To minimize impact, walk 180 degrees to squat and complete your burpee on the other side.
To the Groom! Shoulder Raises: Stand with feet hip-wdith apart and hold a single dumbbell in one hand. Bring that arm up to 90 degrees, and exhale to press it up overhead. Lower back down to 90 degrees with control as you inhale. That's one rep.
Swing: Stand hip-width apart and hold the dumbbell in between your knees with one hand. Start to gently swing it so you can gain some momentum. When you're ready, power through your hips, glutes and core to swing the weight up to shoulder height, then bend your knees, swinging it back to start. Remember that you are NOT using your arms to lift the weight; this is pure glute and core power. Every time the weight goes up, make sure you're strongly exhaling.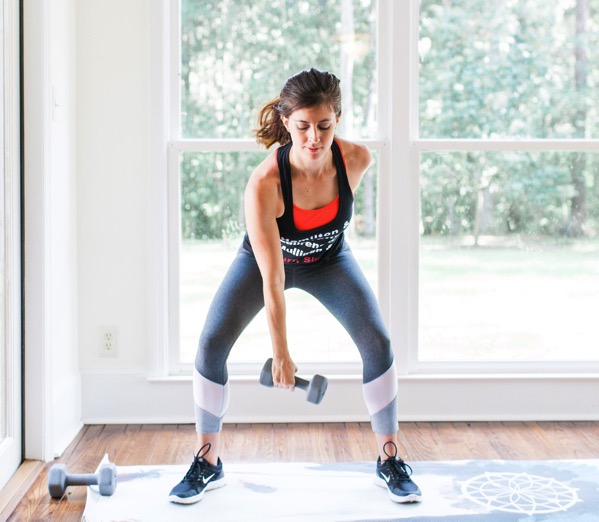 Rise Ups: Get into a squat position (booty LOW and back), and touch the floor. Keep your abs engaged and chest lifted. Powering through your heels, spring up, reaching your arms towards the ceiling. Land with a soft knee. Repeat.
Throw Away Your Squat: Stand holding a medicine ball, and carefully throw it over one shoulder, without moving your body. (You don't want it to go super far.) Rotate, and squat low (keep your chest lifted and core tight) to pick it up and toss over the opposite shoulder.
Climb and roll: Get in plank position with your wrists under your shoulders. Bring one knee towards the elbow on the same side. Move back to plank and switch to the opposite side. For more of a challenge, move as quickly as possible. Complete 10 mountain climbers, then lie on your belly, and ROLL until you can pop back up into a plank. Complete 10 more mountain climbers, then roll the other way.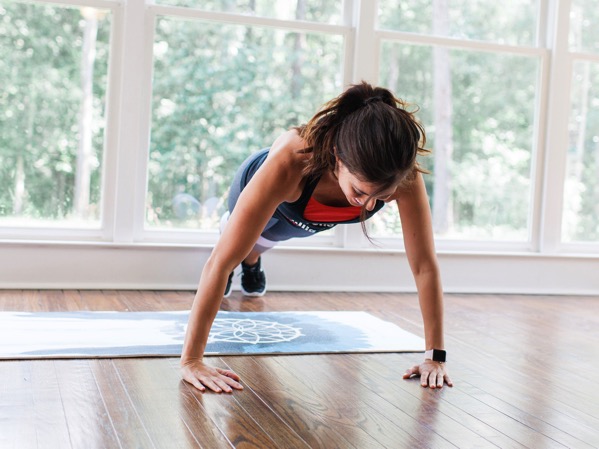 WERK Windshield Wipers: Lie on your back with arms out like a capital "T" and feet above your hips. Straighten your legs as much as possible, and pull in your core. Keeping your core engaged, inhale to let your legs fall gently towards one side (they don't have to go very far!) and exhale to bring back to center. Make sure to keep your hips pressing into the floor. Repeat, moving slowly and with control, from side to side.
HAM curls: Start supine (on your back) and place both feet onto a playground or medicine ball. Ground into your shoulders and squeeze your glutes to lift your hips off the floor. Bend your knees in, then extend back out. That is one rep. Keep your hips lifted the entire time!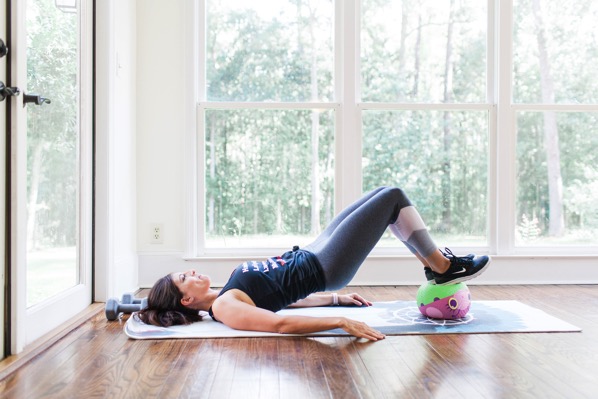 Please let me know if you give it a try!
xoxo
Gina
Photos: Lindsay Colson
Wearing: Hamiltank <— only $10! // Lorna Jane leggings // Nikes