7 amazing months with this little lovebug.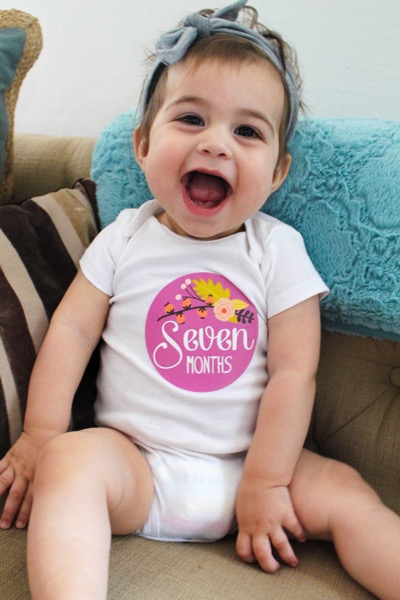 She is still enjoying solid foods, enamored with her big sis, and smiling up a storm.
A major milestone for month 7: she's no longer on baby Prilosec!!!!! (<—needs like 12 more exclamation marks)
When we first started to experiment with medication for her reflux, I was really hoping it would be something to make her more comfortable until the reflux subsided, instead of being a more permanent thing, especially since she's so little. Her pediatrician assured me that it would just be for 6 months or so, and that we would know when she didn't need it anymore. Sure enough, the reflux stopped right around 6 months, and by month 7, she was weaned entirely off of it. Such awesome news.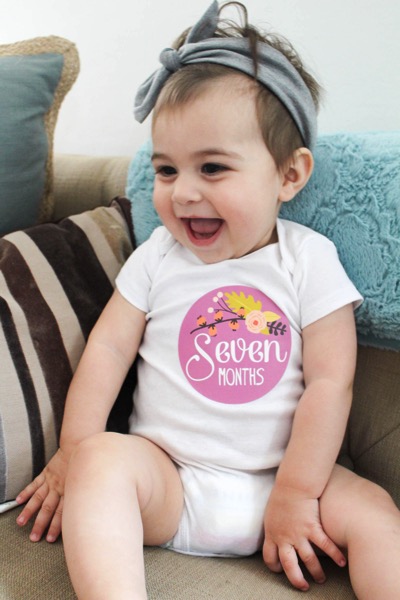 Some more updates about 7 months:
Miss P is crawling like a CHAMP but becomes quickly frustrated because she wants to stand. She'll only crawl until she reaches a piece of steady furniture and starts to whimper until I "stand" her up and let her hold onto the top. We laugh because we think P is going to be our little climber; she already wants to hold and see and stand on everything. She'll lunge towards whatever object she has her eye on, whether it's something big, like a toy, or something small, like a hair tie that ended up on the floor. Must babyproof all the things.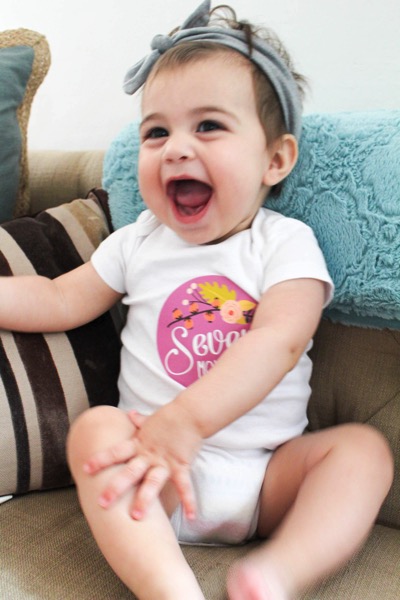 She is babbling up a storm! It could be coincidence, but I'm fairly certain she's saying, "Mama" and "Hiiiii" on purpose.
Solid foods are still going well, but I've cut back on them a little. We had a couple of choking episodes (nothing like the initial few we experienced when she was very little), and both occurred about an hour or so after she ate solid foods. She didn't have any symptoms of an allergic reaction or anything like that, but it was almost like the food was too thick in her stomach. We've only done purees up until now, and are now offering bites here and there. This is much to her dismay since she wants to eat everything. The ped just said to be conservative until we can pinpoint what's going on, and that she just may be more sensitive to certain solids. (Thankfully, it's not related to stopping the Prilosec. The Prilo never reduced the quantity of spit-up or the choking episodes. It just relieved the burning sensation and made her more comfortable.)
She loves her weekly music class! We've been going on and off for a few months now -I had to take breaks in taking her with my surgeries- but we have so much fun while we're there. The instructor's voice is like an angel, and she'll sing and play the guitar, or the kiddos will listen to international and classic music. For many of the songs, the teacher will give us very simple dance moves to do while holding our babies. P is obsessed with "1-2-3, 1-2-3, tan-go, cha-cha." 🙂 They'll also get instruments to play, little cars to push around, along with scarves and the parachute. It's a lot of fun, and has been another great way to meet more moms in the area.
I feel like seeing these two sisters together will always be magical. In the morning, Liv will ask if she can go say "Hi" to Penelope when she's first waking up. I let Liv go in to see her while I heat up P's bottle and grab a yogurt and fruit for Liv. When I head into P's room, it's the sweetest sight to see them hanging out together. It's usually P, seated or on all fours in her crib, flashing a giant two-teeth smile at Liv. Liv crouches down right in front of the crib and will either be acting out a puppet show with a stuffed animal, or "reading" her a book. It's pretty amazing.
Happy 7 months, miss P! We love you so much.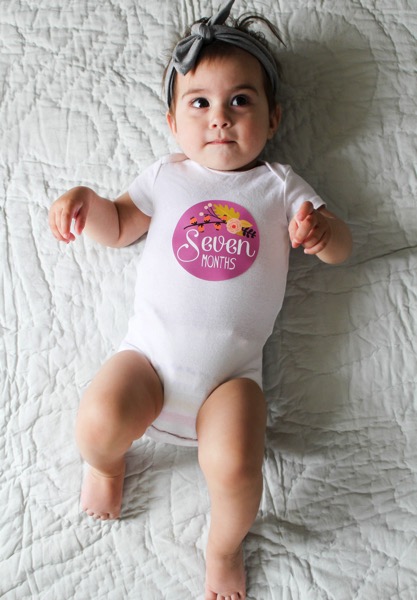 Some of our favorite things at 7 months: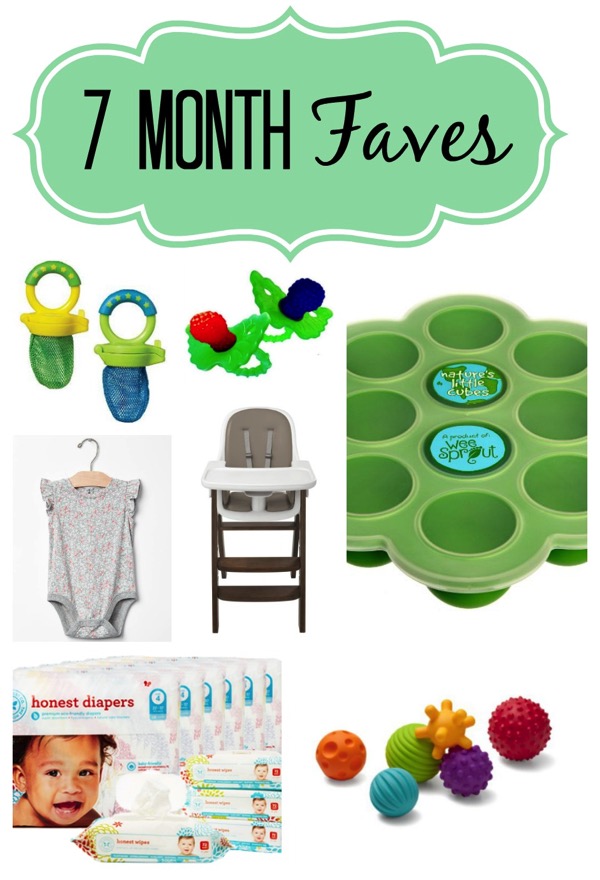 The Ergo! This is the same one we used for Liv, and we both love it.
These teether! She isn't in to pacifiers or teether much at all, but chomps down on these like crazy when her teeth are hurting
Sensory balls. She could roll these around all day
Baby gap onesies. They look adorable and are so easy to put a quick outfit together.
Honest company diaper bundles. I still can't believe I didn't do this with Liv. It's so nice to not have to make constant diaper runs, and I love that they use natural and biodegradable materials, and offer super cute whimsical prints.
More P updates:
1 month recap
2 months
3 months
4 months
Coping with baby's reflux
5 months
6 months
Birth Story Part 1
Birth Story Part 2