"How did you know you were ready?"
This is a question I get pretty often. If you've been reading my blog since the early days, you know I wasn't always stoked about the idea of having a baby. I knew I wanted kids eventually, but thought that being pregnant would be like having an alien inside of me (which is funny because I loved being pregnant), and was unsure of our future as far as location and my job would go. When we first got to Valdosta, I had a pretty difficult time getting settled. I was totally new to the military lifestyle and am so grateful to one of my best friends Jeni, who adopted me into the group of wives and helped teach me the ins and outs of military life. I changed jobs quite a few times and had no idea what I wanted to do when I found out it would be extremely challenging to get a finance job in this economy, especially in a town where everyone knew each other. The second potential employers found out we were military, that was the end of my interview process because they knew I wouldn't be around for long. I quit my job at Belk because retail wasn't something I was interested in for the long term, started teaching fitness, personal training and started the blog.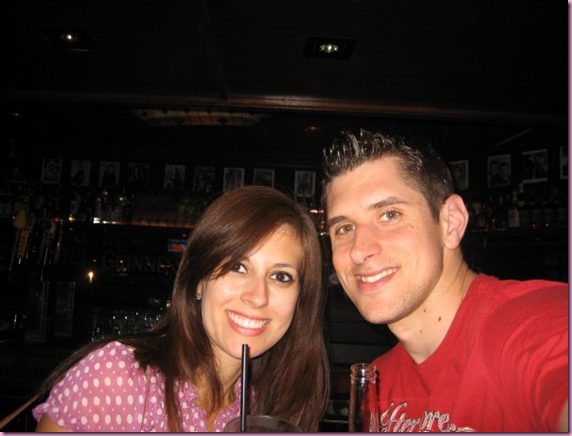 (5 years ago)
I think it was as soon as I started to feel a little bit of stability in our life –I was finally comfortable with the challenges of being a military wife, had a great personal training job, we had an idea of when we'd be moving instead of in limbo- that it finally hit me….and it hit me HARD. I wanted to have a baby, and I wanted that experience with my husband. I use the term "want" instead of "ready" because while you can be as prepared as possible, my aunt once told me "don't ever wait until you're ready, because then it will never happen. Wait until you know it's something you want and are prepared for, but I wouldn't use the word 'ready.'"
I think my situation was a little different because like I've mentioned before, Tom has wanted kids for quite a while. From what I've heard through friends, usually it's the girl who gets baby fever first, but of course it can go both ways. He never pressured me or anything like that, but he's older than me and let me know that he was excited for kids. Whenever I was ready, we could go for it. I'll never forget the look on his face when we had the talk that we were going to try for a baby.
Recently, I was asked about things I would suggest couples talk about before deciding they want children.
That's not really for me to say because it really depends on the couple, their priorities, beliefs and desires.
For us, we talked a lot about the birth –he wasn't totally on board with unmedicated birth until I talked with him about why it was important to me. He read some of my Ina May's Natural Guide to Childbirth book and agreed to take Bradley Method classes. He became the quintessential coach –which could be expected because he's so calm and methodical even under pressure- and without his support, I would have had an entirely different birth story. He coached me through every single contraction, except for the times he went to update the family and Tricia took over. I couldn't have done it without either of them.
We also talked about his flying schedule and crew rest. Even before I was pregnant, it was assumed that I would take the night shift and Tom would sleep in the guest room if he had to fly the next day. At first, I was really anxious about it because he flies fairly often, but it quickly became second nature. His safety is 1000x more important than sleep, and if I need to, I can nap with Livi during the day.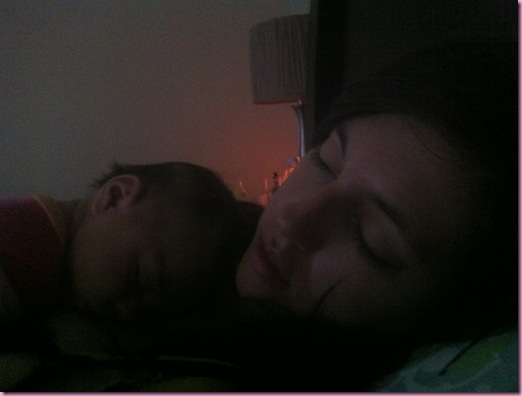 As far as everything else goes, we've worked hard as a team and fell into a rhythm without any verbal decisions about who's going to do what. Initially, since I was breastfeeding around the clock (every 30 minutes to an hour), he changed most of the diapers and cooked food for both of us. We can tell when the other person needs extra rest or sleep, so we'll give each other time to nap or sleep late on the weekends, time for each other, and time for ourselves. When he gets home from work, he kisses Livi goodnight and I'll put her to bed so he can unwind downstairs from the day.
We just help each other out as much as we can, and since we've always worked together as a team, it's been easier to continue that mentality as parents. I'm very lucky to have an amazing man, who's also a truly amazing dad.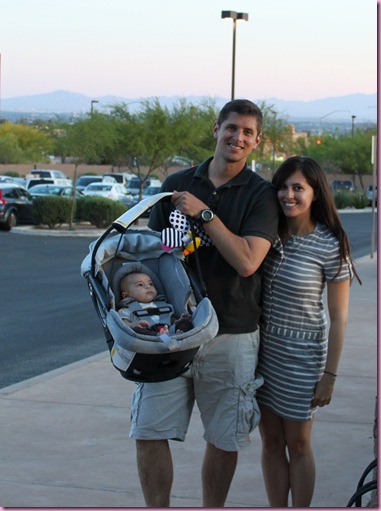 When did you know you were ready for kids?
Anything you think couples should talk about before making such a big decision?