How my workouts have changed- 3rd trimester
Today's workout was brought to you by the letter "O."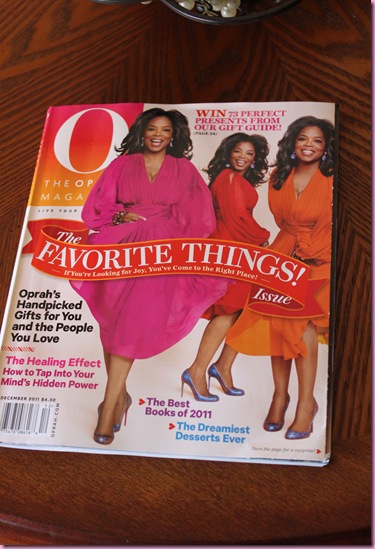 Thank you Oprah, for entertaining me as I walked around the indoor base track for an hour.
The looks I've been getting at the base gym during my workouts have recently changed from "wow, I'm kind of impressed that girl is doing push-ups on a stability ball" to "ohmygod she looks like she's going to pop at any second." I really think people might be afraid I'm going to have my baby at the base gym. If anyone asks me when I'm due, I'll probably say "Today! Isn't that exciting?!" just to mess with them.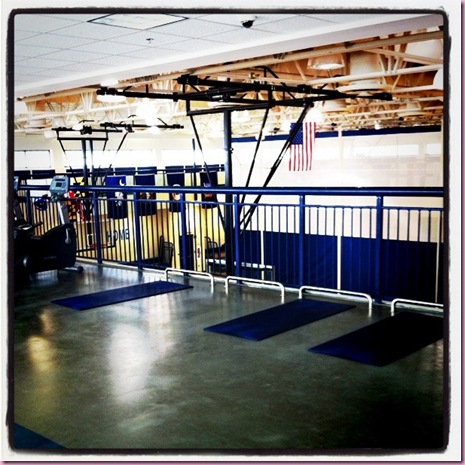 As I get closer to the most important finish line of my life thus far, things have slowed way, way down. I just don't have the energy that I used to, I feel heavy, and my hips ache sporadically during the day. Walking, light weight training and riding slowly on the spin bike are some of the few things that feel really good, and last Saturday was my last day teaching Zumba until after the baby. Leading up to the class, I was pretty bummed about it…. I thought I would probably cry when class was over. Instead, I was glad. It was challenging to get through –even though a friend taught a few songs in the middle to give me a break- and I knew that it was my last day teaching Zumba for reason.
I'm still working/teaching for a few more weeks (and am in a Zumba dance for the recital this week) but much more low-key than my usual schedule. Weight room shifts, stretch, beginning aerobics/strength training and treadmill classes (where I lead the class with a microphone). Very easy, and I'm very thankful. My body decided to kick into slow motion at the exact same time my schedule was set to change. My bosses and scheduler are ninjas like that.
So here's what I think it's going to look like until the little one arrives:
-Walking, walking, walking. When I walk, it's slow –a nice elderly gentleman passed me about 4 times the other night- and I wear my belly support belt. I'll also listen to a podcast or read while I walk just to keep myself entertained. I also walk Bella at the park, but since it's freezing and none of my North Face jackets fit me, we haven't gone for a few nights. I'm thinking of taking her tonight and layering Tom's sweatshirts. They smell like him, which automatically makes them cozier.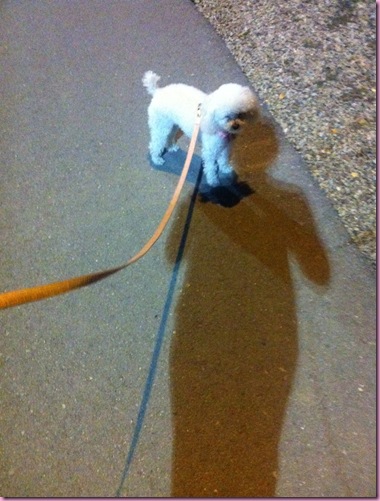 -Weight training. It's a little awkward with the belly, but still feels good to work my muscles a little bit. I've been focusing on lots of back and leg exercises (to help with core strength and squatting during labor), in addition to the regular mix of muscle training. I've had to take the weight down for every exercise, and do less reps so that I'm not quite as sore.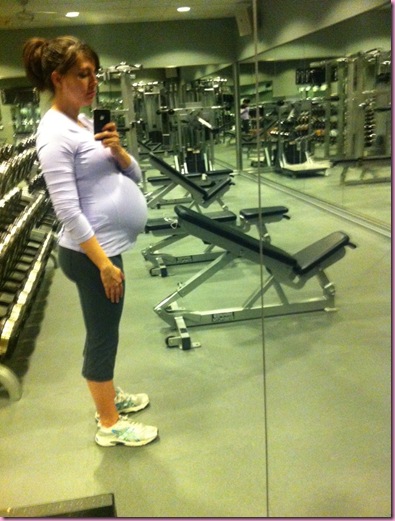 -Yoga? I might actually enjoy the prenatal podcasts that I thought were super lame in the beginning of pregnancy. There's no way I could do vinyasa right now –even though I took a couple of awesome classes in San Diego- as it just seems like it would be too much. I just want to breathe and stretch.
-Dance. I take an awesome DJ Dance Cardio class with my friend Marisa, and will still Zumba even though I'm on Zumba teaching hiatus. I don't want to totally lose my mojo and the bonus is that since I'm not teaching, I can take it easy instead of feeling like I have to go full-out. The good news is that from assisting classes at work (assistants show low-impact modifications during class), I'm a pro at modifying.
Working out throughout my pregnancy has been extremely helpful in many of ways. The baby loves the endorphins as much as I do, and I'm hoping that it will make labor, delivery and recovery much easier. Most importantly, it's really taught me how to tune in with my body and go with how it was feeling. There were quite a few days where I really needed to just lay on the couch, which is what I did (and it was awesome), and other days when a short weights session and leisurely walk put an extra pep in my step.
Our bodies really are intelligent machines. They tell us what they need- it's just up to us to listen <3
–How my workouts changed- 1st trimester
–How my workouts have changed- 2nd trimester