Hummus Chicken Salad Bowl
It's funny how things change over time.
I used to despise sweet and savory mixed together. (Now if it's food, chances are that I'll eat it.)
I used to nap every day. (My eyes still get a little misty at the loss of this ritual.)
I used to hate mayo…
And then I got pregnant. All of a sudden, I was like "gimme that mayo and let me dip this burrito in it and maybe put some chocolate chips on top." #pregnancystereotypes
Something that hasn't changed: I LOVE a giant bottle of kombucha with lunch. 🙂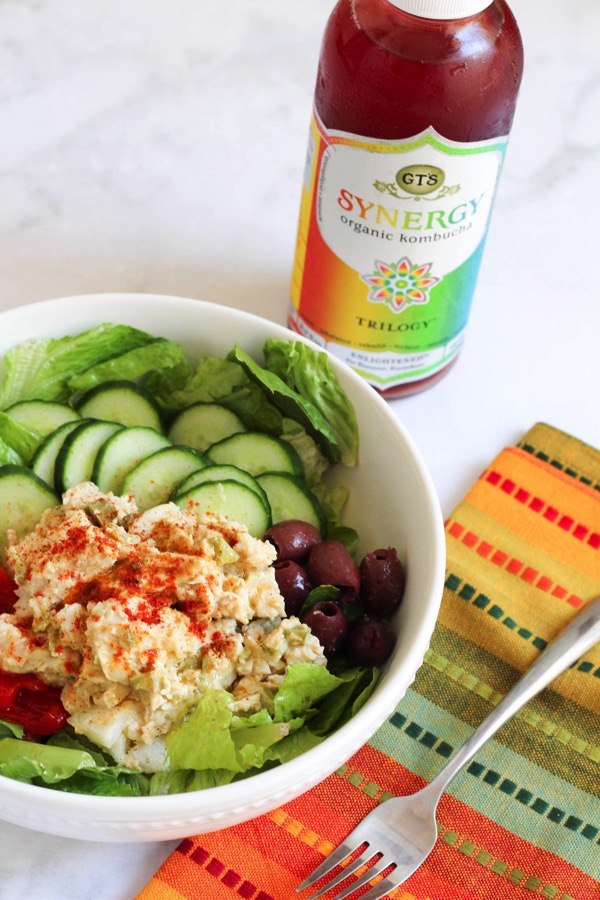 With the warmer weather, it's been easier for me to enjoy large protein and produce-packed salads. Not only are they a satisfying mix of flavors and textures, but they're a fun way to switch up the lunch rotation.
This particular recipe is for all the mayo-haters out there, or maybe mayo lovers like myself who just feel like walking on the chicken salad wild side.
I used hummus instead of mayo, and it was awesome.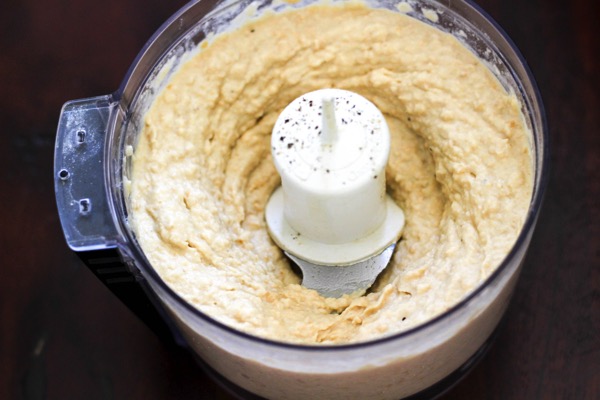 When I saw that Trader Joe's has tahini now (!) I felt inspired to make some hummus. It used to be a staple, but had fallen off the radar. I've been doing this each week to serve with crudités in the afternoon, and it's a snack that Liv loves.
My hummus recipe isn't anything crazy. Simple, and delicious:
-A can of garbanzo beans, *almost* drained all the way (you want to use a little bit of the liquid from the can. It's called aquafaba, and you can actually do some pretty cool things with it)
-The juice of half a lemon
-A good drizzle of olive oil
-A heaping tablespoon of tahini
-About 1/2 teaspoon cumin
-Salt, garlic powder, and pepper to taste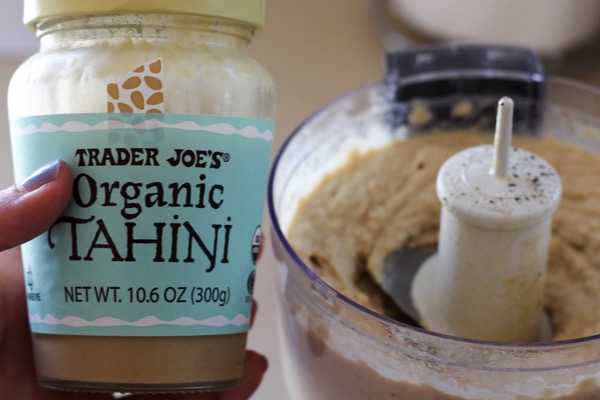 (For dinner parties, leave some of the chickpeas whole and sprinkle on top. Drizzle with olive oil and add smoked paprika. It looks beautiful on a veggie tray!)
For the chicken salad, I combined one chopped chicken breast with about 1/2 cup of the homemade hummus. I seasoned it with a little oregano and added chopped cornichons, and 1/4 sweet onion. You could add anything you love! Chopped celery or olives would be good, too.
For lunches, I've been enjoying it with veggies, a squeeze of lemon juice and a sprinkle of paprika.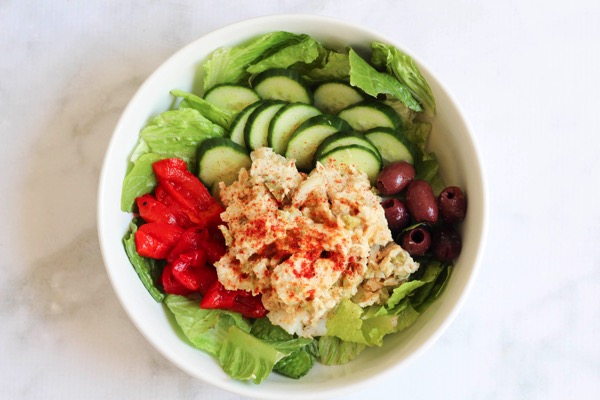 Lunch is served, and hooray for leftovers for tomorrow.
What'd you have for lunch today? Mayo: yay or nay? Any good dip/hummus recipes??
xoxo
More delicious and healthy lunch ideas:
3 different ways to kale salad
Mexican stuffed sweet potatoes