When I first told my family that we were seeing a group of midwives for the baby's birth, they didn't even think twice about it. They know it's more "me" to go a non-conventional route, but it's kind of funny considering midwife-led births are far more common all over the world and are recently starting to spring back into popularity in the states.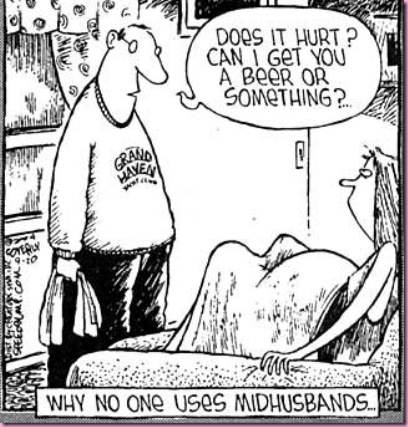 Source
When I first started researching pregnancy and the birth process last summer, I was shocked to discover that many women in labor are treated like they have a disease or something wrong with them. Women's bodies are designed for childbirth – it's an entirely natural process. [There's a TON of info about this in "Your Best Birth" and the documentary "The Business of Being Born", which can be viewed online for free] As soon as I read Ina May's Natural Guide to childbirth, I knew I wanted to have a midwife-led birth.
[Birth snippets in the trailer- may be weird to watch at work]
[While I liked "The Business of Being Born" – it opened my eyes to a LOT- I definitely took it with a grain of sea salt. A lot of the info presented was fantastic, but a lot of it was "the government is out to get you, wah wah", so I just took parts of it to store in my brain and left the rest, ya know?]
*****Of course, this post is not meant to spark some doctors vs. midwives debate, because that's not at all what it's about. There are tons of amazing doctors out there and there are some midwives that suck. I just wanted to give my experience so far and why I've enjoyed it, but it's up to all of us to research and make our our health decisions.
For those of you who may not be familiar with midwives and what they do, here's the downlow from Wiki:
In the United States, a Certified Nurse-Midwife ("CNM") is an Advanced Practice Nurse who has specialized education and training in both Nursing and Midwifery. CNM's function as primary healthcare providers for women and most often provide medical care for relatively healthy women, whose birth is considered uncomplicated and not "high risk," as well as their neonate. Certified Nurse-Midwives, in most states, are required to possess a minimum of a graduate degree such as the Master of Science in Nursing, or Post-Master's Certificate. By 2010, all Certified Nurse Midwives will be required to hold a graduate (Masters) degree.[1] Most recently, the first Doctor of Nursing Practice (DNP) program has become available for Certified Nurse-Midwives and will graduate its first class in May 2010.[citation needed] Additionally, Certified Nurse Midwives must also hold an active Registered Nurse license in the state in which they practice. Certified Nurse Midwives practice in hospitals and medical clinics, and may also deliver in birthing centers and attend at-home births. They are able to prescribesome medications, treatments, medical devices, therapeutic and diagnostic measures, et al. in all 50 states.
The midwives we're seeing practice in a group, and it's recommended to see as many as possible because there's no way of knowing who will be on call when you go into labor. The good thing for me is that out of the 5 I've met, they've all been fantastic.
Here's why I've been happy with their care so far:
1. A non-traditional experience. I'm SO used to being rushed off by doctors. The ones I've seen in my lifetime have always been in a hurry, quick to write prescriptions and get me out the door and on my way. With our first midwife appointment, I was blown away by the time she took with me to answer questions. She sat there and said "ok, what else do you have questions about?" – we could have had lunch in there. It was amazing. All of our appointments have been like that. One time, a midwife was running late and she asked if I was doing ok, and I said yes but I was ready to get some food, so she brought me some Trader Joe's trail mix to munch as I waited.
In today's appointment, not only did I get to hear that sweet baby's heartbeat, but the midwife (who has delivered babies for 30 years!!) asked me what name we'd chosen for the baby and talked to the baby, using her name while she measured the size (right on track) and listened to the heartbeat. She answered all of my questions, went over my previous test results with me, hugged and kissed me goodbye.
2. Support and encouragement. I've so refreshing to be constantly encouraged about my diet and exercise schedule. The midwives have been totally fine with me maintaining my fitness schedule within reason (no supine or prone exercises, and make sure I can say a full sentence while exercising) and are totally cool with my quasitarian eating ways 🙂 The only thing they want me to focus on is more protein and iron.
3. Similar ideals. Today, I had a lot of questions about induction and birth process policies. She said that they wait 41 weeks until they start to discuss induction options (which she originally wasn't a fan of because she liked 42 weeks- however, statistics determined that by waiting up to 42 weeks there were more stillbirths since the placenta stopped working as effectively).
We looked at my due date (which was based on my last cycle), and I told her that I ovulate later that most people. I had ovulated on day 17, instead of day 14 like the due date calculators assume, so she increased my due date by 3 days. She asked how I knew I ovulated that day and I told her I tracked my cycles using the Fertility Awareness Method – that's all she needed to know to change it. Amazing… so that will give me a little more time and won't subject me to be induced 3 days earlier than I would need to be.
As far as birth policies go, she said "you can definitely write a birth plan, but I can go ahead and promise you that your plan is my plan." It's their policy to assume to want a natural birth, unless you request otherwise, place the baby on your chest directly after birth and wait for the cord to stop pulsing before it is cut. 3 things that were critical to me. So I may not end up writing a birth plan. The midwives know what I want, our doula (who is going to be a rock star… I'm lucky to have her) knows what I want, and Tom knows what I want. We're all going to go in there with a goal in mind, but flexible if things need to go another way.
So, since little nugette has a real name now, should I keep calling her nuggette, or using the first initial for something? 😀