Disclosure: This post was sponsored by Under Armour through their partnership with POPSUGAR Select. While I was compensated to write a post about Under Armour, all opinions are my own.
If you guys follow me via the newsletter or on Facebook, you already know that I'm in love with the Misty Copeland "I Will What I Want" Under Armour video. If you haven't seen it, it's definitely worth a watch. The video features an adult Misty, gracefully dancing en pointe while a young voice reads the many reasons why she was rejected for a ballet program.
"You have the wrong body for ballet, and at 13, you're too old to be considered."
Misty spends the second half of the video fiercely blazing across the stage, demonstrating her reputation as one of the world's most successful ballet soloists. She seems to be twirling the words of her critics into the ground.
I LOVE that this video not only showcases the athleticism in the dancing world, but also the fact that you can't let the negative opinions of others control your destiny. It's empowering without being cheesy, and gives me the chills every single time. Needless to say, I was honored when Under Armour presented me with this opportunity to share my own "I Will What I Want" story.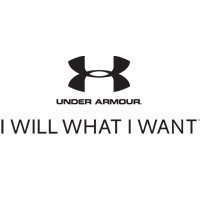 When I first married into the military lifestyle, I didn't have an idea of what to expect. Even though I'm type A, I was happy to give up a lack of control to be with the love of my life. I was excited to travel around the world with him, build a life and family, and support him in his career. I quickly learned that our lifestyle would make my own career experience pretty unique.
As a military wife, it can be challenging to earn and keep a job; this was particularly apparent with my Finance degree. My employment opportunities out of college required the ability to stay in the same location to build my clientele, and I quickly learned that wouldn't be possible with our constant moves and his deployment schedule.
Instead of letting this discourage and defeat me, I used this opportunity to recruit my creativity. My passions enabled me to create a job for myself as an instructor, trainer, blogger, and writer. Now, I'm able to take my work with me wherever we go, while keeping my roles as mom and wife as #1. It wasn't easy and there were certainly some heartbreaks and learning curves along the way. Now, I can look back and be glad that I willed the type of life and job(s) that I'd be able to enjoy and take with us, and I'm thankful for that each day.
Now that we have a young daughter, I hope to be able to show that we have the ability control our destiny.
Use the negative opinions of others as your motivation to succeed.
Obstacles only stand in the way if we let them.
Here's a video to share my story <3 (This is also my first video with my new San Diego videographer, Cameron Franco. He did an amazing job and I hope you enjoy it!)
I would love to hear your own experience with overcoming a challenge. What's something that you "willed" into your life, even though the odds were against you or an obstacle stood in your way? As always, I can't wait to read your responses.
xoxo
Gina
Check out Gisele's latest social commentary video for Under Armour here: