Hi everyone <3 Thank you so much for the wonderful feedback on part 1 of the birth story..Sorry to leave you with a cliffhanger, but I didn't want it to be boringly long. The final part should be up tomorrow 🙂
We're still getting to know our sweet baby, so here is a special guest post: a birth story from Jennifer. When I first decided to find a few guest posts for this week, I wanted to ask good friends as well as readers to see if they would share a post. I'm a huge fan of birth stories and always enjoy reading Jennifer's comments on the blog, so I sent her a little email to see if she'd like to help out by writing a post of her birth story.
Here it is <3
____________________________________________________________________________________________
Hi Gina – I'd love to share my birth story with you. First, I'll give you a little background about me and my husband:
I'm 36 years old and I'm a high school teacher. I was always sporty growing up. I played tennis in HS and ice hockey in college. I continued playing hockey for a few years after college. Then, I got into running and then triathlons.  Last year, I completed the Madison Ironman in 13 hours and 40 minutes. At the time, I thought it was a pretty amazing accomplishment. All that has changed now!
When I was 33, I met my husband. He's a chiropractor and very health conscience.  I had never wanted to have kids but when I met him, I started to reconsider. He really wanted to be a father and I started to change my mind about having a baby. Since we were both 34 at this point, we had to get things moving!  I decided I wanted to do the Ironman and then we would start trying. It worked out perfectly. We got married, bought a house, I did the Ironman and then we started trying. We were very lucky (and thanks to your recommendation to get Taking Charge of your Fertility) and I got pregnant on our third try.
Once I was pregnant, we started doing A LOT of research!  We took a Bradley class. We also switched from an OB/Gyn to a Midwife  group because we wanted to have the most natural birth possible. It was very important to us to start her life out right.
At this point, she's 9 days old and very healthy…Here's her story:
Ayla Rose's birth story…
My water broke at 4pm Saturday (11/19). We called the Midwife and she suggested to go to bed and get some rest so we'd be ready for tomorrow. I was thinking contractions would get stronger through the night and we'd be heading to the hospital in the morning. Well, they didn't. Unfortunately, we still didn't sleep much because I was having some contractions and we were pretty excited. We woke up Sunday (11/20 – our due date) and tried to get some hard contractions. We did pretty much everything we could think of to start regular contractions. I even took a dose of castor oil! Unfortunately, nothing worked. The midwife said it was unusual because most women go into labor within 24 hours of their water breaking. She said it would be ok to wait a little longer and that I would most likely go into labor in the next 12 hours. The biggest concern was infection. Once the water breaks, the baby and I are open to infection. Most doctors require the mother to go to the hospital within 12-24 hours once the water breaks. Our midwife said to call the clinic in the morning. So, we went to bed Sunday night – feeling a little frustrated.
Monday morning (11/21), we again tried to get labor started and called the midwives. We went into their clinic around 11 to get checked. The midwife we met with did not check my dilation because it might cause infection. She said we could wait a little longer to see if it kicked in. She suggested we use the breast pump to try to get things started. We were feeling really frustrated at this point. We were approaching the 48 hours mark after the water broke. So, we went home and kept trying. Again, we got very little sleep Monday night. I was having contractions but nothing too serious. Tuesday morning, we got up and we decided to give it a shot. We called the midwife on call and said we were going to the hospital. This was around 5am Tuesday (11/22) morning. I had to be at 4 cm to be allowed into the alternative birthing center (ABC) room so we were just hoping for that. We waited for a while and then the Midwife came into the Triage room and she checked me. This was the only internal check I had the entire time. I was just barely at 4 cm! We were so excited because we had achieved our goal of getting into the ABC room!
So, we were moved into the cool birthing room and we waited for the next midwife to come on duty – Gayle. At this point, we had worked with 3 different midwives. Gayle was the most experienced and we really trusted her. She came in and gave us the bad news. Basically, she said it was almost impossible that I would start having serious contractions in the next 24 hours. She said that we tried absolutely everything we could (sometimes twice including the castor oil) but it wasn't working. She suggested that we start a small dose of pitocin and see what happens. That would mean we would have to leave the cool birthing room and I'd have to get hooked up to IV and the monitors. Kent and I felt totally defeated. We had worked so hard to have the most natural birth that we could. I was really upset. We talked it over while the midwife was gone and decided we should take her advice. We had already discussed that we would listen to the midwives because they truly have our best interest in mind. So, we moved to the other room. And, it actually wasn't that bad – it had a nicer view.
Anyway, I was totally scared because I knew the contractions would be harder with the pitocin. I didn't know if I would be able to handle it or not. They put the IV in and hooked up the monitors. I started crying because I felt so confined. Gayle reassured me that everything was going to be ok and I could still move around. She started the smallest dose possible. The pitocin kicked in right away and my contractions ramped up! It was really intense immediately! I hated being on the bed so I went to the bathroom and labored on the toilet. I sat on that toilet for 3 hours – moaning and OOOing and begging for help. Kent got a little nervous but the midwife reassured him that what he was looking at was true labor. So, after 3 hours on the toilet, Gayle suggested that she check me to see how far along I was. I was at 9.75cm and fully effaced! She stretched me out a bit and said I was ready to start pushing. I thought, "great, it won't be long now!" I was wrong!
I pushed for a while on the bed but it didn't feel right so she brought in the birthing stool. That felt a lot better! I hung on to that stool for dear life and pushed when she told me too. Kent and the midwife were on the floor watching the progress. I was pretty sure I was going to pass out a few times and I kept begging for help. I let out some really primal screams too. I pushed for a little over 2 hours. Finally, I was able to push her head out and after one more big push, her body slipped out of me. I'll never forget that feeling for the rest of my life. It was incredible! She was immediately placed on my chest and I was able to see all her little fingers and toes. They rubbed her down a bit, waited for the cord to stop pulsing and then Kent cut the cord. The midwife had to put one little stitch in me because I had an abrasion but I didn't even notice because I was holding my new baby. I didn't actually tear at all and I am so grateful to Gayle because of that! Kent and I both snuggled her skin to skin a little and then they took her to the side of the room to be weighed (7lbs 10 oz). She didn't leave our presence for over 24 hours.
We were so sleep deprived after 3 days of labor, the rest of the time was a bit of a blur. I remember eating mashed potatoes and trying to pee for the first time – ouch! Then, we just hung out at the hospital for the next day and went home Wednesday night. We were so relieved to be home! I knew the birth wasn't going to go exactly as we planned but I think it went really well overall. I only had to use pitocin but no other drugs. Ayla came out alert and drug-free. She immediately started rooting and looking for food. I think we made the right decisions overall and we did the best we could for the situation. I'm so grateful to Kent and Gayle for supporting me and helping me get through the process. I know if we had used a different medical group, our story would have been much different!
Jen's beautiful daughter, Ayla Rose: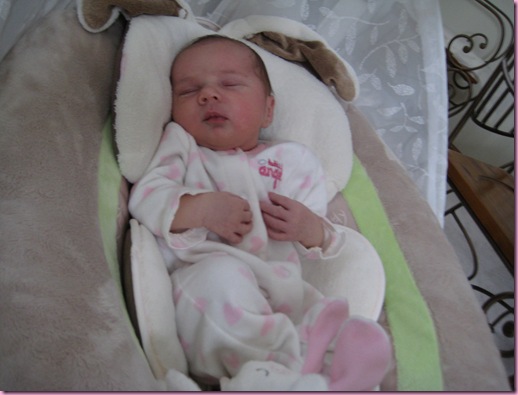 Any unique tidbits from the day you were born?