Changing my views on birth
For the longest time, I was really afraid of getting pregnant and giving birth. Even in my earlier blog posts, I'd write about how I thought being pregnant would be similar to an alien living in your belly. (Which now cracks me up because it was so NOT like an alien — I loved being pregnant.)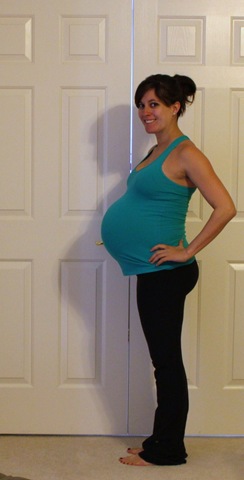 (Thar' she blows!)
My fear had so much to do with the unknown paired with the fact that I've always been a little bit of a control freak. When I first started to read about birth (which was now about 3 years ago? Time flies) I remember being paralyzed by fear. The fear would sometimes keep me up at night, and who knows, maybe it was a sign that I wasn't really ready.
There are a few books, movies and tools that helped me feel more confident and empowered regarding the birth experience, and now that I went through it, I'm not afraid anymore. Even while I was pregnant, each drive past the hospital would raise my heart rate a little. I couldn't help but wonder how our birth story would go, and pray so hard that my baby would be ok. Now each time I drive past the hospital, I can't help but silently thank the nurses and midwives who took such amazing care of us. We were very fortunate in so many ways -a needle didn't touch me the entire time, and Liv didn't leave our side- and it makes me hope that we can be in Tucson for our next baby. If not, I have a few things in my tool kit that first gave me confidence in myself to get through it, no matter what the journey would look like.
Some of my favorites:
-Your Best Birth in conjunction with The Business of Being Born. The book and movie, respectively, entered transformed my thoughts about birth. The thought of an epidural and C-section were worrisome for me (that dang needle phobia), and these two resources taught me some strategies to advocate for your personal best birth.
-Ina May's Natural Guide to Childbirth. Ina May rocks my world — check out this new documentary:
When I first read this book, even though it seemed a little hippie dippy for me at the time, I was blown away by the concept that birth can be a freeing and beautiful experience. I always pictured childbirth in a sterile and cold hospital environment, and reading each birth story, which was total different than the one before it, demonstrated the natural beauty and rite of passage for women. It made gave me the confidence that birth is a natural thing, and medical interventions (while sometimes totally necessary) can be the exception, not necessarily the rule.
-The Thinking Woman's Guide to a Better Birth. This book was a little dry to read, but provided a lot of valuable info. I used it more as a skim and read kind of book, just looking up the sections that I was particularly intrigued by before bed most nights.
-Bradley Classes. I can't praise our Bradley classes enough. We were so fortunate to have an incredible coach (who had 3 at-home Bradley births herself) who was so kind and knowledgeable. If you live in the Tucson area, check out Nancy Capo's classes- she is seriously amazing. These classes helped Tom and myself to learn about each stage of the birth process, ways to avoid certain interventions, when to stand our ground and when to falter, and lots of practice leading up to the big day (including weekly massages… three cheers for that, eh?).
-Seeing a group of midwives for our care. My midwives at El Rio totally changed my views of birth and the medical field in general. Throughout my life, I've had very few medical professionals treat me with such patience and kindness, and each during each appointment, the midwife took so much time to answer my questions. I never felt rushed, and always left feeling excited instead of scard (ok, except that one time I had to have my membranes stripped. Holy hell.)
-My supportive husband. I don't think I can sing his praises enough, but he's one of my top reasons why our birth story went the way it did. At first, he wasn't really into the natural childbirth thing -he couldn't get why I wouldn't just want to numb the pain away, despite my intense fear of needles- but even so, he put our Tuesday night birth classes on his schedule so he wouldn't miss going to class with me. Through that, he was able to learn the reasons why natural childbirth was so important to me and became my biggest supporter and coach. You can read his thoughts on the birth story here, but by having that experience with him, I feel so much more confident about future birth experiences. Even if I'm in a situation where I'm not able to respond to ask necessary questions, he'll be able to act on my behalf. I married a good one 🙂
Fellow mamas, what eased your fears about the birth experience? Any labor tips or tricks that helped you?
Friends sans kids, anyone relate to the alien thing? 😉
Goods reads:
10 most disturbing movies for pregnant women
Apologies to the parents I judged 4 years ago
These are the lines of a story