Livi's favorite walking shoes + a video
Livi wanted to walk fairly early, but wasn't ready to let go of my hand until she was 13 months on the day. Up until that point, I would guide her around by one hand (she wanted to WALK, not crawl) and everyone would say, "Watch out! When she's walking, she'll be all over the place!" My aching back didn't give a flying you-know-what that she'd be all over the place, I was just looking forward to the day I would no longer be hunched over 24/7. Before I knew it, the day was here, and the good news is that she still wants to hold my hand, even though it's lightly now instead of for dear life.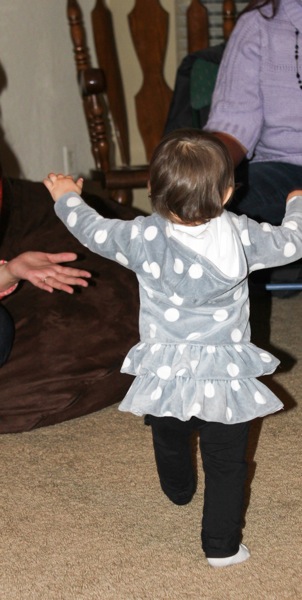 It wasn't until she really started walking that I realized something we'd been doing was holding her back: her shoes. At the time, her main shoes were a couple of pairs of Robeez (one was the Target lookalike brand which are exactly the same), Pedipeds, and some sparkly TOMs Mary Janes. The Robeez and Pediped shoes were way too slick on tile floors, and the TOMs had no bend in them.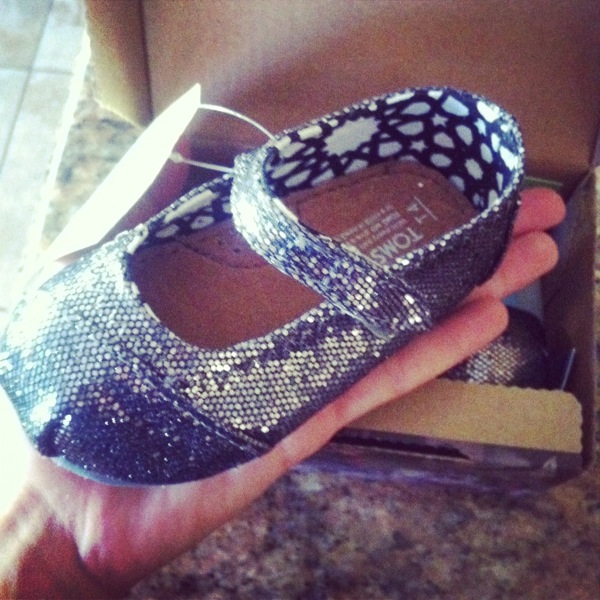 At home, we left Liv barefoot most of the time (we don't usually wear shoes in the house) and she'd be walking with no problems, but as soon as we'd be out and about, she had a rough time keeping her balance.
I went on a Twitter mission for new shoe suggestions, and the popular ideas were Crocs and Stride Rite. I decided to get her a pair of each -the Crocs big for later this summer- and the Stride Rite shoes to fit her in the meantime.
The difference with the Stride Rite shoes was incredible– they gave a perfect amount of support while allowing full movement, and also have an awesome tread on the bottom so she wouldn't slip. Those were her #1 shoes until she recently outgrew them. Lately, she's been wearing pink TOMs (since she's a more confident walker, the TOMs have been fine and the regular styles are much more flexible than the sparkly), and some sandals I got for her Easter dress.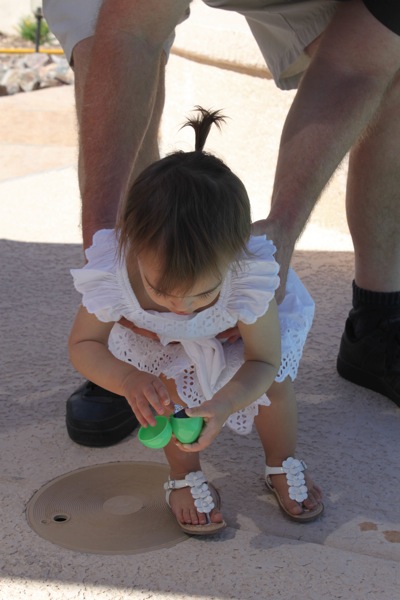 They were only $12, which is good because we're on the edge of too small and will move onto her Crocs.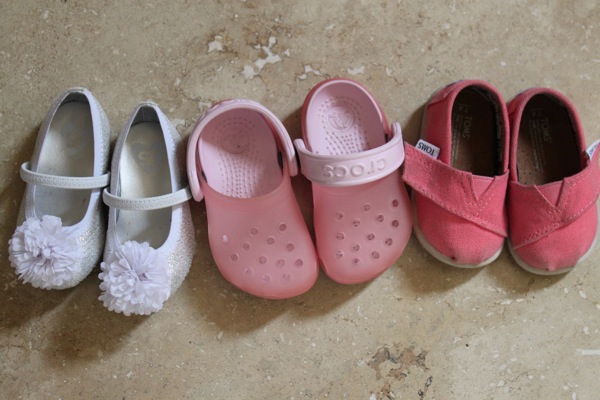 (The white pom-pom shoes are for Kyle and Meg's wedding this weekend! Also Stride Rite since she'll be able to comfortably dance in them.)
For shoes, I follow the same strategy as her clothes: I buy most of them on sale or clearance in larger sizes for later. The pink TOMs she's been wearing were $17 on a Zulily sale!
If I could rank her shoes for quality and function, #1 would be Stride Rite, followed by Crocs, and then TOMs. I think the Robeez and Pediped shoes were better when she wasn't quite walking, as they look cute but don't allow the best traction and flexibility.
If you have a toddler, what are your favorite shoes for them? Any fellow Croc fans? I have a pair of my own to teach pool classes.. and they're the most comfortable things ever.
Here's a video of the little lady in action when we went to visit my mom at work Monday. The salon was closed and she was doing a friend's hair, so she told us to stop by and say hi, and Liv would be able to walk around freely without disrupting any clients.
I asked her to do some of her funny things — the lizard impersonation never fails to crack me up 🙂
xoxo
Gina