Finally made some progress with the little lady's toddler room!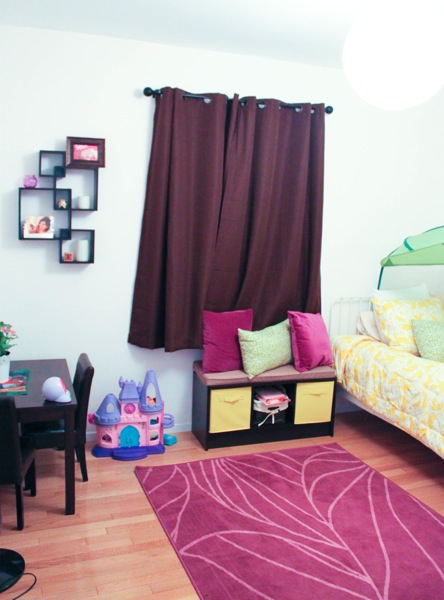 When we first moved in, I wasn't quite sure what to do about decorating Liv's room because I knew at some time or another it would be time to switch from the crib to a bigger bed. Her favorite color is yellow, so I thought it would be fun to change it to one of the main colors and also be able to use some of the old pillows and nursery furniture.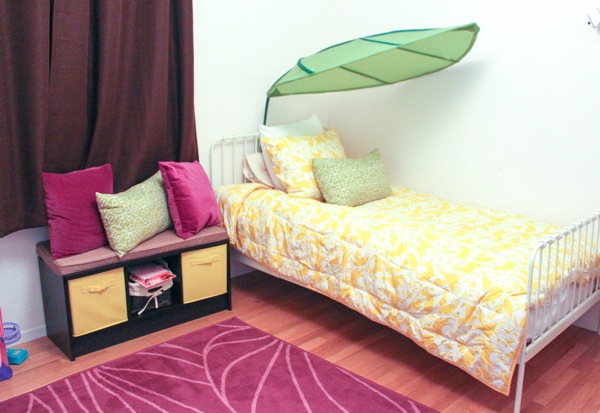 (Bed: Ikea // Mattress: Amazon // Bedding: Land of Nod (on sale now!) // Leaf canopy and rug: Ikea // Wall shelf: Target // mini table and chairs: Overstock (similar) // Bench and curtains: Target // Sign: Home Goods)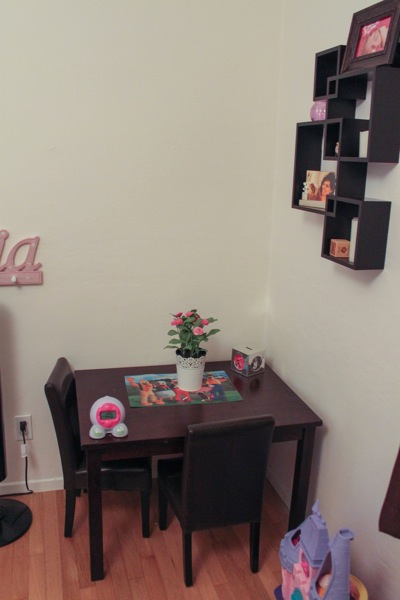 Still getting a lot of use from her little kitchen: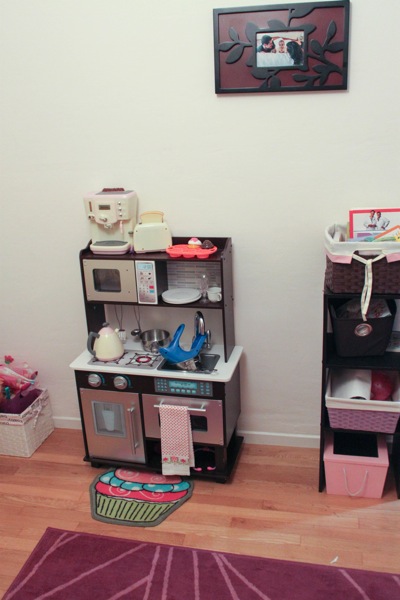 Some things that helped dramatically with the transition:
-We hyped it up BIG TIME. When she started to escape from her crib, we knew it needed to happen ASAP, and we started to talk about "her cool new, bigger bed" she'd be getting. Since we'd hyped it up, she felt so proud and excited while Tom was assembling everything.  
-She picked the bed. I was stoked that she picked this frame at Ikea, since I've been scoping out a very similar (but much more expensive) one at Land of Nod. We already have a queen-sized bed for her (which is in the guest room) but decided to do a twin bed before moving her into the queen. We went with a less expensive frame and a more expensive mattress, using a suggestion from a kind reader to get the green dream foam mattress from Amazon. The combo is perfect and the new bed is so comfy 🙂 She loves it.
–The "OK to Wake" clock. Since we started using the clock while she was still in her crib, she already knew that she needed to call for Tom or myself to get her out of bed when the clock turned green. I think that because we'd already been using the clock for a week, its uses translated easy to the twin bed.
-Her falling barrier. One thing that has always freaked me out about getting a bigger bed was that she may fall. They have quite a few bumper options to choose from, but in the meantime, Tom folded a quilt into a cylinder and we put it under the fitted sheet. It's soft enough that she can rest her head on it, but enough to keep her from rolling over and off while she's sleeping. 
-Same rituals, different bed. We still following the same routine for bedtime, so it's not that much has changed. I'm just so happy she likes her new bed 🙂
I'm still looking for some more pops of yellow colors to add to the room to tie the bedding in with everything. Let me know if you have any ideas!
xoxo
*more pics from our California house are here (linking because I love posts like this from other bloggers!) and our Tucson home + Liv's nursery.