Hi guys! How's your day going so far? I have a super efficient HIIT bodyweight workout for you today, but first…
we have liiiiiiife!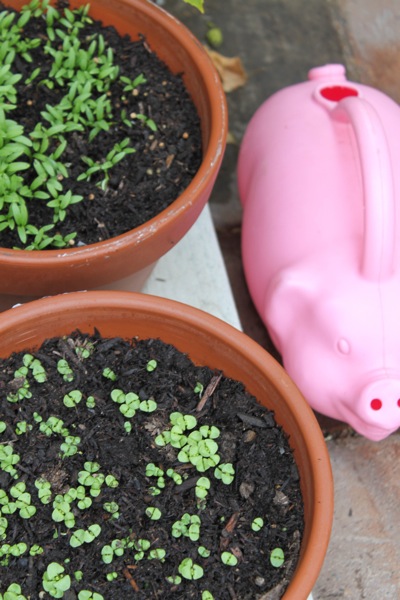 I'm so stoked that our little herb garden has started to sprout! (I think it's because nana was here and she has the magic touch. I figured out what her secret is, though: she had Livi talking to the plants with her. And then there's the whole "consistent watering" thing.)
For the first time ever, we have a tiny jalapeño plant. I was convinced the seed pack was a pack of lies, and there ya go. It would be fun to use our own jalapeños for salsa and egg scrambles this summer 🙂
While I was talking the photo of the herbs, the mystical green birds were squawking at me. Maybe you guys can help me dispel the mystery. There are green birds that will no joke fly over your face multiple times a day, and they look like parrots? The Pilot and I thought perhaps they had escaped from a zoo or aviary, but nope. They belong here.
The only photo I've been able to get of one: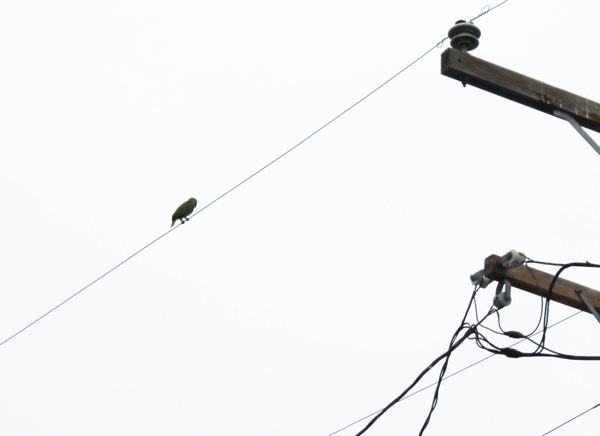 As you guys know, I'm not a huge bird fan but I do like the green parrot-things.
Yesterday was a pure strength day for training and classes. I took a barre class as part of my teacher training and had a short workshop afterwards. (San Diego locals: I may be teaching a free community class as my first one on the floor, so I'll let you know in the next couple of weeks!) Then, later that afternoon, I went to observe a BodyPump class to study up for my certification. Get this: class had over 80 people! I've NEVER seen that many people doing BodyPump at once, so it was pretty incredible.
It ended up being fifty shades of fail for me because I hit major traffic on the way to class and drove around for 15 minutes trying to find a parking spot at the gym. (I ended up having to do the creepy thing where I followed a girl from the gym to her car so I'd finally get a spot- it was that packed.) Needless to say, I was a couple of minutes late, didn't want to disturb anyone by setting up my stuff, so I sat in the back to observe and take notes. I'm hoping to knock out part two of my BodyPump training next month!
HIIT Bodyweight Workout
Today will be a HIIT day, and I'll be joining along with you for the workout below: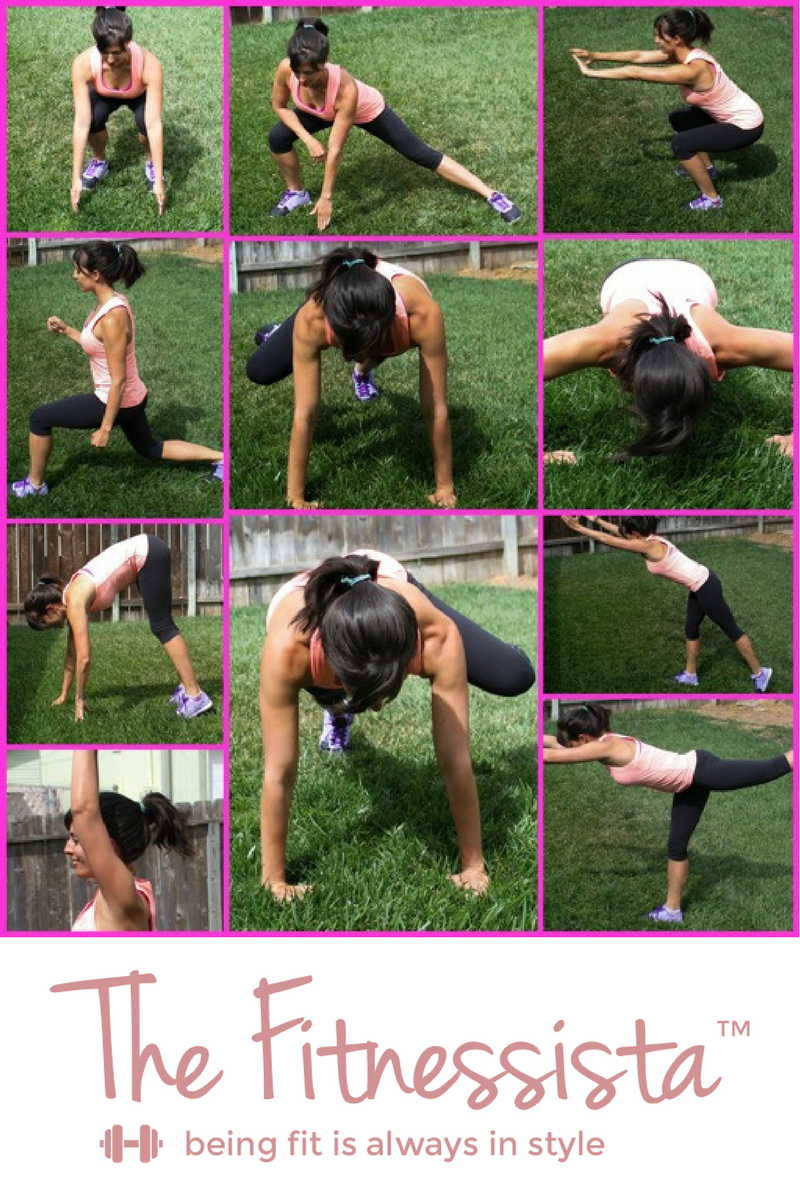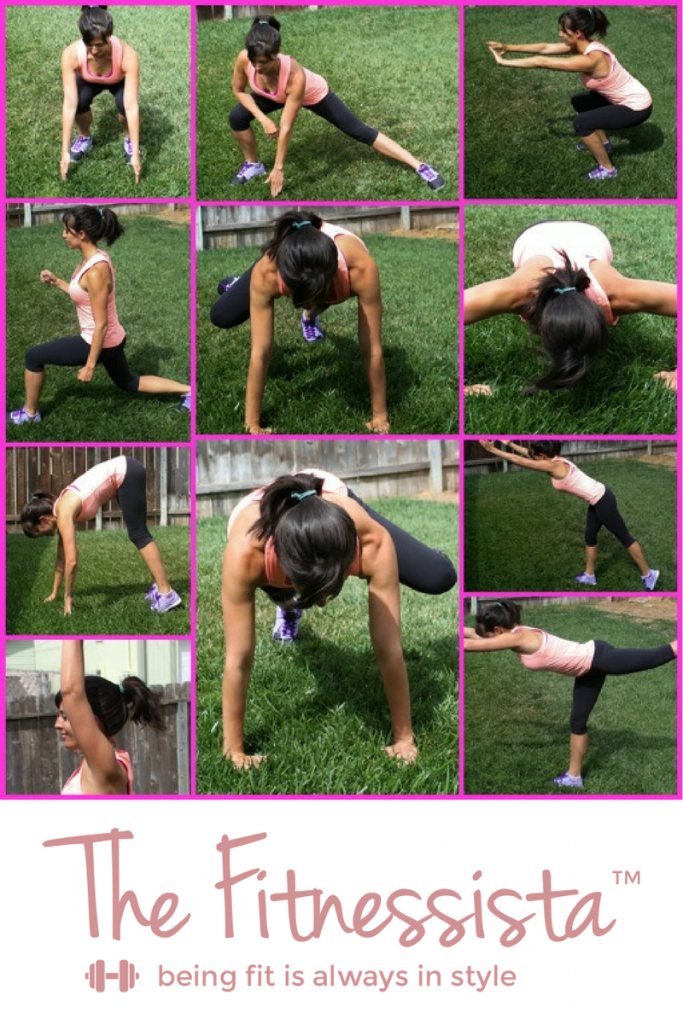 For today's workout, we have a HIIT scorcher. If you've been reading for a while (thank you!!!) you know I'm a huge fan of High Intensity Interval Training. It's a great way to increase fitness and maximize fat-burning potential in minimal time, so it works well in a pinch if you only have time for a quick workout. (Want to learn more about HIIT? Check out this post!)
This workout only uses your body weight and you can do it anywhere:




Form Cues and Tips
For your lateral lunges, be sure to sit your hips back and keep your chest lifted.
If you'd like to change the tuck jumps, feel free to do faster bodyweight squats or jump squats.
During your mountain climbers, really use your core strength to bring your knees in towards your chest or towards your elbows to engage the obliques.
For the Warrior 3 tap and lift, you'll lean forward with arms extended, lightly tapping your back leg to the ground. Use your glutes to lift up to a Warrior 3 position, and endeavor to keep your hips parallel to the floor.
For ALL of the exercises (especially the fast ones) be sure to focus on quality over quantity. Take a breather if you need one so that your form doesn't suffer.
As always, check with a doc before making any fitness changes and honor your body. Modify if you need to.
Hope you have a wonderful day!
See ya later with a refreshing and healthy popsicle recipe 🙂
xoxo
Gina
Congratulation to yesterday's giveaway winner: China! I'll be emailing her today to get her prize on the way. Stay tuned for more giveaways of the sneaky and non-sneaky variety 😉
Latest on the Family and Fashion pages <3