Hey everyone! How's your morning going?? You're probably thinking "wait, it's not another guest post??". Nope, it's me 😀 With a very special post for ya'll:
Today is National Love Your Body day….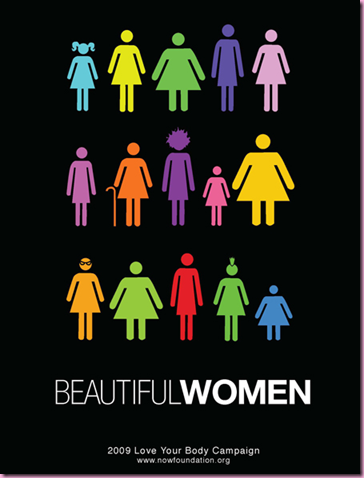 (Source)
A day to appreciate, care for, and celebrate our bodies <3
About this time last year, I had an epiphany in which I realized that I only get one body, so it's time accept it for what it is and be thankful for everything it enables me to do. I've found myself in so many situations where I was unhappy with the way I looked and would do anything to change it.
For years of my life, I sought a media-spawned perfection that doesn't exist. Even after my weight loss success, which I did purely for myself to feel better, I actually felt like I could do MORE. I worked out like a maniac, counted calories every day, fawned over fashions, wore colored contacts, researched rhinoplasty surgery (and even had a consultation and started to save money for the procedure), and to be honest, it was exhausting. I felt like every day I worked so hard, it was never enough, and I went to bed many a night discouraged and frustrated about the things I couldn't change. Why couldn't I look like so-and-so supermodel? Why couldn't I have legs like this girl (mine are short and far from Giselle's long and lean gams), arms like this girl, abs like this girl (whose name is Jessica Alba, btw), and nose like this girl (I've always been uncomfortable about my "beak nose" as I like to call it.. I've broken it three times!). Randomly, after spending SO much of my time and effort (and my LIFE!), I finally sat down one day and realized that when I'm old, I'm going to wish that I wouldn't have wasted so much time worrying about what I looked like. Life should be ENJOYED, not spent thinking about how things could be "better". One can't keep waiting to be happy and satisfied, or they'll just end up an old unhappy person.
After my ah-ha moment, slowly but surely I learned to eat food I truly adore (rather than foods that had the "right" nutritional info but were laden with processed ingredients), stopped killing myself at the gym (I still work out a lot, but it's the type of exercise I enjoy in lieu of past gym sessions I viewed as mandatory), and I started to understand that some parts of my body are going to have a little smush to them, no matter what I do and the "beak nose" is here to stay, unless I go under the knife which I'm really not down for. Instead of berating my body for not complying with what I wanted it to look like, I started to fully appreciate all of the things it enables me to DO. I can run, spin, Zumba, teach aerobics, train, yoga, play with my puppies to my heart's delight, cook and have dinner parties, without physical limitations. Every morning, it really is a blessing to be able to get out of bed, get cranking on the day, and my body has never held me back from anything I wanted to do. And yet, I spent so much time abusing it instead of being so grateful for the freedom it provides me.
It's funny, because the more I started to appreciate and be thankful for the healthy body I'd been given, the more it thanked me in return. I ran a half marathon and a myriad of other races (because I LIKED them! Who would have thought?!), started the Zumba program at our gym and taught quite a few spin and step classes, trained and educated clients on health and wellness, and was glowing from the inside out. My body actually started to look BETTER, the less I worried about appearance and focused on health and wellbeing in general. I've found that when you do what's right for your body, instead of what you feel pressured to do or what you think others are doing, it's amazing how well it will respond. Remember, you know what's best for you, not what some book or silly blogger is telling you. Our bodies are always talking to us and it's up to us to actually stop and listen to what they're saying.
Of course, I am a human (not a robot) after all and definitely still have days when I don't feel 100% or a little blah. I've realized that the more I've focused on health and what's best for me rather than external pressures, the less frequently those days occur and most of the time, I feel pretty darn ahmazin' 😀
This year, I think we should all take a second and think about how beautiful we are and all of the reasons why our bodies should be loved. And by "loved", I don't just mean accepting physical appearance, "loved" as in "nurtured".
Not only do we need to be grateful for all of the physical beauty we each possess, but also take the time to take care of the one body we have. There are quite a few people out there, who look great externally but are unhealthy on the inside. They think "Dayum, I look good!" and then go outside and light a cigarette, skip the gym for the (insert number here)th day, ditch fruits and veggies, refuse to take time for themselves, and neglect the other healthy habits that nurture our bodies and give us the ability us to thrive.
We need to care for our bodies by not only appreciating them for all they enable us to do, but also by providing adequate nutrition and promoting mental health. Taking up yoga was one of the best decisions I've made for my health- both physical and mental alike. It sculpts and tones and at the same time reminds me to stay in the present and sloooooow down my often frantic mind.
Let's start (and keep!) healthy habits now to love our bodies in the best way possible: by taking care of ourselves mentally, physically and nutritionally. Hop on that yoga mat, grab an extra salad, hit up the gym, go for a walk and very importantly seek advice if you need help on your path to better health.
In celebration of Love Your Body Day, let's list of some things we love about our body physically, and a step we're going to take today to nurture our bodies and promote good health.
I'll go first:
I love my calves! They're muscular from years of dancing and look banging in heels.
Today, I'm going to do a yoga podcast and have a salad beast for one of my meals 😉
Your turn. 😀
Later today: another awesome guest post! Get ready!