Hey guys! How's your Friday going?? Hope your day goes by quickly so the weekend celebration can begin 🙂
This morning, I was so stoked that I had a raw breakfast cookie waiting for me.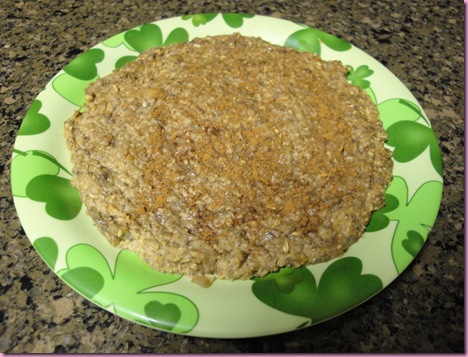 -1/3 C oats (ground into flour)
-1/2 scoop vanilla Sun Warrior
-mesquite and cinnamon
-1/2 banana
-1 T almond butter
-fresh almond milk
Somehow, knowing breakfast is ready motivated me to crawl out of bed, especially on a dreary day like today.
I met with my Lifestyle Challenge group at the gym and we went over incorporating nutrient-dense foods into their diet, since they're already working on eliminating processed foods. Even though out meeting is extremely early, I LOVE talking with them about nutrition and fitness. Definitely gets me going for the day 🙂
After my group, I did biceps, triceps and abs with Jeni and Ashley, trained a client and then came home.
Snack attack.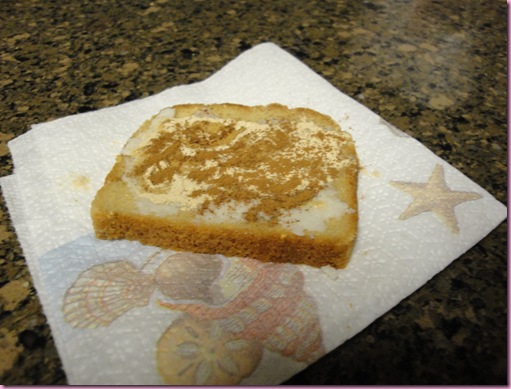 Millet bread (Food For Life brand, in your healthy grocer's freezer) with homemade coconut butter, maca and cinnamon
Since my next appointment isn't until 1, I figured it would be a good idea to ice the ol' knee and catch up on Grey's and Private Practice on the DVD.
This commercial is cracking me up lately.
As ya'll know, I'm a huge VS fan and rock the PINK collection like nobody's biznazz but this commercial is a little ridiculous.
I tweeted:

To the average Jane (like me!) I'm pretty sure many of us are going to scoff and subconsciously associate the fact that if we looked like that, we'd love our body too. SO, SO not the case! Our bodies are beautiful for what they can DO — little imperfections make us unique and should be embraced. Of course, these supermodel girls are gorg and I have no prob with VS (and will continue to spend copious amounts of money there), but they could have gone in a really unique and awesome direction with this commercial. And they failed.
Just my 2 pesos. I'm not even going to go into my tirade on how the media warps women's body image….. Looking at it now, at least I can get a chuckle out of it, but I could definitely see younger college-aged post-weight loss Gina being slightly affected by the commercial, even on a subconscious level.
Do ya'll agree? Disagree??
Well I'm off to make a hefty smoothie and order more Sun Warrior because once again, I'm almost out.
Have a lovely day,
G
Today's Workout Jam: "Kings and Queens" 30 Seconds to Mars (perfect for a killerrrr weights sesh or a slow, cardio hill workout)