Hi guys! How's the day going so far? I'm excited to finally get this barre burner posted after my crazy YouTube tech issues. This video took me about 20 times to upload so please give a little thumbs up if you give it a whirl and enjoy it 🙂 This would be a great component to legs day, after cardio, or any time when you want a quick workout.
I haven't found a good space yet to film videos to share, but I figured in the meantime, I'd film them exactly where many of you would be doing them: in the living room. This way, it really feels like we're working out together. Since I've really fallen in love with barre again -and am thankful that I can enjoy it as part of my weekly routine!- I thought I'd share a total body barre-based workout today. This one is 15 minutes and split up into 3 sets: warmup, legs/booty, and core.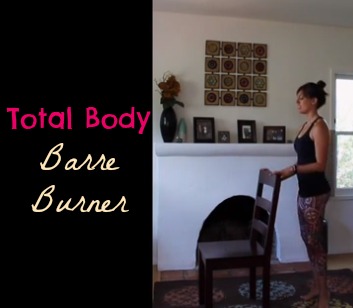 Make sure to warm up before giving it a whirl, and also check with a doc before making any fitness changes. Those with knee, hip, and joint considerations may want to skip this one (lots of small movements and flexion at the knee), but as always, honor your body. It will tell you what it needs and what it can do: it's just up to us to listen.
Have fun! Let me know if you give it a try and if there are any video workouts you'd like me to post in the coming weeks. Hard to believe that Summer Shape Up is almost here, too! 
See ya soon. <3
xoxo
Gina