Hey everyone! Hope your day is going well <3 Any fun plans for this weekend??
Thank you SO much for the awesome feedback on the egg puff post! Per your requests, I'll definitely make a b-fast cookie how-to next week 😀
With my egg puff last night, I had a salad beast: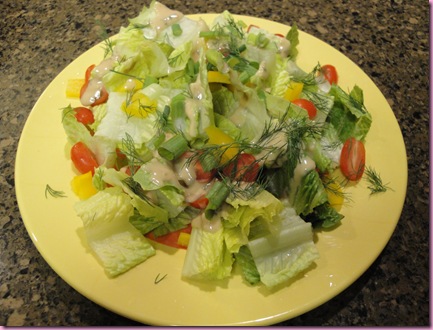 And my beloved millet: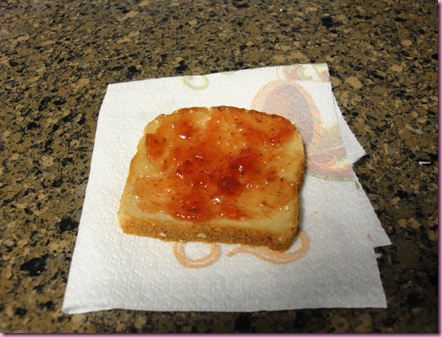 (with Polaner and Earth Balance)
It's a millet frenzy in the blogworld right now! So glad those of you who have tried it enjoy millet bread as much as I do 🙂 A little while later, I had some unpictured spelt cereal because I was still feeling snacky.
This morning, I woke up ridiculously early to meet with my Lifestyle Challenge group at the gym. This week's challenge is to remove processed foods from their diet (each week, we add on a new goal to their lifestyle—last week it was including cardio, strength training and water). We had an AWESOME discussion about processed foods. I just love chatting about white starches, glutamates, high fructose corn syrup and artificial colors and flavors. Good times 😀
Before leaving the casa, I munched a raw superfood bfast cookie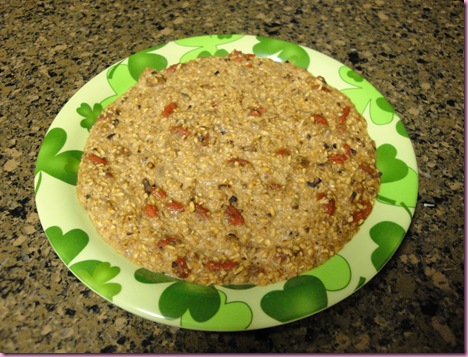 -1/3 C oat groats (processed in the food processor)
-1/2 scoop vanilla Sun Warrior
-1 T almond butter
-almond milk
-cinnamon and maca
-1/4 T chia seeds
-sprinkle of goji berries
-1/2 banana
-foodgasms
After meeting with my group, I hopped on the elliptical for an hour and then came home to pack.
Now, we're ON THE ROAD to Orlando!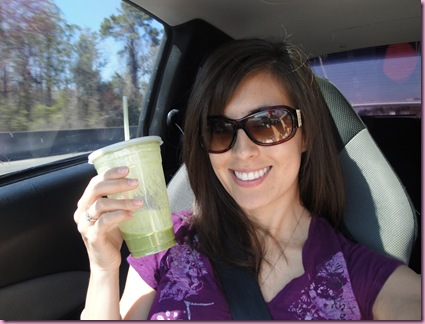 We stopped at Main Squeeze before heading out and I had a tropical superfood smoothie (with 1 scoop Sun Warrior and 1 t spirulina that I err, had in my purse in a baggie) and antioxidant blend.
Bella has been lap-hopping the entire time 😉 (Viesa is at the kennel –she loves it there- because she tried to eat my aunt's yorkie) and I slept for an hour with my mouth wide open (embarrassing).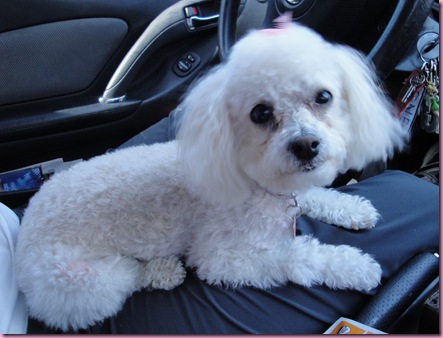 After driving for a while, I was ready for a Bizzle break, so I grabbed a Refresh tea: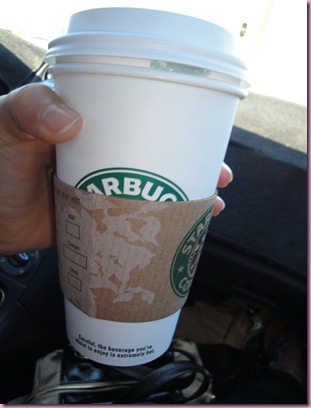 And some snacks.
Bizzle is really starting to impress me with their snack choices: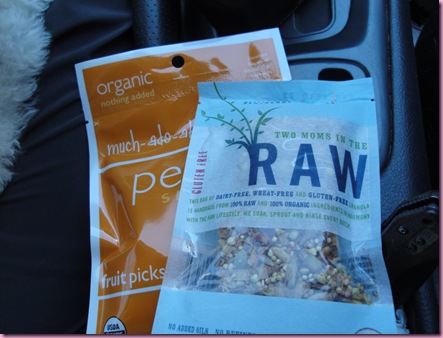 Dried organic mango and a raw granola bar!
Check out the first ingredient: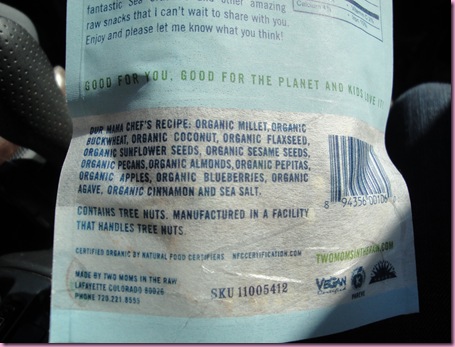 MILLET! Let's just say I was a fan 😀
I'm off to keep the pilot company (because he's my hero and is driving the whole way there) but I'll see you from Orlandy. We're hitting up the Expo, mall (I hope!) and a glorious dinner.
xoxo,
Gina