And [*knock on wood*] doing so, so well.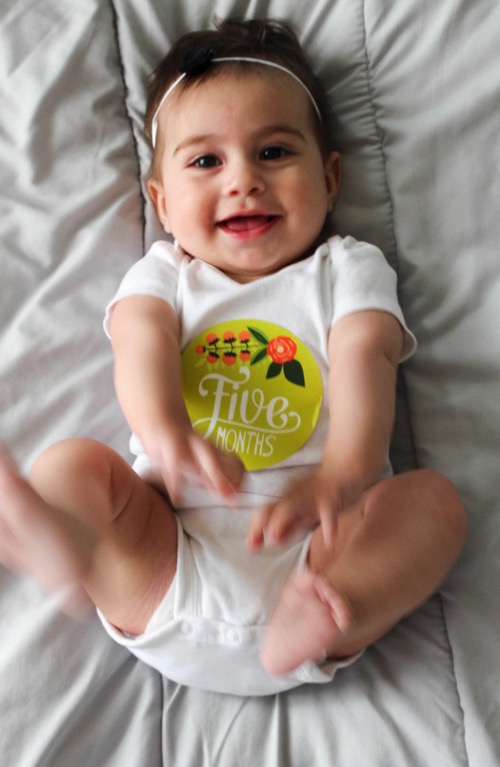 We majorly regressed with the reflux last month. It got to the point where I felt like we were back at ground zero, and was praying that this meant that we were getting near the end. All of a sudden, things started to turn up. I'd read that the reflux peaks before it goes away, and while it hasn't gone away entirely, we have a new baby on our hands.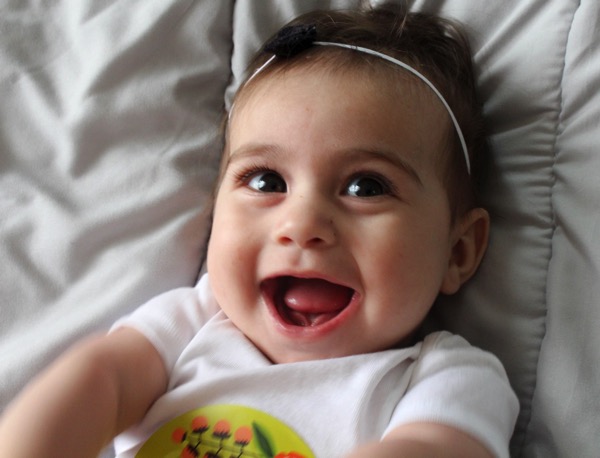 I think I've said this before, but I think it's worth mentioning again for my parent friends who are in reflux hell (<— there's no other way to put it) right now:
There is a light at the end of the tunnel! I didn't believe it, and it is so horrible/painful/scary when you're IN it, but it will get better. Hang in there. <3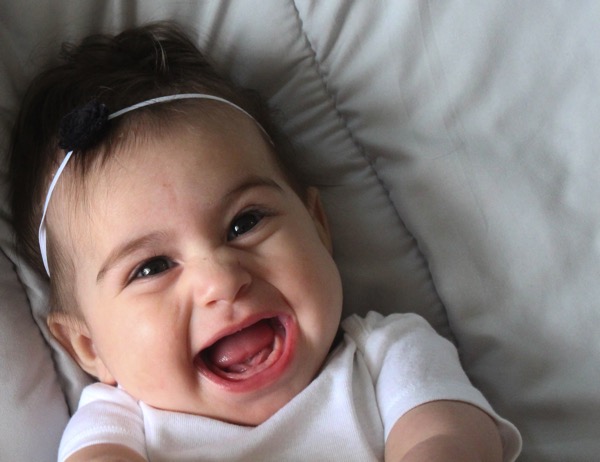 (on her back for 5 minutes without spitting up! VICTORY. Also, her smile makes my ovaries hurt.)
Some things about 5 months:
-This has definitely been my favorite month so far, but I always feel like with the girls each month, day, and year is better than the last. They're always teaching me more about their unique personalities, I learn something new about each of them, and my heart grows every single day. I feel so lucky to be their mama.
-Miss P is thinking about sitting up -she curls her head into a "crunch" position all the time but still needs a lot of support when she's seated- but REALLY wants to crawl. When she's on her tummy, she sticks her head up as high as she can and starts shimmying her torso while kicking her legs like crazy. It is absolutely hilarious, and I think very telling of the day she does start crawling: once she's mobile, she's going to be all over the place!
-She took her first plane ride, and is not a fan. It's funny because Liv has always been pretty mellow for travel, which I think is because we've always taken her on flights and road trips. Since we had to hold back a while with Miss P, she was like, "What is this place? Who are these people? Who can I serenade with my pterodactyl song?"
P is extremely active -she fusses when we sit still with her- so for her to be in such a small space was not her cup of tea. For the first flight, she sang loudly (didn't cry, but was super loud), and needed to *jump* with Tom or myself holding her. My Fitbit thought I was running, but no. I was just bouncing my child for an hour haha. On the way back, she fell asleep on takeoff while drinking her bottle. Tom and I raised our eyebrows at each other, giving a silent, "YASSS!" thinking it was too good to be true. It was. The kiddo across the aisle from us was singing her own pterodactyl song and woke P up like 15 minutes later. We bounced her again the entire way home. It wasn't easy, but it wasn't terrible haha.
-Some of the things she loves:
Her play mat
Lamaze toys (especially ones that "crunch")
Eating her toes 😉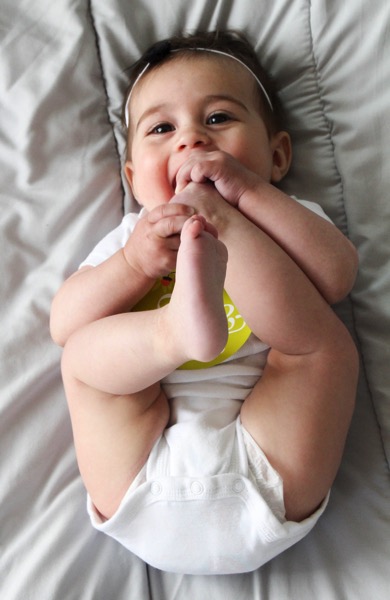 This Noisy Doggies book- she laughs every time I open it!
Music class. We go once a week, and the instructor sings for the entire class, and her voice is gorgeous. They also play a variety of music, including jazz, classical, folk, international, and nursery rhymes. The babies get instruments (like egg shakers, tambourines and small rattles) or props (scarves, balls) for the different songs, and we also do easy dances with them while walking around in a circle. It is so so much fun, and I get a kick out of watching all of the smiling babies.
The Ergo!! Baby wearing is finally getting more comfortable (and less spitup-inducing!) so I can wear her around in the Ergo. I'm so happy she loves it, because baby wearing is one of my favorites.
Liv. Always. 🙂 Any time Liv is in the room, P is absolutely fixated on her. You can already tell that these two are going to have a very special bond.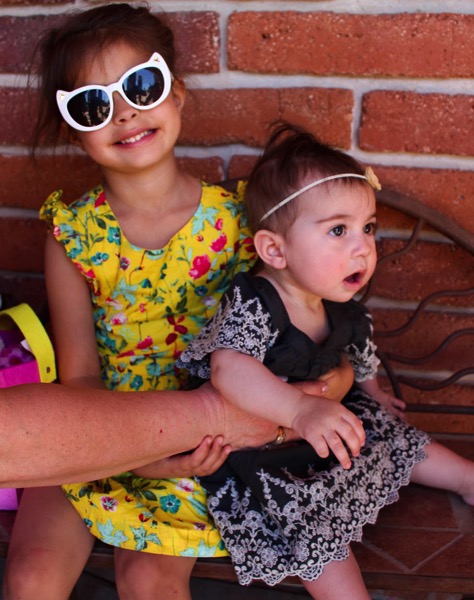 This month is the LAST MONTH for bottles only, since we can officially start solids next month. I can't wait! I also wanted to ask if any of my reflux mama friends out there had success switching from an elemental formula to regular hypoallergenic after 6 months. The Elecare is $$$ (I had heard/thought insurance would cover it but even after a peer review with our ped, they still declined it), and many people have said babies often outgrow the milk protein allergy in the first year. It would be amazing if that's the case!
Here's to more laughter, love, growing, and happiness with you, Miss Penelope Rose.