Penelope is 8 months old!
Babbling,
STANDING (halp me)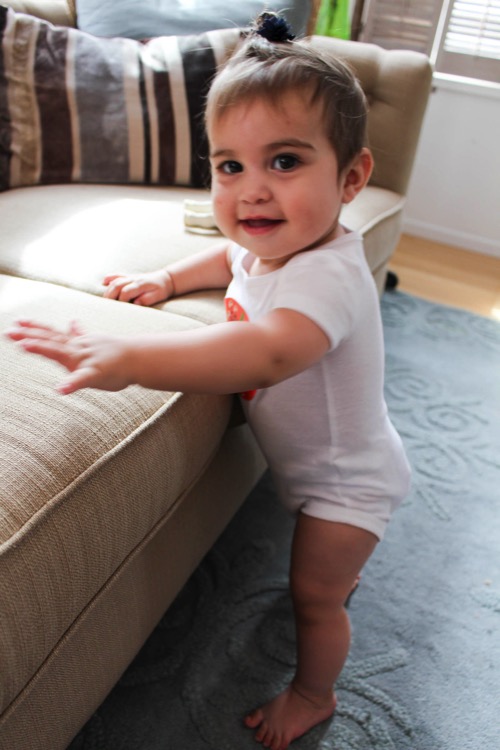 growing like crazy,
and constantly filling the room with her bright smile and belly laughs.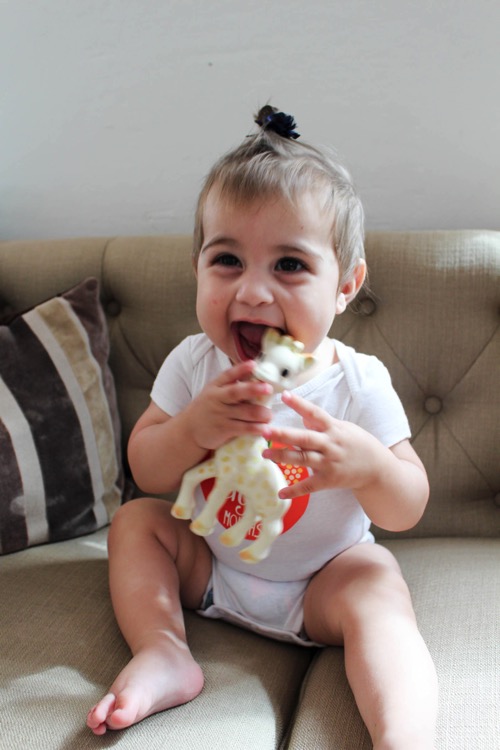 It's hard to believe that at this point one year ago, I was feeling very uncomfortable and hot, already kind of "over" being pregnant, and also couldn't help but feel nervous about what the future would hold.
The mom guilt had started to set in -I was really worried about Liv and how the transition would affect her- and while I knew that things would be amazing, a part of me felt sad that it would no longer just be Liv and myself. I think it's something that a lot of moms experience when going from 1 to 2 kids, and I couldn't help but feel anxious. I knew that Liv would be an incredible big sister, and that we'd find our new normal, and things would be wonderful.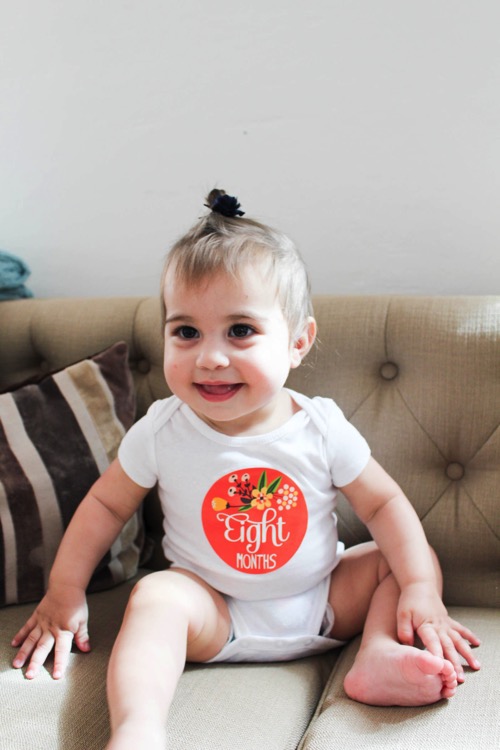 I had no idea just how wonderful this little lady would be, and how it would make our family feel complete and so full of love.
Seeing these two together makes my heart explode multiple times a day. I jus love them so much, and feel so lucky to be their mama.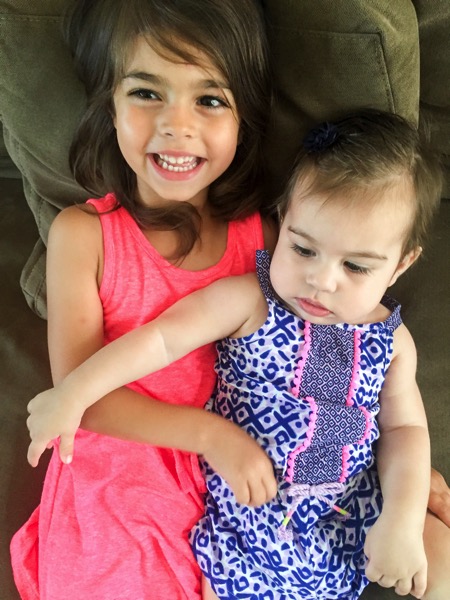 Here's what's going on at 8 months:
-P went from crawling to standing within a week or so, and is now cruising around the crib. It was a bit of a tough transition because she just wanted to practice her new skill, so nap time kind of fell out the window for a little while there. Now that standing is NBD (and she can get up and down), it's much easier to put her down for naps again. She's starting to test her balance, and will often let go to see how long she can stand there, which makes me think that walking isn't too far away. I'm so not ready for this, and we've started babyproofing the house, since she tends to want to go for the most messy/dangerous things. (Cords? Dogs' water bowls? Shoes?)
-She has 4 teeth! Her two "fangs" and two bottom teeth.
-She's still rocking the "rat tail." My mom and Tom have told me to cut it, multiple times, but I just can't. She's had that hair since she was born. It makes me too sad to get rid of it. And who knows, before long, I'll be able to braid it. 😉
-"Mama" is the only word she repeats after us, but I think she's working on "Olivia?" Whenever I ask her where sissy is, she says, "Ay ya!" I'm trying to teach her "da-da" too, so we're working on it. 🙂
-We're still slowly introducing solids, to make sure nothing causes digestion problems or aggrevates the reflux. On the medical front, our new pediatricians have been movers and shakers. We have 2 ENT appointments (1 is this week!) and a GI appointment scheduled. I don't want to jinx anything by saying things have been going really well, but yeah. I'm so happy that our medical team is invested in her care and helping us search for some answers. Hopefully things continue to improve and can settle down a bit. I think we've had two weeks since she was born without doctors' appointments (between my medical stuff and her appointments).
-She is in the 84th percentile for weight, and off the charts for height! The doctor showed me the growth chart, and P is a good inch above that. Tom and I joke that maybe I was pregnant for 2 months longer than we think I was, because she's so long, and extremely bright. She feels much older than she is.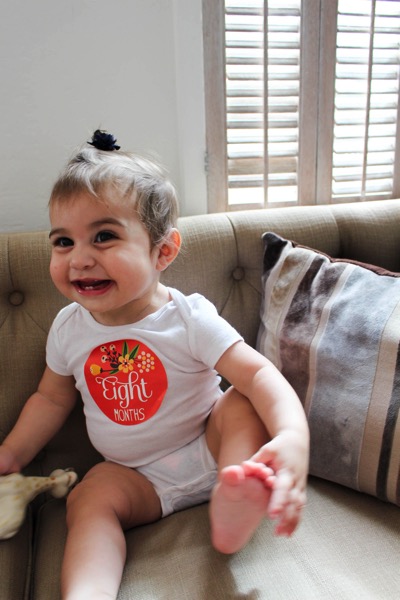 I'm excited to see what the next few months have in store, and it's hard to believe that we'll be planning her first birthday party before long! We're thinking it will be a Mickey and Minnie Mouse themed party, because she LOVES the "Hot Dog" song. Whenever it plays on the TV, she starts bopping her entire body and it's the cutest thing ever.
Some of P's favorite things at 8 months: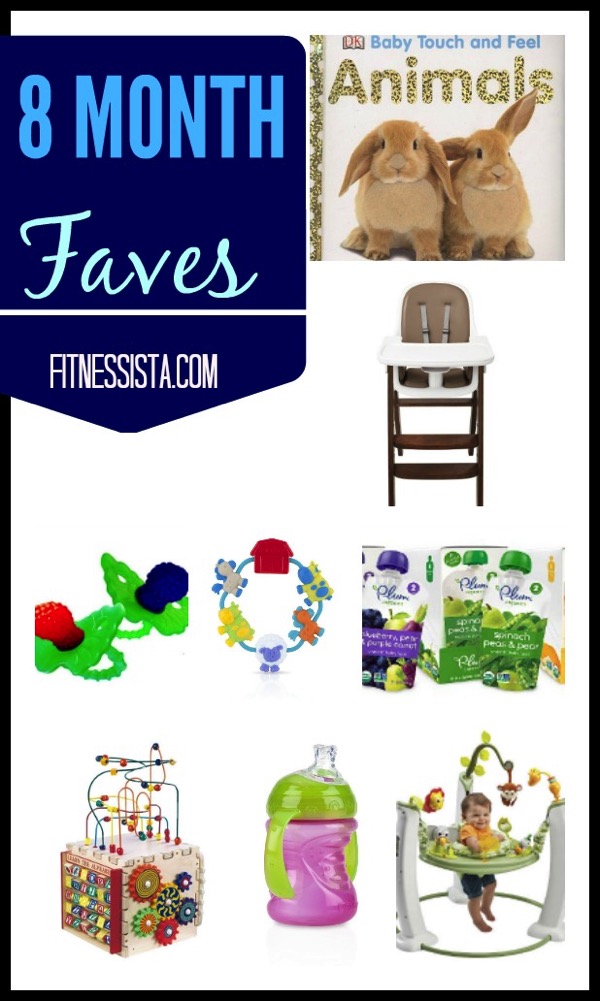 –Plum Organic pouches. She goes crazy for all of the flavors she's tried. It's also a great way to save money initially because I can see what combos work for her before making them at home.
-These sippy cups
-Music class
-The "Hot Dog" song and "Patty Cake"
-Reading any books with animal noises (like this one, and this one). When I "moo," it surprises her and makes her giggle every time. The best. (Not to toot my own horn or anything, but I'm a pretty talented moo-er.)
-Baths
-Swimming
-Meal time (we use the same high chair we used for Liv)
–This teether and this teether
–Activity cube (picked up for $15 at the Just Between Friends)
–Her jumper! (Picked this one because the songs aren't too crazy and it has neutral colors)
Dislikes:
-Having her hair put into a ponytail or little bun (it has to happen. It's so long)
-Being cold
-Road trips
Happy 8 months, Miss P. <3
xoxo