Musical Cardio Playlist + solo spin sesh
Hi! Happy long weekend! Hope you fun plans ahead for the holiday. We're grilling with friends and hopefully I'll get to do a little paddleboarding adventure. 😉 I'm also teaching spin again! When I taught last week, I was super nervous -it had been forever since my last class but decided to go in there with a "fake it til ya make it mentality- but it ended up going well. I'm excited to teach again this week, and in my attempt to practice and put a playlist together in advance, I thought I'd post it if anyone wants a cardio boost or solo spin session this weekend.
The beauty about these types of workouts (musical cardio!) is that you let the music dictate what happens. The slow, intense songs are increased resistance, while fast, upbeat tempos are your sprints. Of course, I like to add jumps, tempo work and rolling hills in there, too.
Here's what I put together for this week's class: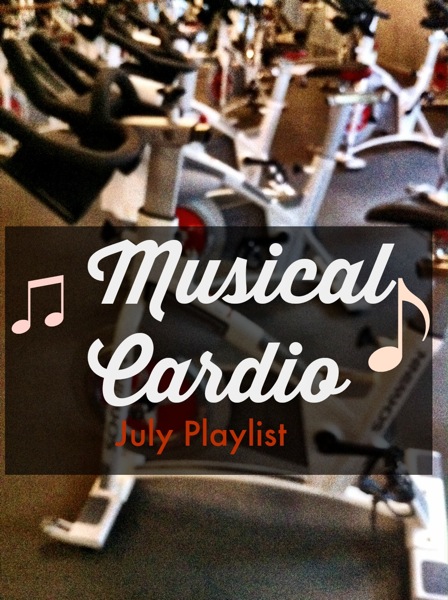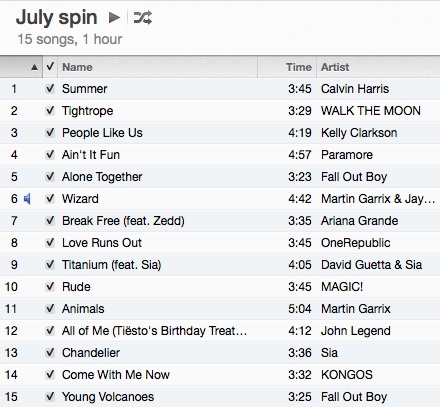 And a widget to preview the songs to see if you like them 🙂

Cardio guidelines for each song:
1. Summer: warm up. Use this song to include moderate resistance and speed. Take deep breaths and focus on warming up the body. Spin: roll shoulders back, inhale and exhale with arms up, and keep moderate pace on a flat incline.
2. Tightrope: tempo work. Start to work on some speed to get the legs moving! Increase your speed and maintain it with slight speed increases on the chorus. Decrease speed during the verses.
3. People Like Us: jumps. For spin, we'll do jumps by standing up for two counts (position 2), out to position 3 for two counts, back up to 2 for two counts and sit down on the bike for 2 counts. (Each set is 8 counts.) If you're on the treadmill, hop off for this song and do squats for the verses and squat jumps for the chorus. Enjoy 😉
4. Ain't It Fun: hill part 1. Every time she says "Ain't in fun," add in some resistance. When you can't take it any more, hold that heavy incline for 1 minute before decreasing and repeating.
5. Alone Together: hill part 2. On the spin bike, come up to position 2 (standing) and increase resistance every 30 seconds. Take it out to position 3 (heaviest resistance) and sit, keeping that high resistance for the last minute). If you're on the treadmill, this is the second part of your heavy hill. Try to get it up to 12-15% during the song and keep your highest incline until the end.
6. Wizard: sprints. Nice flat incline (2% if you're on a treadmill; spin bike RPE 5-6 out of a 1-10 scale). Sprint as FAST as you can for 30 seconds, recover for 30 seconds. Repeat for the entire song. You can also use the music as your guide: when it tells you to speed up, go for it!
7. Break Free: free style. Hills, jumps, flat, fast steady state, your choice. This is a great chance to shake the legs out after the two incline songs + spring.
8. Love Runs Out: jumps. Counting jumps on the spin bike: up for 8 counts, down for 8, up for 4, down for 4, up for 2, down for 2. (I'll do 4-8 sets of each.) If you're on the treadmill, hop off for this song and walking lunges for the verses, pushups for the chorus.
9. Titanium: sprints. Keep a moderate pace with a flat incline for the verses, and during the chorus, crank up the incline and go as fast as you can.
10. Rude: last heavy hill. "Why you gotta be so rude?"<— add in some resistance. On the spin bike, when it becomes too heavy to maintain a full rotation of the pedals, bring it up to standing position and continue to crank the resistance before bringing it out to position 3. Treadmill: by minute 3, be at your highest resistance. Hold it here.
11. Animals: speed and incline work. During the driving part of this song (the most intense instrumental portion), you'll be sprinting, increasing your speed every 10 seconds. During the part that I can only describe by sounding like ping pong balls, you'll keep an easy pace and shake your legs out. During the slow part, build resistance before decreasing it right as you start to sprint.
12. All of Me: cool down. Take down the speed and incline, use the entire song to breathe and get your heart rate back down.
13. Chandelier: stretch!
(The last two songs are on the playlist for filler songs or to do something with them later!)
Let me know if you give it a try <3
Check in with your workout here for this week's White Plum giveaway!
xoxo
Gina
Some 4th of July links: