my 6- month PDB (post-delivery body)
Hi friends. Since Miss P is just over 6 months, I thought I'd write a little bit about my postpartum experience thus far since I discussed it after Liv's birth.
At 6 months post-birth, mentally, I feel better than I could have imagined.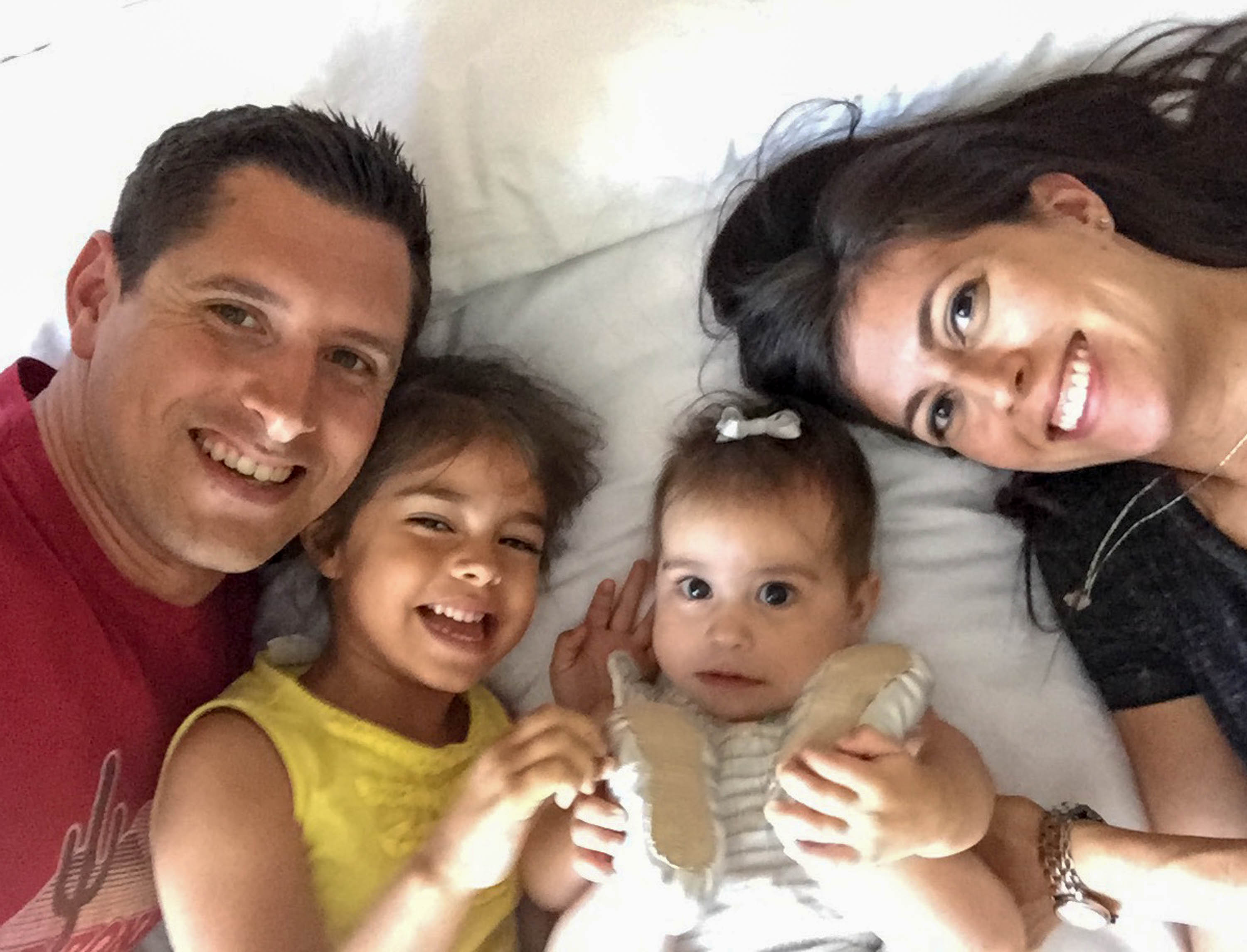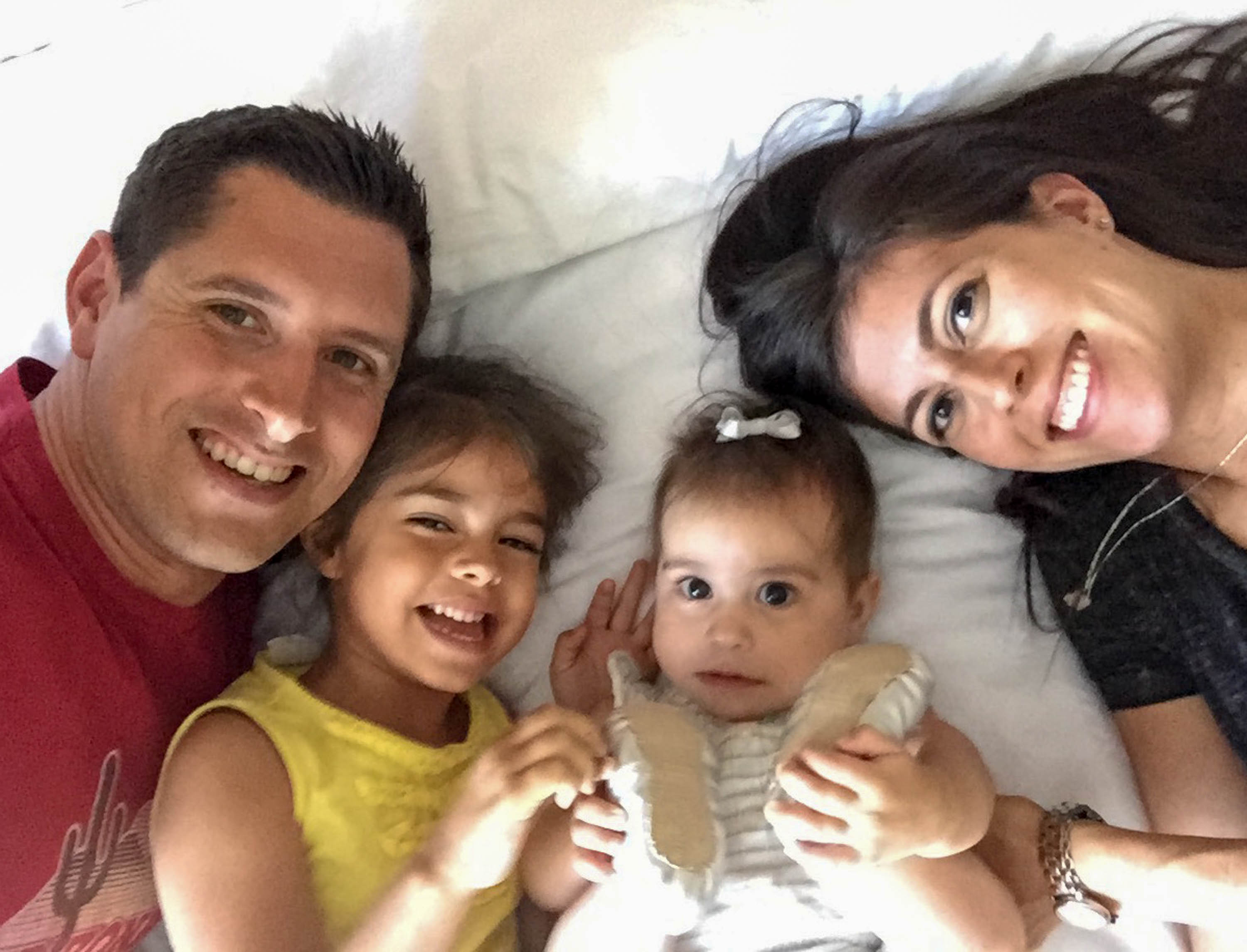 More on all of that in a sec. 🙂
Physically, I feel lightyears behind my initial expectations. I also didn't expect to spend most of the postpartum period recovering from my own medical issues. To be totally honest, I've felt like the UNFitnessista for quite a while. 😉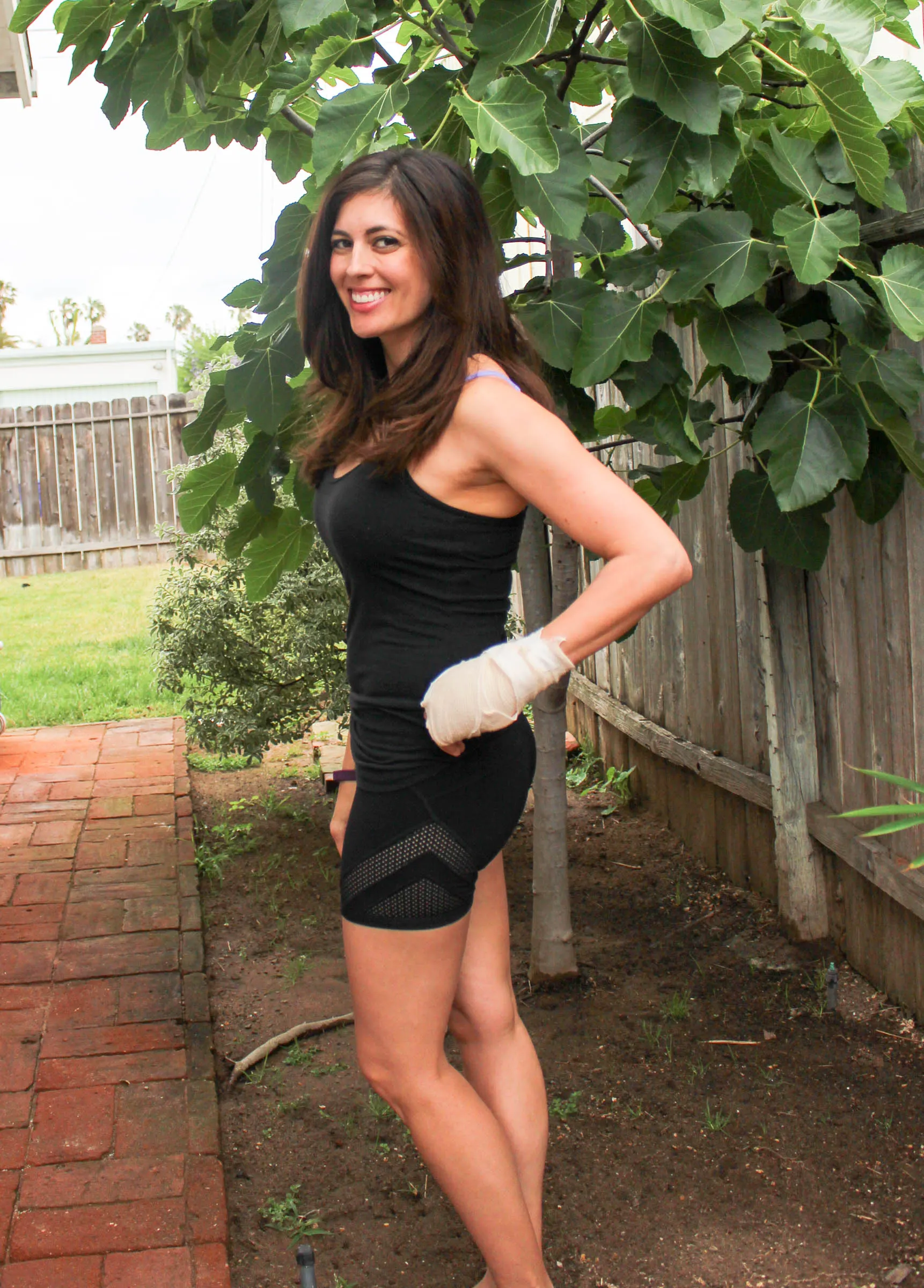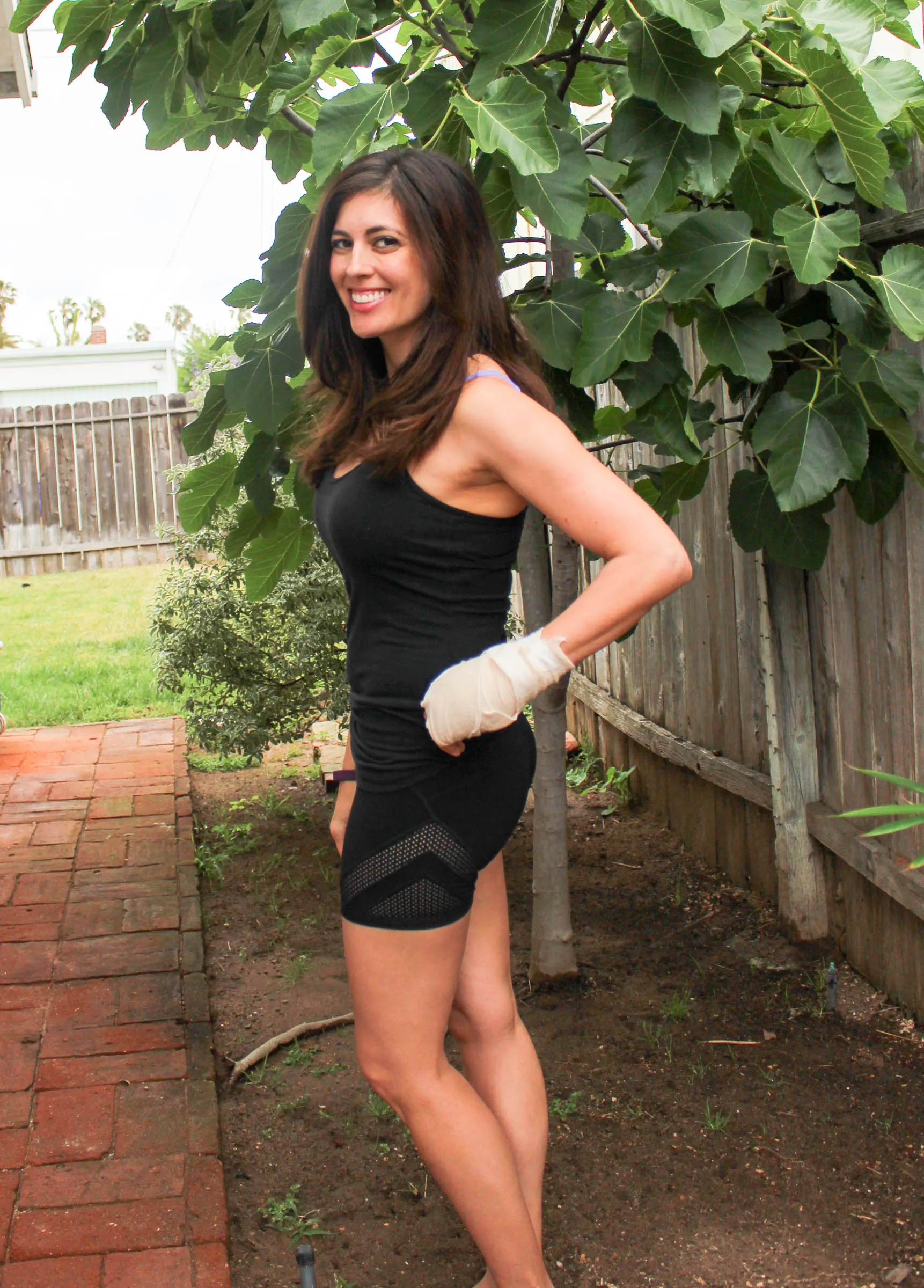 (I had no idea what to do with my hand haha)
I feel very aware that my muscle density and overall fitness level is down. It's NBD because when I'm healed and cleared (starting today I can do cardio, core and legs again- wahoo!), I can get back into the swing of things. As far as physical fitness goes, if you asked me to sprint up a hill (<— an athletic endeavor that would usually be doable, and fun in a weird way) I'd probably start sputtering and hacking at the top. While it's expected, it's also an uncomfortable and unfamiliar feeling (especially with the knowledge that I'll be back to teaching before long which tends to be fairly tasking).
After P's birth, I was excited to resume my fitness activities and reclaim my speed, jumping power, and strength. I thought that by the time I wrote this update, I'd be feeling like I did when Liv was 6 months old. Back then, I was back into my full teaching schedule, taking yoga with friends, and feeling pretty much "healed" from the birth. Of course, during that time, I was also still suffering from severe anxiety and what was later determined as undiagnosed depression. This time, the depression is gone and I feel awesome. I haven't put on a pair of sneakers in… a long time. Of course, I'd much rather be in a happy place and know that fitness is waiting for me, rather than going through the motions and silently suffering.
Still, I found myself frustrated by the continuous, yet minor (thank goodness) setbacks. Shortly after P was born, the severe reflux began. I talk a lot about it in this post. My #1 priority: taking care our daughters and working to minimize P's discomfort, and keep her safe from choking. Next, my own medical issues began and I slipped from doing ok, and "hanging in there," to the lowest point, mentally. The first hurdle was with having to quit breastfeeding (which was sad for me, but I was happy to do what P needed), and then the prolapse which turned out to be not as servere as initially diagnosed and is virtually a non-issue now. My pain/discomfort was related to another issue from the birth and the consequences of pushing out a giant baby quickly + not being repaired properly. Next, it was the countless specialist appointments and physical therapy visits in addition to P's bi-weekly pediatrician checkups. It was very overwhelming. Thankfully, most of her issues have been resolved. Now, P is doing amazingly, and I had an incredible surgeon who has fixed the post-birth repair problem, and given me the capability to truly heal from the birth.
Finally, I had nerve repair surgery from severing my digital nerve over a year ago. Both surgeries (2 within 2 months) are behind me, and I'm so thankful for an awesome medical team. I found out today that I had a 1cm neuroma (bundled nerves) that had to be removed. Had I let it continue to grow, the pain would have become worse and my movement would have been dramatically hindered over time, so I'm really happy I had it done.
Since I've spent so much time healing, I've been inactive for 3 out of the past 6 months. 3 solid months + physical restrictions while I was pregnant. When you've been working out around 4-5x a week for over 15 years, that's a long time to be out for the count.
Even though I missed taking fitness classes, connecting with my fitness students, and pushing myself in my own workouts, there were some blessings to come out of this entire situation.
1) It forced me to really dive in and learn about issues that affect so many women that no one discusses. It's not really proper to say "Let me tell you about my vag!" when someone asks how you're doing after a birth. Because of the initial prolapse scare, I have done a TON of researching, reading, and learning from my pelvic floor physical therapist. I can now share this knowledge on the PBB blog, in my fitness classes (indirectly, by encouraging breath work and engaging the transverse abdominis), and I feel like it has made me a stronger fitness resource. I want to be able to share my love of fitness with others and encourage fitness longevity. It's important to be able to safely perform the things you enjoy for the long haul. Pelvic floor health is an enormous piece of the puzzle, and dramatically affects quality of life.
2) This gave me the chance to focus on getting these issues resolved -I delayed a 3rd opinion on my hand because the other doctors told me "too bad, so sad." This neurosurgeon instantly said, "I can fix it, and you won't be in pain anymore."- and also settle in to understand and enjoy my role as a mom of two. I didn't have a lot of other distractions, and I think this immensely improved my mental outlook. With my postpartum depression and everything going on, I was feeling very down, broken, and like there was a black cloud over me. I committed to myself to get the help I needed, and focused on finding joy with my family. It is remarkable how much better I feel this time around. I always knew I loved being a mom, but I feel like it's now in vibrant color instead of the initial postpartum cloud overcast. I didn't know it was possible to feel this good, and it made me feel like I stole some of this experience from myself when Liv was little. Of course I enjoyed it and was head over heels in love with her, but I still felt pretty terrible, mostly about myself and my capabilities. If you're suffering from depression and/or anxiety, please check out this post and talk to someone. You owe it to yourself, and you don't have to suffer anymore.
3) It reminded me that fitness doesn't dictate my life, but it greatly enhances it. I can do without working out; I did it for 3 whole months. But, I totally missed it. I missed the high of teaching a packed spin class, the solitude of a long run, the sweaty and peaceful savasana, my legs shaking in barre, and the feeling of picking up a heavier set of dumbbells. After this whole experience, I'm excited to bring the things I enjoy back into my life with open arms. Teaching fitness and working out doesn't define me, but it is something that I truly enjoy.
For the first time in a long time, I'm going to have to start a new routine. I'll be figuring out how to fit fitness back into my life (teaching usually helps with this) and setting up a plan to get safely back into it. I'll be using a lot of the PBB workouts to build my strength back up, since I already spent a lot of time compiling the workouts to ensure safety.
Who knows, maybe by 9 months, I'll be feeling like the kinda-Fitnessista again. 😉 Thank you for hanging out with me during the great fitness drought. I'm excited to have some new inspiration for the blog, and thank you as always, for hanging out with me over here.
More:
After Liv's birth:
After P's birth