Out of the box (+ a Cravings giveaway)
This post is sponsored by Blue Apron. The first 50 to order using this link will get $50 off their first two weeks using Blue Apron!
BACK IN THE KITCHEN, and it feels so.good.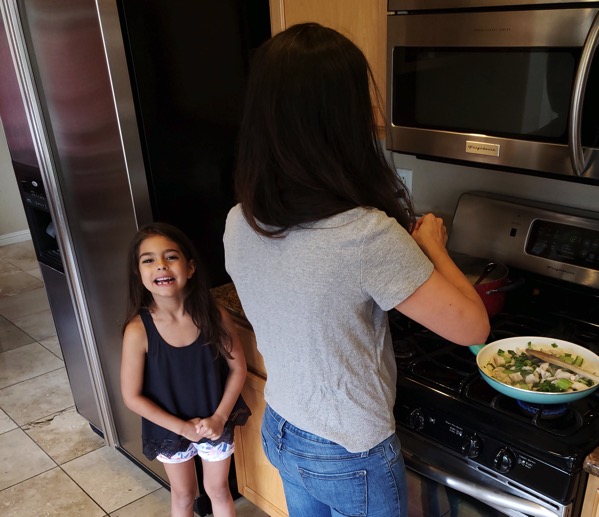 We are slowly starting to get back into the routine of life around here. Living in a hotel for a bit, and spending days packing/unpacking boxes was really NBD. At this point we're used to moving so often, so you definitely get used to it! The only thing that made it kind of annoying for me was the food aspect. It can be tricky to be in a small hotel room (in a city with no food delivery services) and a teeny, tiny fridge. We made it work with hotel room snacks – I packed up tons of fruit, bars, and oatmeal packs – but all of our real meals for an entire week were via restaurants or hotel room service.
When we finally unpacked in the house, I couldn't wait to have a real dinner at home. We hadn't done a big grocery shop yet and still need to pick up the bulk of staple ingredients, so I was STOKED when a Blue Apron box arrived on the doorstep. I had planned for it to arrive while we were in Tucson, and the timing ended up being perfect. It was strangely blissful to be back in a real kitchen.
When I placed our order, I was thrilled to see their recent collaboration with Chrissy Teigen. I'm a huge fan – she's one of the only people I lurk on Twitter – and she's known for her flavorful, soul-hugging recipes. She's also hilarious. Blue Apron is currently offering 6 recipes from Chrissy's wildly-popular Cravings cookbook.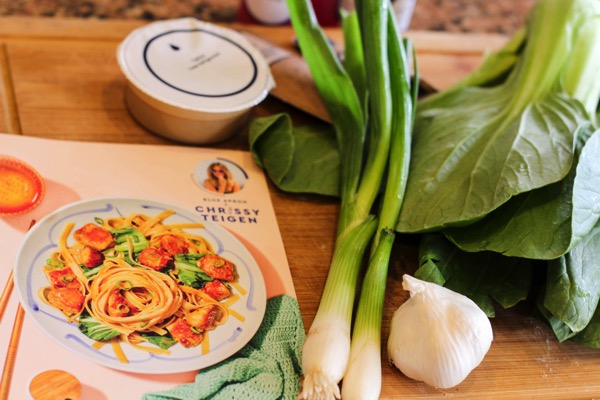 Week of June 4: Garlic & Soy-Glazed Shrimp with Charred Broccoli & Hot Green Pepper Sauce
Week of June 11: Sesame Chicken Noodles with Bok Choy
Week of June 18: Chinese Chicken Salad with Crispy Wontons
Week of June 25: Chicken Lettuce Cups with Sweet Peppers, Mushrooms, & Jasmine Rice
Week of July 2: Chipotle-Lime Chicken Fajitas with Mushrooms, Monterey Jack, & Crema
Week of July 9: Pork Banh Mi Sandwiches with Pickled Cucumbers & Carrots
We enjoyed the Sesame Chicken Noodles with Bok Choy one afternoon, and it was such a satisfying, flavorful meal.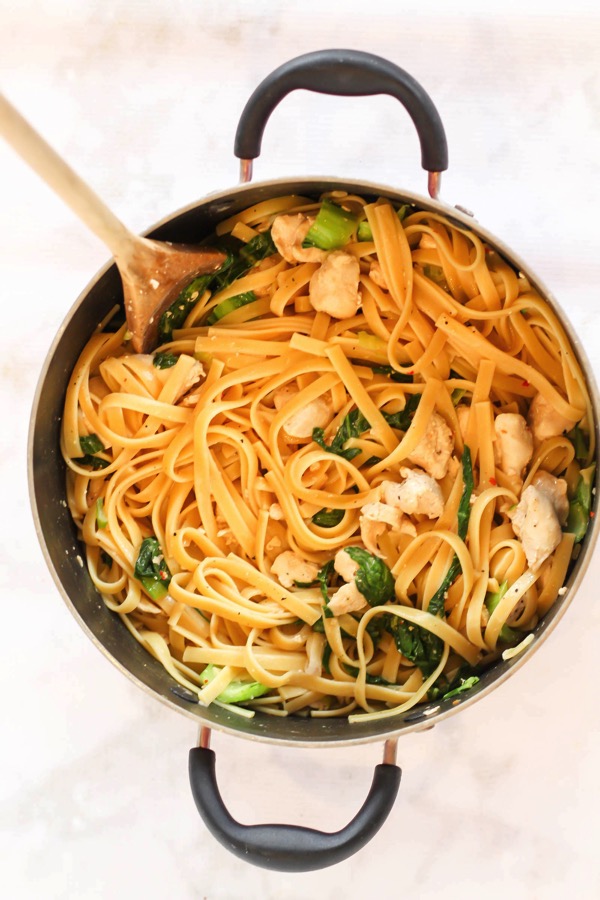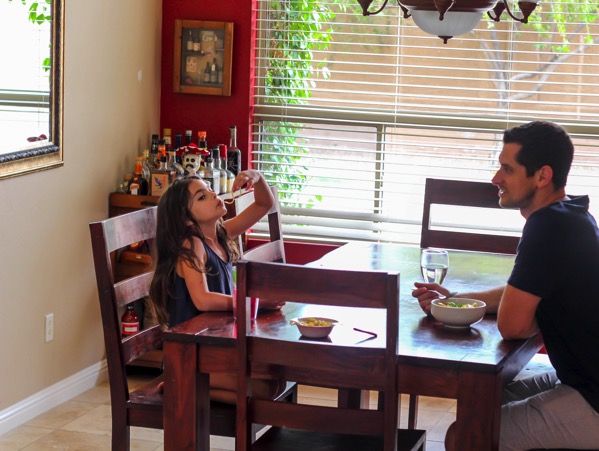 I pretty much wanted to swim and live in the soy-tahini-honey-chili sauce and the girls went crazy for the noodles.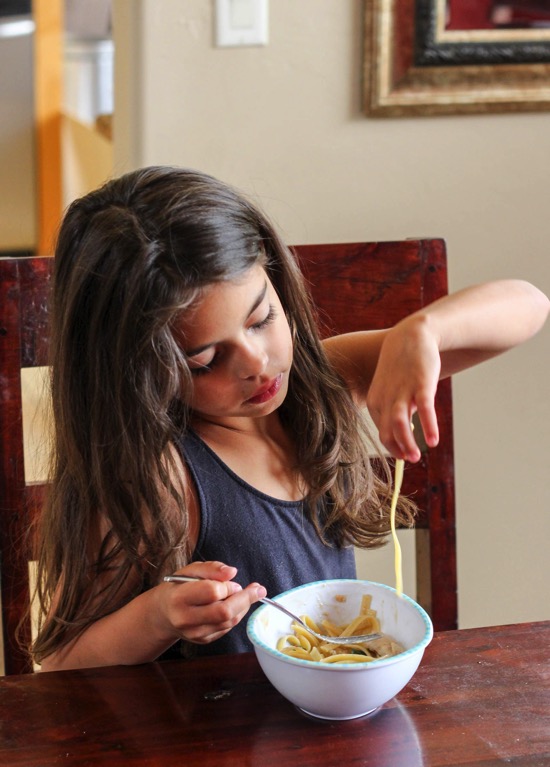 One of my favorite things about Blue Apron is that the servings are extremely generous.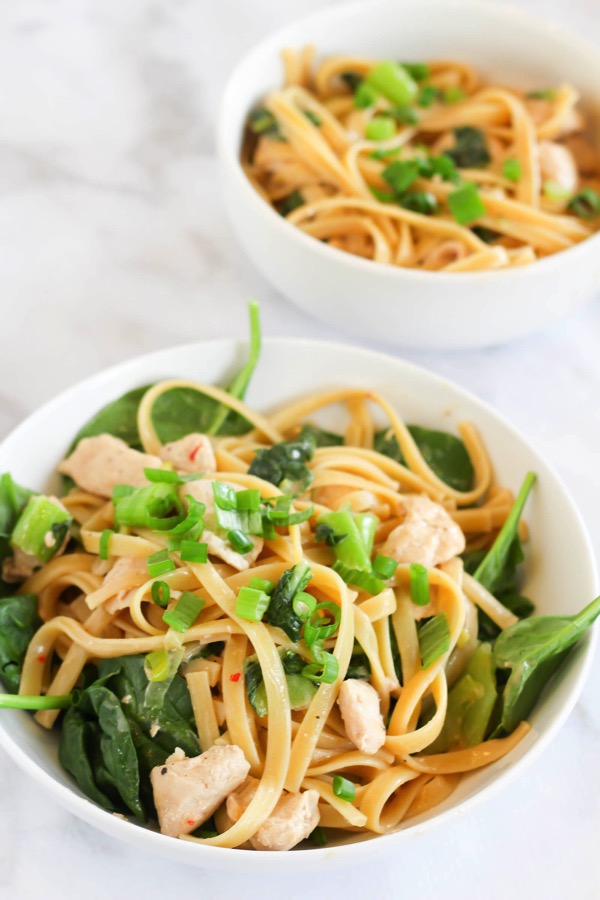 (Whenever I have pasta for a meal, I'll usually serve it on a bed of greens for a nutrient boost.)
We had enough for all four of us, plus a bowl I took to my mom at work (she loved it!), and one serving of leftovers for lunch the following day.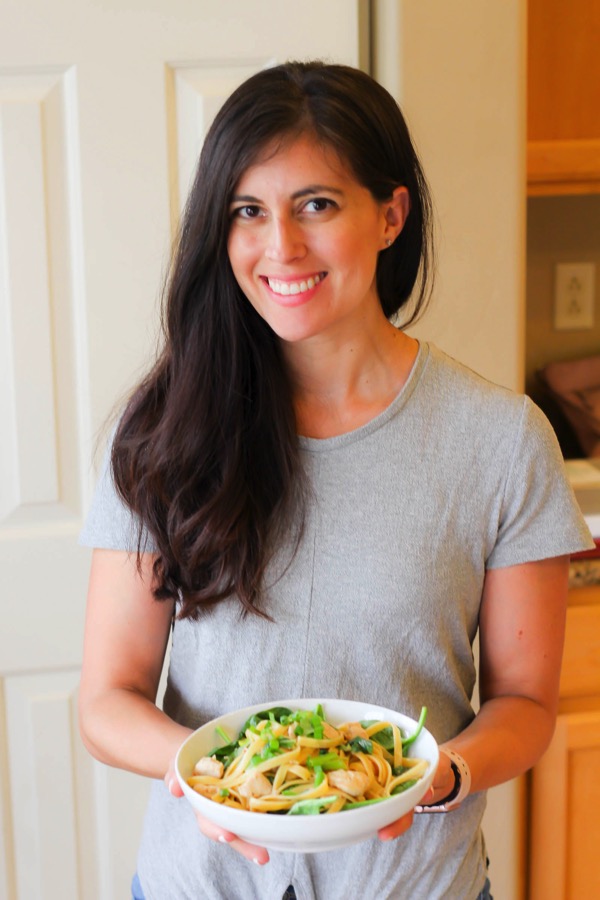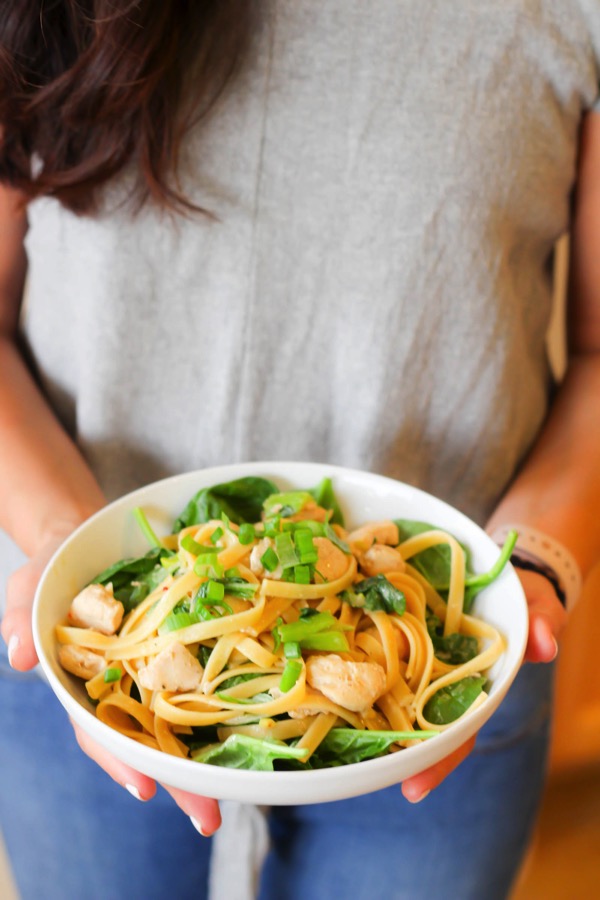 Some of my favorite things about Blue Apron:
– You get all of the ingredients to create chef-designed meals delivered to your doorstep. Everything is perfectly-portioned so it helps minimize waste and buying full-sized bottles of ingredients you don't use on a regular basis.
– Convenience! We're going through a phase right now where the girls want to buy everything and add it to the cart. I definitely let them try new things as much as possible, but it really slows down the already tedious grocery adventure. When I get Blue Apron, two meals are already planned and ready to go for the week.
– It's reasonably-priced; as low as $7.49 per serving.
– The ingredients are sourced from sustainable sources, and the packaging is recyclable.
– Variety! There are 8 recipes to choose from each week and you can mix and match from different options.
– The recipes are ALWAYS good. We haven't had a bummer Blue Apron meal yet, and that's after using the service for about 3 years now.
-And now, one of my favorite things is their amazing collaboration with Chrissy Teigen. Her recipes are amazing and it's such a fun way to try some of them without having to shop for the ingredients.
To celebrate the new collaboration, Blue Apron offered to give away a copy of Chrissy Teigen's Cravings cookbook.
To enter, click here to visit Blue Apron's recipes page and comment below to let me know which recipes you'd like to try!
I'll announce a winner next Monday at 8AM EST.
Don't forget, if you've been wanting to try Blue Apron, you can use my link to get $50 off your first 2 weeks.
Have a great day and I'll see ya soon!
xo
Gina
Congrats to the winner of the giveaway, Allie! Stay tuned for more awesome giveaways headed your way.