Overnight Apple Pie Slow Cooker Oatmeal
This apple pie slow cooker oatmeal is the perfect way to start your fall mornings. Throw it in the slow cooker at night and wake up to a delicious, ready-to-serve breakfast–and an amazing smelling house!
Hi friends! How's the day going?? A little later blogging today, as technology doesn't seem to be my friend this week. First the blog server takes a faceplant, and then my internets decide to disappear. It's funny because I've been blogging almost-daily for the past 7 years (!) but I'm probably the least techie person you will encounter. It's a very Wizard of Oz-esque scenario: pull back the curtain and you'll find a frazzled girl, shrugging her shoulders as she presses random buttons, praying for something to work. (And usually breaking something haha.)
In other things that make sense, the heat wave is back, so what sounds better than a steaming bowl of apple pie oatmeal?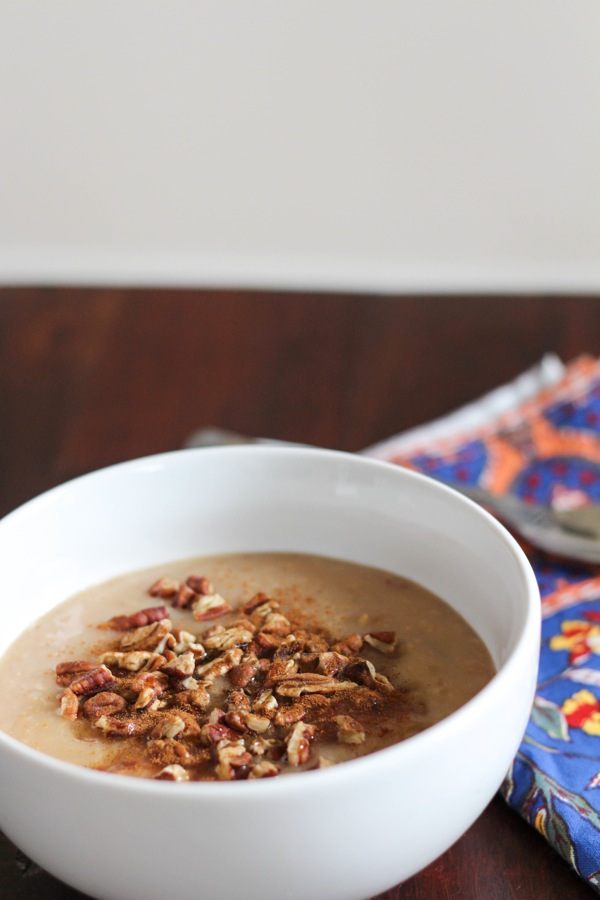 Slow Cooker Apple Pie Oatmeal
For the hope of fall, and thinking of that fabulous brisk weather, I've been craving warm and comforting breakfasts. Oats have sounded particularly amazing and I especially love the convenience of slow cooker oats. Learn from my mistakes, friends: steel cut is the way to go. If you use old fashioned, you will likely end up with a charbroiled pile of mush and a stinky kitchen. 😉 A reader friend kindly pointed me in this direction last time I made slow cooker oats, and I will always remember the ratio: 1 part steel cut oats to 4 parts water. You can add in whatever flavorings or toppings you'd like!
For this version, I added two chopped apples, cinnamon sticks, lemon zest and coconut sugar. It didn't look like much when we went to bed,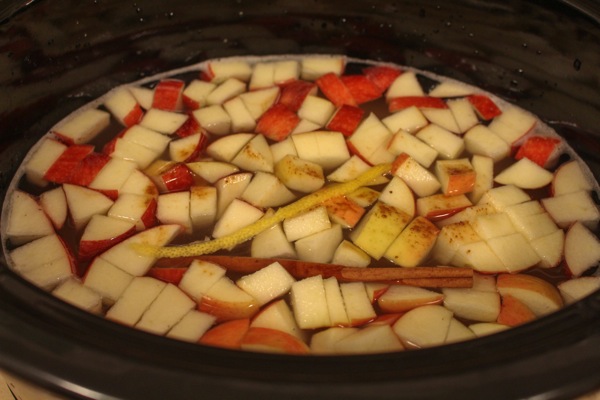 but was absolutely perfect when we woke up. The entire kitchen was filled with a beautiful apple cinnamon aroma, like pie in the oven.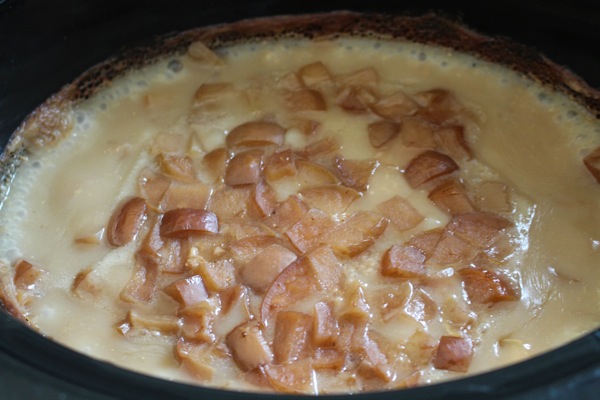 All I had to do was add a little almond milk, a drizzle of honey, and top with cinnamon and pecans. After scrambling some eggs to go with it, breakfast was served!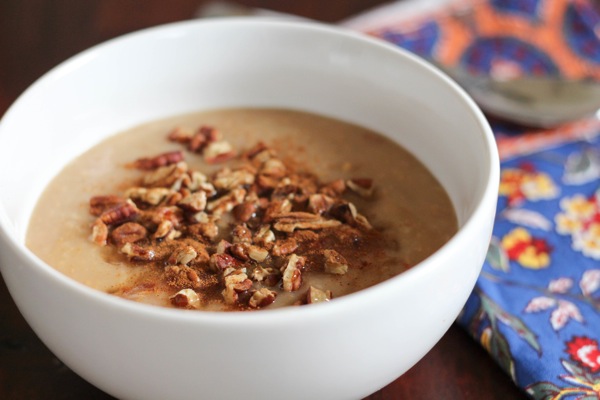 I'm a huge fan of make-ahead breakfasts, especially on the days when Liv has school and I have to wake little sleepyhead up. It's nice to know breakfast is already waiting and we can enjoy it together with less of a scramble to get things ready.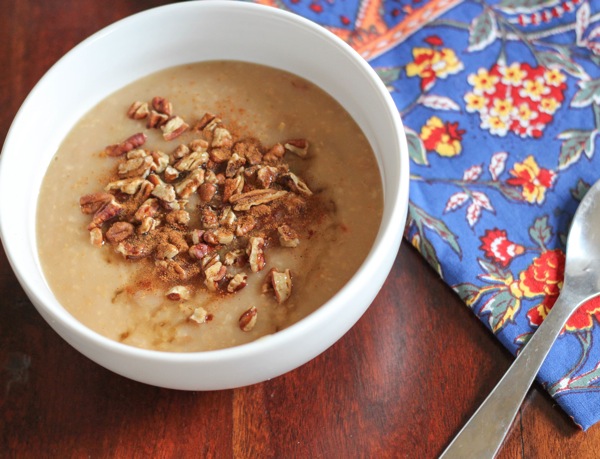 Print
Slow Cooker Apple Pie Oatmeal
A delicious overnight breakfast option. Set it and forget it! Tastes just like a healthy version of apple pie.
Prep Time:

10

Total Time:

10 minutes
2 cups

steel cut oats (check the label for gluten-free if needed)

8 cups

water

2

chopped apples

2

cinnamon sticks

3

long strands of lemon zest

1/4 cup

brown sugar or coconut sugar

1 teaspoon

vanilla
Pinch of sea salt
Instructions
1. Combine all of the ingredients in a standard slow cooker.
2. Set on low overnight for 8-10 hours.
3. In the morning, remove the zest and cinnamon sticks. Stir in your favorite milk and add toppings of choice, like nuts, shredded coconut, flax seed, cinnamon, honey, or almond butter.

Favorite Make Ahead Breakfasts
Nana's famous egg casserole (you HAVE to try this)
Breakfast cookies (the classic never dies)
I'm going to do a quick 21dayfix workout (I'll post a full review when I'm finished!), work on the beeb's room, and go swimming with Liv.
Hope you have a wonderful day!
xoxo
Gina
New post up on the Family page here!
Get excited: new Fed by Threads shirts are on the way! I'll have the details out in the newsletter soon, but they're gorgeous tank tops to support a great cause. <3