Slow Cooker Eggplant Curry
Hey ya'll 🙂 How's your day going? My has been a little strange so far. It started with a recovery Insanity workout (is that an oxymoron? Haha. It really was relaxing though) and a doc's appt. Nothing like being poked and prodded on a Thursday morning (just a check-up but it wasn't a party if ya know what I mean).
My reward: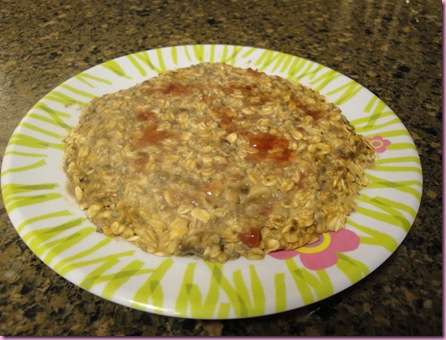 An almond butter and jelly bfast cookie 😀
I munched it on the way to the doc's and it was pretty glorious.
-1/2 C oats
-1/2 scoop vanilla Sun Warrior
-1 T mesquite
-1 hefty T almond butter
-1 T polaner spread
-almond milk
-1/2 banana
-foodgasms
I have to share the recipe with you guys for last night's eggplant curry because it pretty much rocked my face off 🙂
Slow Cooker Eggplant Curry

In a slow cooker, sprayed with nonstick spray, add the following:

1 medium eggplant, large diced

1 yellow onion

1 can (14.5oz) organic diced tomatoes, drained

1 C organic vegetable broth

1 bay leaf

1 T curry  

1/2 T cumin

1 t garlic

1/2-1 t salt (I used 1/2)

1/4 t cayenne (optional- I like it spicy wicy)

Mix to combine.

Set it (on low).

Forget it (for 4-6 hours).

Serve with brown rice or naan, and feast.

© 2010 The Fitnessista
I have lovely leftovers for today 😀 Usually I make just enough so that we don't have leftovers, but in cases like this, the food tastes even better the next day. Did you celebrate Indian food Wednesday??
Well I'm off to do our taxes (procrastinate much?? Haha) and then head to work.
Have a lovely Thursday!
xoxo,
Gina
Today's tip: Take 10 minutes out of your busy day to STRETCH and breath deeply. Stretching is amazing for flexibility and injury prevention and.. it feels sooooo good 🙂 Every night before going to bed, I foam roll for at least 10 minutes and do a lunar flow or some stretches on the yoga mat. It's a great way to wind down the day, decreases stress and helps protect the bod. Give it a whirl 😀
*Don't forget, the yoga promo ends tomorrow- $25 in my OpenSky store (coupon: 5ForYoga)  Quite a few of ya'll have bought some already, I know you'll love them!
Something to do: Keep Showing Me Your Smoothies! I'm loving the submissions so far-  this is going to be a blasty 🙂
Fitnessista Brides-to-be: FitnessMagazine.com is offering a six-week fitness boot camp perfectly timed for spring and early summer brides, including:
Bridal boot camp workout videos – everything from specific toning exercises, such as the balance arm curl, to nutrition tips.
Extra moves for specific dress types -  targeted workouts for brides with strapless, backless, form-fitting, or short styles.
20-minute circuit workout for buff brides