Meet Exhibit A of our breastfeeding woes: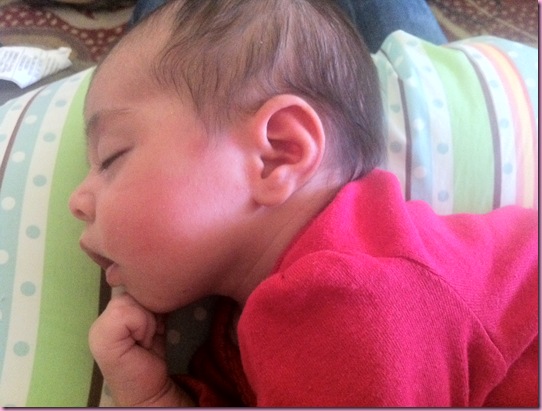 The Milk Queen, sleeping atop her Boppy throne
So, posting about breastfeeding is a personal thing and TMI city, but I've been writing about it in hopes that it may help someone who encounters a similar situation, and open the doors to talk about it, since it's one of those things that isn't often discussed. I had no idea breastfeeding would be challenging. It's one of those things that you always see people doing –heck, my mom did it for myself and my brothers- and it never looks like a big deal. Ok, the baby is eating. The mom isn't awkwardly trying to get the baby to latch, baby isn't shaking its head in frustration at one side.. it looks like a natural and easy thing.
One of the lactation consultants who came to visit said that breastfeeding is like riding a bike, except you don't learn how to do it until you're an adult. You see everyone else riding a bike, and it looks so easy. And then, as an adult, someone hands you a bike and says "here ya go" and you're supposed to figure it all out. It's not an intuitive thing, and one that takes quite a bit of practice.
The good news is that we've gotten into our groove as far as latching and positioning goes, but once again, Liv doesn't want anything to do with my right side. She did great for about a day, but it ended up being a fluke. I still offer it to her, and sometimes she'll try for 5 minutes or so before she gets frustrated. I've tried everything- switching her from the left to the right, keeping her in the same position to "trick" her into thinking it's the left, sitting her almost upright, offering it to her first every time, pumping beforehand… still, she doesn't want it. I can't say I blame her though. Righty produces way less than what lefty does, all because of my previous surgery. I heard the other ducts were supposed to make up for the ducts that were removed, but it hasn't happened. This morning, I pumped 5 oz from my left, and barely 1 from my right :/
So I'm primarily feeding from my left side and a bottle. I'm lopsided, I hate pumping, but Liv is gaining weight and doing extremely well so far, so I'm sticking with it.
After every feeding session, I pump both sides (right a little longer than the left) to encourage higher production and to have hindmilk for the snooze queen (more on that in a sec), and today, I gave myself my first break from the dreaded pump. I've only pumped twice, and will pump one more time tonight. Thank goodness there's plenty in the fridge to top her off throughout the rest of the day and evening.
Back to Exhibit A, Liv falls asleep pretty much every time she nurses. She'll be there for about 20 minutes or so, and instead of telling me she's full, her eyes roll to the back of her head and she crashes out. One of two things will happen: she'll wake up and be perfectly content to play until she naps again, or she'll nap for about 20-30 minutes, wake up and still be hungry. This is why I've been pumping so much- if she keeps eating snacks throughout the day, she'll mostly get foremilk, which is more like the "thirst quencher." The hindmilk after that is much more nutrient-dense. So I pump, and if she's still hungry a little while later, she gets a bottle of pumped milk. If she would stay awake and keep drinking, then the pumping could be eliminated.
I've tried everything to keep her awake…
I sing "wake up, wake up" and stroke her cheek, I rub her back, we undress her down to her diaper (our current motto is "wakey, wakey or we'll get you nakey") and most of the time, she still crashes out. I never know if she'll wake up in a little while content and ready to play, or still hungry.
Any tricks or tips?
Anyone else lopsided from side preference?
Lesson of the day: don't blog and pump.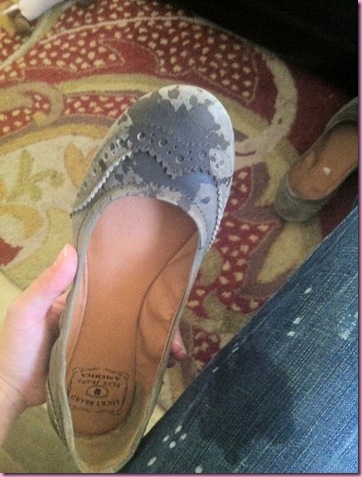 Yikes. Haha.