Running or snoozing + Jump Rope Strength Workout
I'm running right now. Well, I'm *supposed* to be running right now, so let's hope that I actually woke up on time, got dressed and made it out there.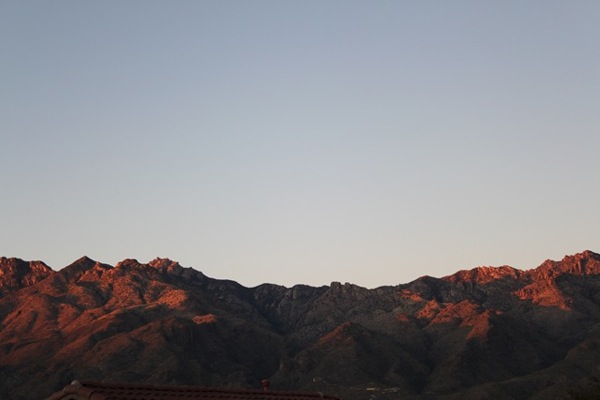 A friend is meeting me, so that's always good motivation to not be a bad friend bum and get myself up and at 'em. I don't love the morning. Especially now that we have a little one, I soak up as much sleep as I can. By the time we wake up, it's too hot to take Liv out in the jogging stroller, so I don't go, unless I feel super motivated and hop on the treadmill. The only way to make it happen and train safely (with minimal boredom) until it cools down is to wake up early. 
I set out workout clothes and sneakers,
charged the Garmin:
set my alarm,
and said a prayer, so fingers crossed that this post is publishing while I'm running instead of sleeping 😉
In the meantime, here's the strength/cardio workout that I'll be doing this week! Meg and I took it for a test run on Saturday at work- words were said and sweat was rained. It was a quick, effective and fun total-body workout, and I loved the cardio jump rope blasts in between. To make things even more exciting, I included jump rope options that you can do to switch up your jump rope routine and feel like Rocky. (Note: if you want to do regular jump rope, or if you prefer something else, add your own cardio blasts in instead)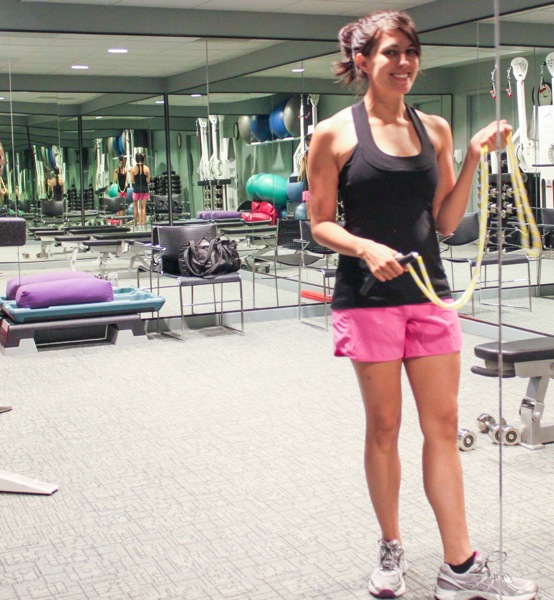 -As always, check with a doc before making any fitness or nutrition changes. Honor your body and your injuries- if it hurts, don't do it!
-This workout is meant to be in supersets, alternating between 2 exercises for 2-3 total sets. For example, for the first superset you'll do 10-12 pile squat combos, 10-12 bent-over wide rows, pile squat and curls, bent-over rows, plqie squat and curls, bent-over rows. Jump rope, then continue to the next set of exercises. By doing it this way, your heart rate will remain elevated and you'll be a ton of calories, in addition to getting a total-body strength workout, in a short amount of time. Supersets will often consist of antagonist muscle groups (like a triceps exercise immediately followed by a biceps exercise), but instead, I chose more of my favorite compound movements for many of the exercises. I'm a big fan of getting more bang for your proverbial workout buck.
-Find a friend to do it with you! Having a workout buddy is always excellent motivation.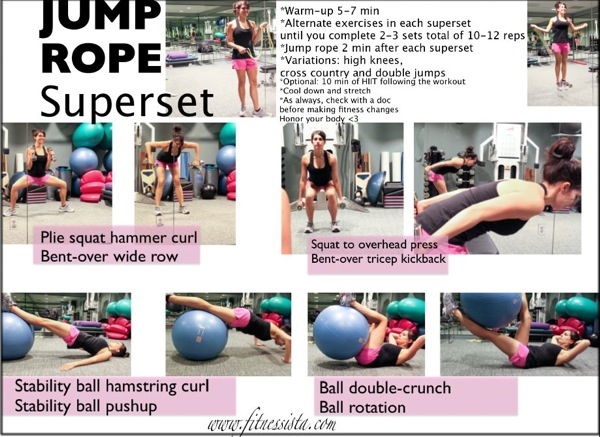 Form cues:
Warm-up: 5-7 minutes, cardio of choice, moderate intensity.
1) Make sure your feet are wide and as you squat, your knees extend out instead of forward. Try to get your thighs parallel to the floor as you hammer curl. Torso stays tall, abs stay tucked in. Squeeze your inner thighs as you stand. For the bent-over row, make sure to keep your spine nice and long (not rounded), and bring the weights up in a 90* angle (so your arms don't raise above your shoulders).
Jump rope: 2 minutes
2) Traditional squat with feet under your hips, sitting your booty back and watching your front knee, overhead press on the way up. Bent-over triceps extension: keep your back flat and elbows glued to you sides as you straighten your arms to bring the weights back. 
Jump rope: 2 minutes with high knees
3) Keep your hips raised as you bring the ball in and out. For more of a challenge, try it with one leg at a time. Flip over for your push-ups: fingertips open, arms wide, plank position, and the closer the ball is to your ankles, the harder it will be.
Jump rope: 2 minutes with cross country feet
4) The goal is to keep the ball from touching the ground. Squeeze the ball with your legs and come into a double crunch (head up and knees up), lower your head down and legs slightly down, but not enough for the ball to touch the floor. For the ball rotation, bring the ball up and down, using your legs to twist it side to side. For more of a challenge, lift your shoulders off the floor.
Jump rope: 2 minutes
Optional: follow with 10 minutes of HIIT intervals or a Tabata round
Cool-down and stretch.
So who's joining me this week? Leave a comment and let me know how it goes! Thank you so much to those of you who have been pinning the workouts to spread the word and for your awesome sweaty workout pics (@fitnessista).
Have a very happy Monday!
xoxo
Gina
Something to talk about: Who's your workout buddy for the week, or are you going to train solo? Runner friends, when do you get in your training runs? Are you an early bird runner?
Make It Happen Monday: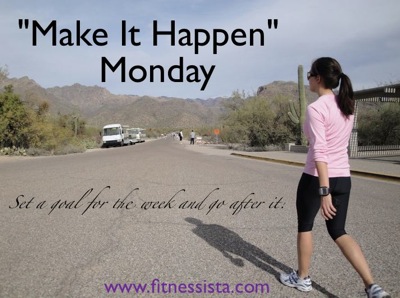 What goal are you declaring for the week? Write it down and make it happen!