When I eat something extra delicious, the baby will kick like crazy. Tom says that she's dancing and squeezing the umbilical cord to get the good stuff out- kind of like squeezing the end of a tube of toothpaste. I find this image borderline disturbing and hilarious at the same time.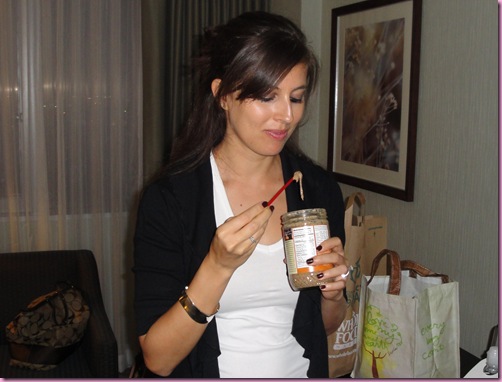 [No spoon in your hotel room? A straw works juuuuust fine]
The telltale almond butter on my belly is the least of my problems. It's the half of a tortilla chip that falls out when I go to change into my pajamas.
I don't even fight the fact that 90% of my clothes look wrong. It doesn't even encourage me to shop, since I think it would be a waste until it's time for cool weather clothes [we're in that in-between stage]. Today's outfit is a yellow athletic tank and blue genie crops… and I'm thankful I don't have to venture into public until I head to the gym and grocery store this afternoon.
ok, always: I like do to the "drive the car" move I put in my new Pitbull Zumba dance. You know, the move where you have one hand in front like you're holding a steering wheel, legs shoulder-width, booty down low, hips move forward and back. It's the kind of move that makes people giggle while they're doing it, and I think it's even better with a giant baby belly.
Walking and Zumba are the only things that *really* sound good to me, so I've been sticking with a lot of that. Light weight training is becoming a bit of a beast with an extra 19 lbs of mass, but I'm sticking with it since I know it will help me later.
Bella will be extra clingy to the belly. She'll curl up with her paws and feet around it (like a hug), head gazing up at me. Other times, she'll use my belly as a landing pad in between jumps, like she could care less about what's in there.
I won't let myself wonder about what she'll look like. She could be bald –like I was. I had a full head of hair which fell out immediately, and was bald until I was one year old- or blonde, like her daddy was when he was little. She could have dark eyes or green eyes. Instead of picturing what she'll look like, I just envision her coming out and being healthy… that's all I want <3