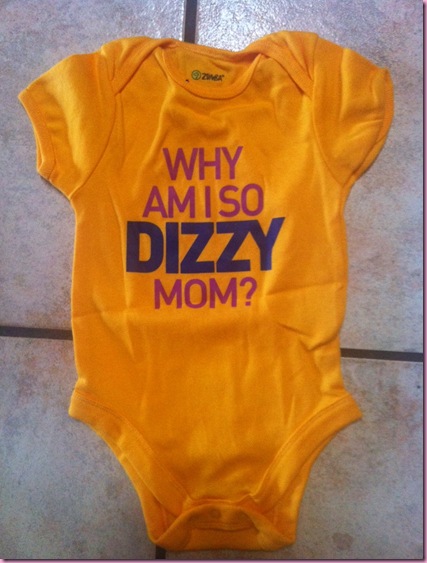 (Baby's first Zumba outfit, courtesy of Suzi! I LOVE it)
I'm kind of embarrassed to see my husband later today.
Last night, I had the first real, major, pregnancy hormone-related meltdown… and it probably scared him a little bit.
When I got home from work, he asked what I was thinking for dinner and I really wanted some kind of shrimp salad. The plan was to unpack, go to Coffee Exchange and blog so he could work on computer stuff, too (internet still hasn't been hooked up in our new place), then grab some groceries to make food. We ended up at Coffee Exchange until 10:15 and by that time, I was starving. At that time, almost all of the restaurants are closed and it was way too late to start making dinner.
We got in the car, Tom stopped to get an eegee's sandwich and fries for dinner, and asked me what I wanted. I asked if we could stop at Risky Business since it's one of the few places open late and I knew they'd have shrimp salads.
"Well, I guess… I just need to wake up really early for work tomorrow."
"Well if you don't want to, it's ok, I'll just go home and make an egg or something."
That's when the meltdown started.
It was silent at first, tears quietly falling down my face as I looked out the window and over the span of 5 minutes, transformed into full-blown heaving sobs.
I don't even remember what I said while I was crying (something about being hungry and he doesn't even care, and I had a long day with work and unpacking and all I wanted was a salad, wah wah), but just remember feeling like it was the end of the world. Needless to say, we ended up at Risky Business and he went inside to get me a salad.
While I was sitting in the car, it gave me some time to eat a couple of his eegee's fries, calm down and realize how absolutely silly the whole thing was. I could see him sitting at the bar, waiting for my to-go order, and called his cell phone.
"Are you taking shots at the bar because your wife is cray cray?"
He laughed and said no 🙂
Of course, I apologized and was back to normal after eating my salad, but wow.
I'm embarrassed.
Lesson of the story: Never let your pregnant wife get to the *starving* point.  There's no telling what will happen.
What's the most legendary, silly meltdown you've ever had?