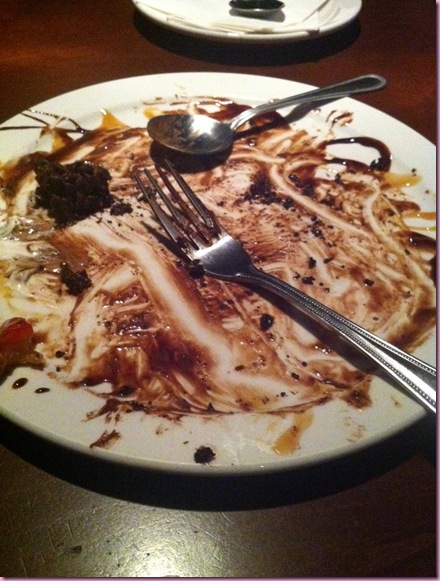 Ok, let me go ahead and describe what that was in detail:
6 layers of chocolate cake with fudge and caramel
Dark chocolate frosting
A layer of chocolate chips pressed into the frosting.
The craziest part? It wasn't even my idea.
The other night, Tom was like, "I really need some chocolate cake. Do you want chocolate cake? Let's go get some."
Do I want chocolate cake? Is the Pope Catholic?
So there we were at Risky Business, diving into chocolate cake like we'd never seen it before. And it was AWESOME.
The funny thing is that throughout the pregnancy, with the exceptions of a crazy salad moment and a strong hankering for a poptart, the cravings haven't been too intense. I've been back to my usual eats for a while now, and if I want something unusual, I eat it, but it hasn't happened on a regular basis. My husband on the other hand, is an entirely different story. I've usually been the one with the sweet tooth in this family [and the short end of the metabolism stick], and as I type this, he's scrounging in the fridge for "something sweet."
Even this afternoon, he was heating up blueberry waffles and while they were cooking, alternating between eating pickles and jalapenos.
Who's pregnant here?
Is it secretly him? Or have all of my potential cravings manifested in him instead?
Did you have any crazy cravings while you were pregnant, or did your partner have sympathy cravings? Friends sans kids: what's the weirdest food combo you've ever tried?