IDEA World and Blogfest 2015 Recap
Just like previous years, I left this weekend's IDEA conference with a full brain, full heart, sore muscles, lots of inspiration, and great memories with some amazing friends. I look forward to this conference each year, and was so excited that I was able to attend this one, as it's probably my last bit of work/blog-related travel before little miss makes her arrival.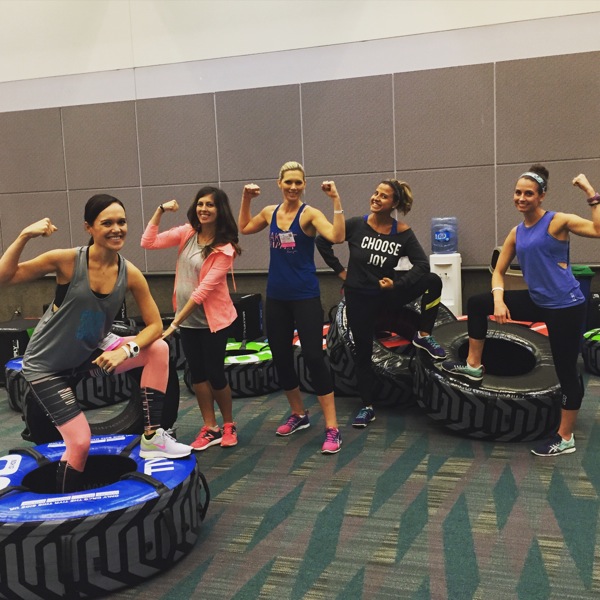 (with Ashley, Giselle, Bobbi and Heather)
Blogfest occurs for two days during the IDEA conference, and then attendees have the option to attend IDEA sessions on Saturday. Since I arrived early for the Schwinn certification, I felt like I had a ideal balance between blog and fitness-related sessions. Thank you to the girls at Sweat Pink and my lovely friend Kelli at IDEA for putting together such an amazing conference!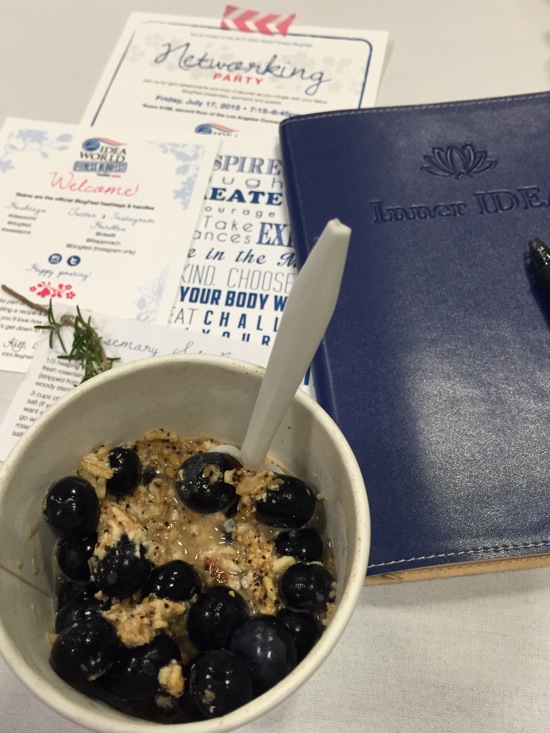 Some of the highlights:
Gabby Reece!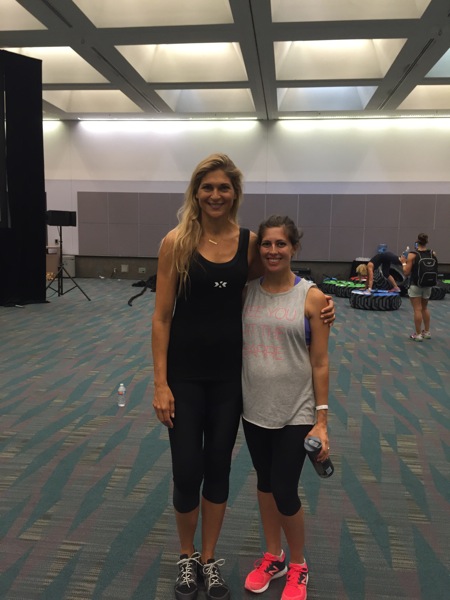 She was our keynote speaker, and official girl crush has taken over; I could have listened to her talk for HOURS. I knew who she was before the conference, but didn't have any insight into her history as a professional volleyball player or her childhood. I loved how authentic and realistic she was, especially regarding health and fitness.
From my notes:
-You can't phone in health and fitness; you have to put in the effort.
-On aging:
Age 60 looks like can mean many different things. At the end of the day, would you rather be sitting at a dinner table with a young, beautiful and dull 20-year old, or a vibrant and dynamic 60-year old with shiny eyes? Exactly.
-Common workout excuses:
"I have no time"
"I don't know what to do."
"I can't afford it."
Gabby's goal is to make fitness attainable for everyone. I like that she said that the same people who use these common excuses will often do other things like get their car washed or their nails done before they train. It's really a matter of making it a priority in your everyday life.
-"In life, we have low cards and high cards. You have to know how to play them."
-Don't take things personally, and remember the 30-30-30 rule: 30% of people will love what you do, 30% will hate it, 30% won't care, and 10% can't decide.
-She thinks that the current trends in the fitness industry emphasize function and mobility, and getting connected with real food. (Amen.)
-Advice for young volleyball players:
Remember that it's a game. You're throwing a ball, which obviously isn't saving the world. While you're playing, you have to think it's the most important thing at that time, or you won't do well. But, if you're not enjoying it, it's not worth it.
She said that 1% of athletes will play in college, and 1% of those will play professionally. I feel like parents can put a lot of pressure on their kids to play at a pro level, or get a scholarship, when the odds are very, very small. It's important to enjoy the experience and make it fun.
She led us through one of her HIGHX workouts -I loved it so much, stay tuned for a Focus On post later this week!- which was a balance of strength, mobility, cardio and core work.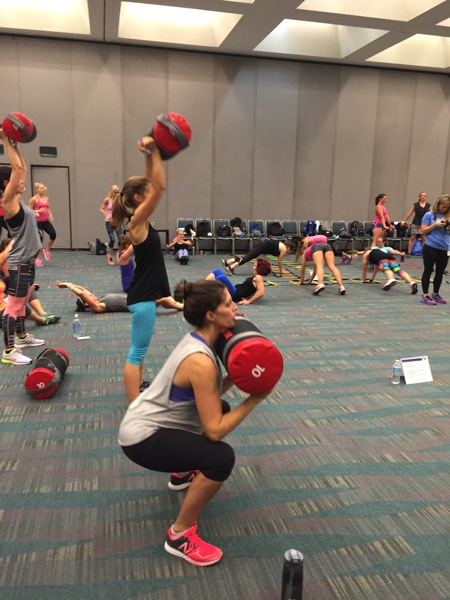 Katy's session on increasing readership and marketing to the masses:
-The biggest way to increase readership is to find a microniche.
-Growing platforms: Periscope (which I just downloaded and have no clue what I'm doing), Pinterest and Vine
-Answer needs and solve problems with your blog
-Blog tools: Latergramme, Click to Tweet and Downlow
-Take better photos (this one makes me laugh because my first blog photos were SO BAD. They were all blurry and brownish haha.) Some apps for better photos: Canva (my current fave!), Squaresized, PicMonkey, PS Express and Snapnote
A session on SEO, which has always been a foreign concept to me.
Huge props to Sara for breaking this down, and making some complex jargon very easy to understand, and for being so cool to chat with afterwards.. This portion of the conference felt very "advanced" to me (aka I hadn't done any of this!) so it was extremely helpful. If I tried to write down my notes, I feel like it would be very confusing without screenshots, but I will definitely be focusing on adding keywords and using Google suggest to plan out post titles. (Back in the day, I would name my posts something totally random… which honestly, was a lot more fun.. and it did nothing for SEO. I've learned to name them random things, then change the alternate title in WordPress. It's like the best of both worlds.)
DANCING WITH BETO.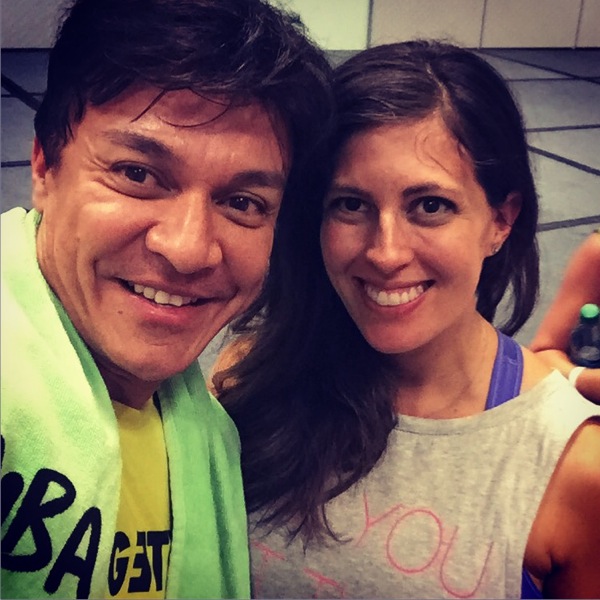 YOU GUYS. Zumba dreams come true! During Blogfest, we were fortunate to take a live class from the king of Zumba himself: Beto Perez. I've been a Zumba fan for a lonnnnggg time (and have been teaching for almost 7 years), and have always wanted to take a class with Beto. I love his story -he created Zumba from nothing, and took over the world in the process- and was happily surprised to see how kind and humble he was. During his talk afterwards, he said something that really resonated with me, as it's one of my goals when I teach:
"You want your students to leave feeling like superstars. The people who matter the most are the ones in the back row. The ones in the front row are there for you, helping you. The ones in the back need to leave feeling like they've succeeded."
We had a blast dancing, and then he had us line up for selfies with him, which was really awesome.
Learning from Natalie Jill.
I follow Natalie Jill on Instagram (and adore her!), but didn't really know about her background. She went from a single mom with a high amount of debt, to a self-made millionaire, using the powers of social media. She is an incredible inspiration, and was so generous with her knowledge regarding Pinterest. I use Pinterest (to make myself want brownies and redecorate our house), but I still don't get Pinterest, so needless to say, I was like a sponge during this session.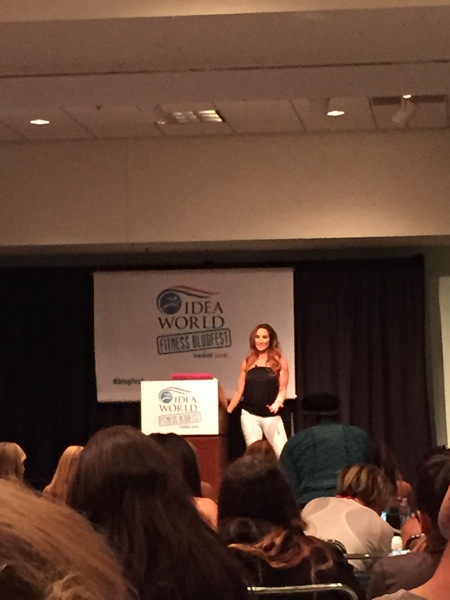 Some of my notes:
-"Things don't happen, you make them happen. You are accountable for successes and failures."
-Put stuff out there to make people feel good!
-Think about your target market, a problem they have, and how you can solve it with your strengths.
For Pinterest:
-Take a look at your boards above the fold (without scrolling down). Make sure that this really represents your brand and what you want to attract.
-Cover images: make them stand out for the topic of each board. Get specific with board topics.
-Direct your images to your specific site. You can edit the link of each photo, so make sure that the ones that are from your site are going to the accurate page or landing page.
Meeting with the CEO of TRX.
While I was in LA, I had the opportunity to meet with the CEO of TRX, Randy Hetrick. He definitely walks the walk of TRX -he was so knowledgeable and energetic- and shared that TRX will now be providing educational trainings, including group training, functional training, and suspension training. I will be exploring these training options in the future, as the functional training course includes using the TRX with other functional tools like the kettlebell, medicine ball and sandbag. I am a huge fan of TRX (here are a couple of workouts!), and it's one of the training tools that has felt fantastic during this pregnancy.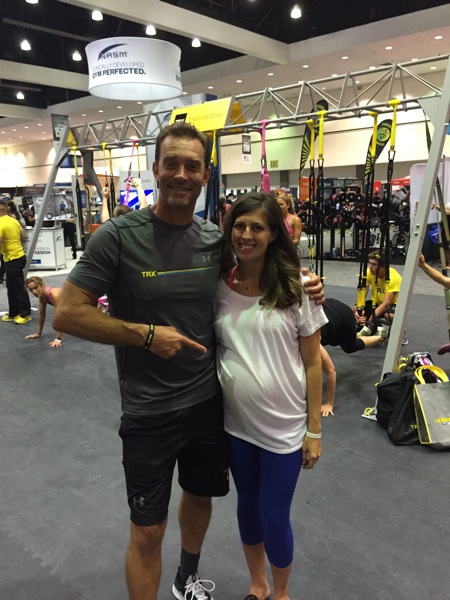 Taking BODYSHRED from Jillian herself.
Oh, Jillian. Why are you so awesome?? Some blog friends and I had the opportunity to attend her BODYSHRED class in the Showcase room, along with 600+ other fitness fanatics.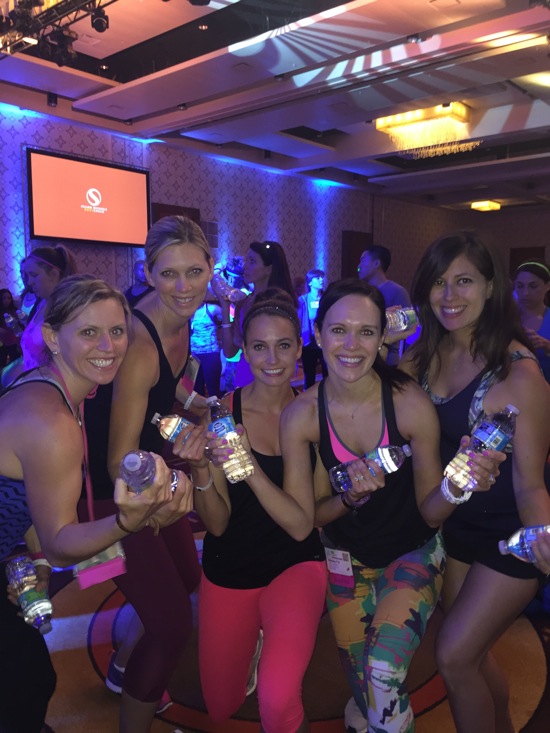 We were up close and personal for the class, and as usual, she blew me away. It was my first experience with BODYSHRED, which combines cardio drills, strength (the room used water bottles for dumbbells), balance work, and core. I didn't get to stay for the entire thing -I was racing back for yoga teacher training graduation, which was postponed until this weekend- but got a taste of the class and really enjoyed it. Since we were up in front, she called me out during class (she said, "Yeah, get it, mama!!" haha). She is a powerhouse of an instructor, and always provided progressions and regressions for the exercises.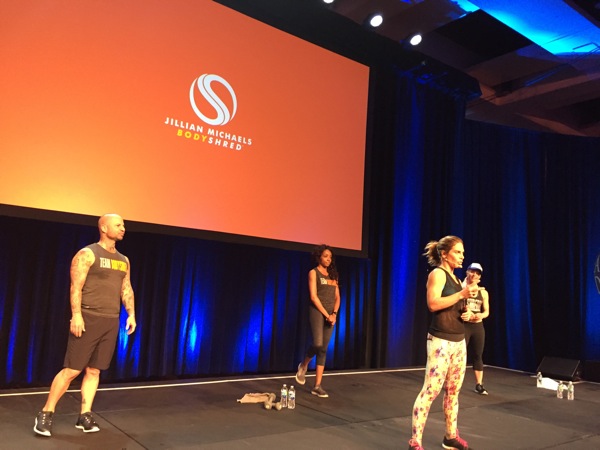 I walked away from this year's conference with new teaching strategies, some tips that I'll be implementing on this little space (and some Focus On posts on the way!), and some great memories from the Superbowl of fitness. Already excited for next year's conference!!
What is a conference or event (it doesn't have to be work-related) that you look forward to each year??
Hope you enjoy the rest of your night!
xoxo
Gina
More IDEA recaps:
2013: The Expo and other fun stuff
Thank you so much to my friends at IDEA for providing my attendance pass to Blogfest and the conference. My hotel room and accommodations were not sponsored. <3