Summer workout playlist + cardio workout
Hi friends! Happy Thursday! Hope you're having a lovely week. Ours has been a mix of camps, gymnastics, and dance class for the kiddos, and lots of time at the pool. Summer, you can just stay here forever.
I'm SO excited for this year's Summer Shape Up, which starts on MONDAY. If you want all of the week 1 info in your inbox tomorrow, be sure to sign up here:
I'll have everything live on the blog on Sunday morning. If you're following along with the meal plans, be sure to get on the newsletter list above so you can plan and prep this weekend. Get ready to rock and roll Monday morning! I'm so excited to be teaming up with Emily Field this year. She's been my macro coach for over a year and I love her approach to balanced eating. Thanks to her, I feel way more energized, I'm eating more (and way more carbs and protein), and I have some new lean muscle. You can read more about her approach to macro-based eating here.
If you're looking for some music inspiration, I thought I'd share a playlist I put together for ya, including cardio cues for each of the songs. This is a little game I like to call musical cardio. I use pop-y uptempo songs for endurance or tempo work, driving choruses for sprints, and intense beats for heavy hills. This is a cardio workout you can crush for your Friday morning sweat sesh, and the best part is that you can adapt it for any mode of cardio you enjoy. Stairclimber, spin bike, treadmill, elliptical. Do yo thang.
Here's the summer workout playlist: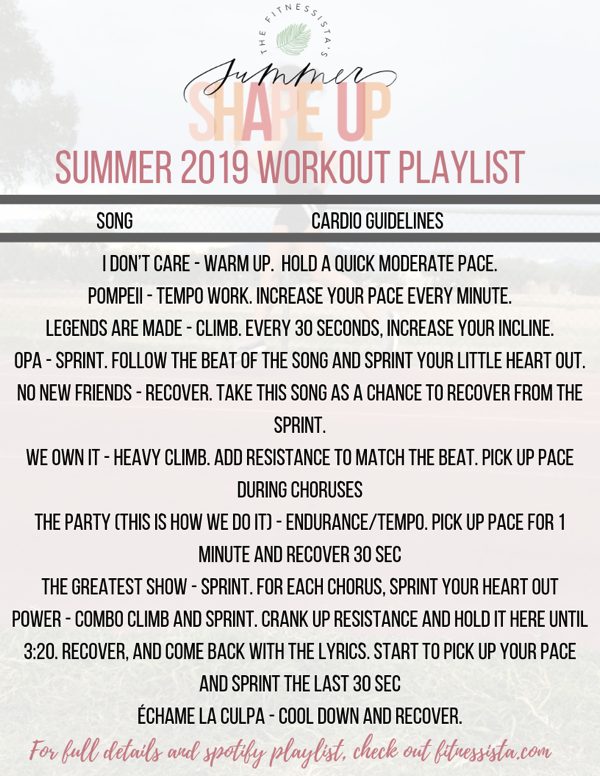 and summer cardio workout!
I Don't Care – Warm up. Hold a quick moderate pace.
Pompeii – Tempo work. Increase your pace every minute, so that for the last minute you're *just under* a sprint.
Legends Are Made – heavy climb. Every 30 seconds, increase your incline until you reach your most challenging incline. Hold it here until the end of the song.
Opa – Sprint. Follow the beat of the song! It's going to wind up, and you sprint your little heart out. When he says "Opa!" you sprint until it slows down at 1:35 and take a break. Next sprint is at 2:08. You will absolutely hear when you need to pick up your pace.. this is a fun one. 😉
No New Friends – Recover. Take this song as a chance to recover from the sprint. Focus on a steady pace with moderate resistance and hold this pace for the song. You can also walk and crank up the resistance, so you're ready to go again.
We Own It – heavy climb. Start at a resistance that's heavy enough so that you can match the beat of the music. For the chorus of the song, pick up your pace slightly, just so you feel a nice little burn.
The Party (This is How We Do it) – endurance/tempo. Decrease the resistance to a moderate level. Hold it here for 30 seconds. For the next minute, pick up your pace so you're uncomfortable. Decrease for 30 seconds, then pick it up for 1 minute. Repeat until the song is over.
The Greatest Show – Sprint. Make sure you have enough resistance to stay in control. For the verses, keep a quick pace. For each chorus, SPRINT your heart out.
POWER – Combo climb and sprint. During the verses, crank up the resistance until you reach your personal 8-9 (on a scale of 1= taking a nap and 10 = the unattainable hardest level). Keep a moderate steady pace. Decrease the resistance at 3:20 and recover slightly. Find a moderate resistance and pace. Once the singing resumes, pick up your pace. Increase it for the next minute. At 4:22, sprint until the song is over.
Échame la Culpa – Cool down and recover.
Spotify playlist is here:
I hope you love this one. Please let me know if you give it a try, or tag me in your sweaty pics on Instagram.
xoxo
Gina