Hey everyone! HAPPY FRIDAY! Hope you have something fun going on this weekend 😀
******Click here to read the final re-cap of our trip to Fresno for the POM Blogger Harvest Tour!******
So last night, I didn't have an appetite since my throat was killing me, so I made a simple kale salad to get some veggies in my life.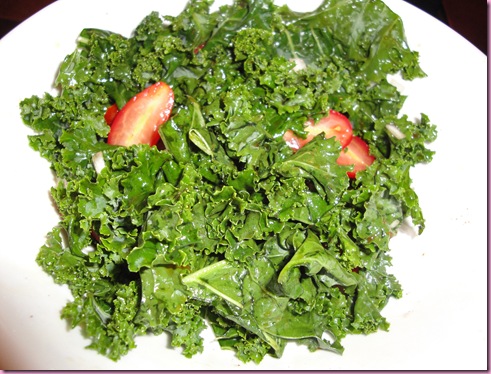 Kale, shallot, grape tomatoes, nama shoyu, cayenne, apple cider vinegar, a splash of agave and a drizzle of olive oil.
And ate it atop my legs while I watched Fools Rush In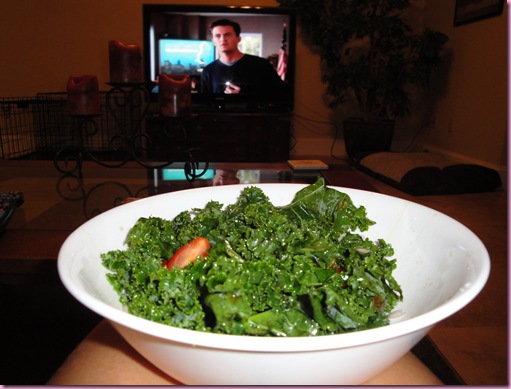 Matthew Perry, you will always be Chandler Bing to me 😀
And had 4 cups of scalding hot green tea: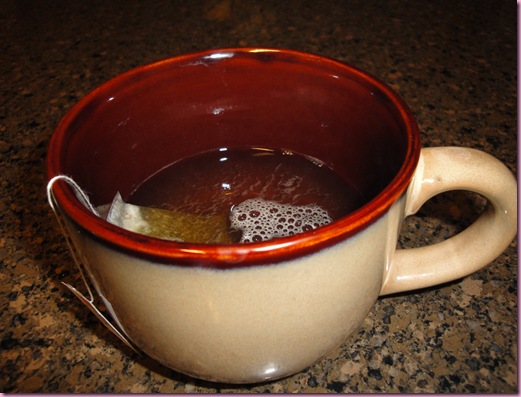 Even though I had a blasty this past week, it felt SOOOOO good to crash out in our own bed, curled up with my puppies 🙂
We woke up and went on a 30 minute walk around the neighborhood and then came back for more tea, and an unpictured warm cookie from the dehydrator. I'm thinking another recipe test is in order because while the taste is spot-on, the texture isn't quite right. I added too much agave and they're a little on the gooey side.. so I'm gonna leave them in the dehydrator for the rest of the day and see if they dry out a little.
The plan for today:
Laundry and cleaning (blah!)
Take puppies to the vet to get ear drops
Workout (light cardio and weights)
Hit up the Main Squeeze for a wheat grass shot
Training appointment
Dinner with Ashley (and hopefully Meara and Kelly… I need to call those girls!)
I'm kinda worried because I have a 5k tomorrow morning and if I still feel like I do today, it might be a disaster.
Have a wonderful day!
xoxo,
G$
A certain pilot has a birthday tomorrow <3