POM winner, Seasons dinner
Good morning, everyone! How ya doing?? Things are bueno over here- especially since I finally got to see my love last night 😀
Before I get into the re-cap from the rest of our Florida shenanigans, let's announce the winners of the POM juice giveaway!
We had 489 entries including tweets, and using random number generator, the following entries were chosen:
Entry #453:
A tweet from xxdeed:
I want to win @POMonline juice from @fitnessista
Comment #62:
Caitlin V. said:
I would blend it into a salad dressing with some apple cider vinegar, red onion, s&p… yum! and be sure to top the salad with fresh pom seeds!
Comment #411:
Krissy said:
I'd love to try it either in smoothies or with seltzer.
CONGRATS, ladies! Please send me your shipping info (fitnessista at gmail dot com) so I may forward it along to the POM peeps. Enjoy your case of POM juice! 😀
_______________________________________________________________________________________________________________________
So last night, Ashley and I made a stop in Orlando to pick up Bella boo and made a slight detour at Milennia Mall.
I had to snap a pic of her trunk after we were finished with this weekend's shopping frenzy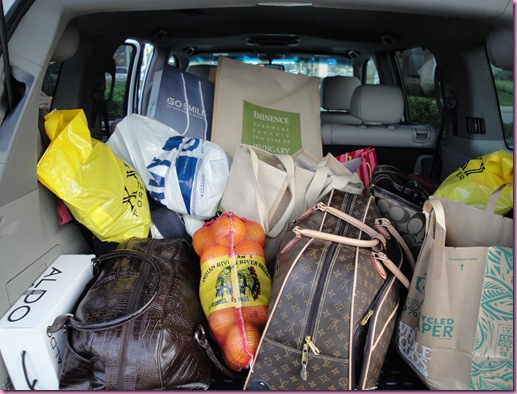 We did well, right? 😉
(we got the oranges at a rest stop—the guy gave us each a tester and they were amazing, so we decided to share a bag)
After our little blitz into the giant Forever 21 ($12.50 skinny jeans to go with my new boots. WHAT?!), we got take out from my favorite restaurant ever: Seasons 52
I got my usual Tamarind-Glazed Salmon Salad with tropical salsa, festive greens and cumin-lime vinaigrette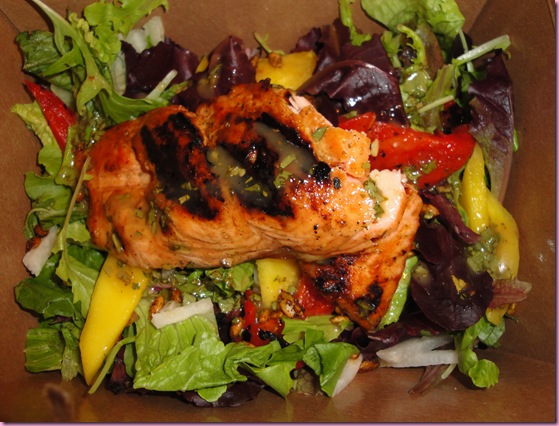 And you know I was all over the pumpkin pie mini dessert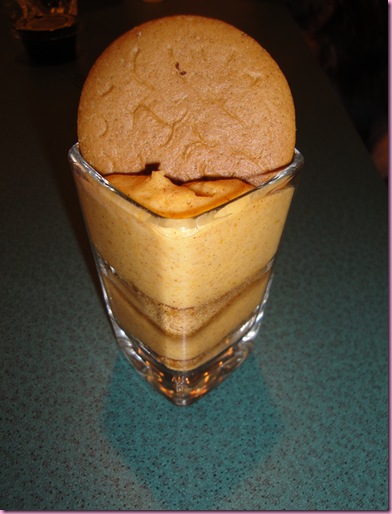 Just the gingersnap cookie alone was a giant foodgasm 😀
It's kind of a bummer that my favorite restaurant is 3 hours away, but if it were any closer, I'd probably never cook again 😉
We chilled with my aunt and cousins for a little while and enjoyed our delicious feast, then got on the road to Valdizzy.
IT WAS SO AMAZING TO SEE MY PILOT AGAIN!!!! 😀 He's kind of my buddy and I missed hanging out with him so much <3
This morning, I was hankering for some pumpkin oats, so pumpkin oats it was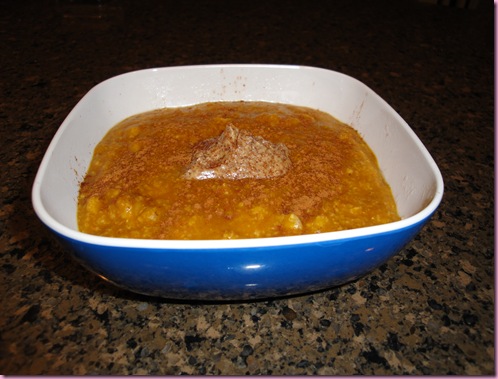 1 cup water, 2/3 cup pumpkin, 1 smashed nanner, 2 packs Stevia, vanilla, sea salt, cinnamon, pumpkin pie spice and 1 T almond butter
Paired with Snowman mug 2009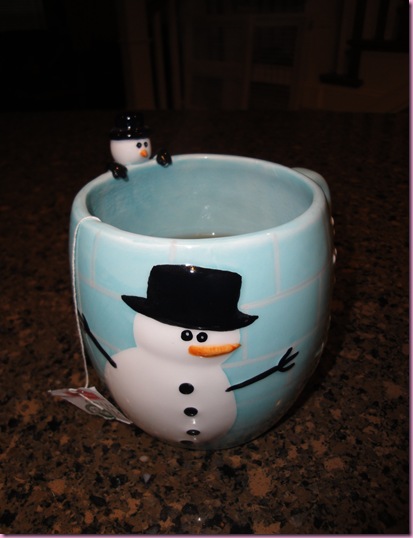 Ashley picked it, since she knows I have a deep and crazy love for snowmen, and texted me saying I had to come into the store she was in to see it. It had to be mine 😀
The best part: the little snowman peering over the top! Check out the back of his little round body!!!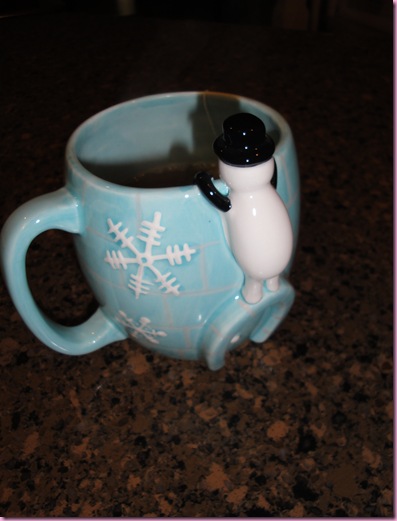 So cuuuuuuuute!
Bfast was pretty amazin'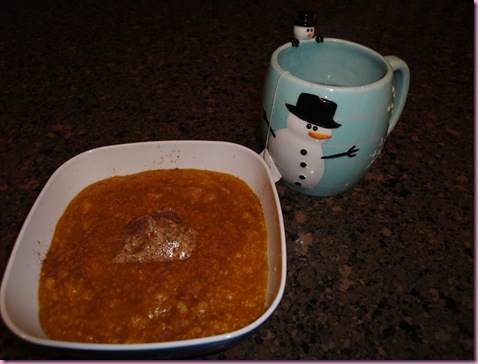 The plan for the day is:
-Stop at Publizzle (we have no food!)
-meet Jeni at the gym for shoulders, chest and triceps
-20 minutes of yoga (for sanity purposes)
-Choreograph for Zumba and teach
-Get the goods for tonight! Since the pilot was gone for his bday –it was Oct 24– we're going to celebrate tonight (he doesn't know yet…and is at work so I'm pretty positive he won't see this post until later)! Dinner (he requested chicken cordon bleu for his first meal back at home), cake (Guinness cake with Baileys frosting), a couple gifties… Should be a blasty 😀
Hope you all have a very happy Monday and I'll see ya soon!
xoxo,
G$
Something to do: Take 5 minutes out of your busy Monday to meditate and get this week started on a peaceful and calming note
From this article on meditation:

Breathe deeply. This technique is good for beginners because breathing is a natural function. Focus all attention on your breathing. Concentrate on feeling and listening as you inhale and exhale through your nostrils. Breathe deeply and slowly. When your attention wanders, gently return your focus to your breathing.
Scan your body. When using this technique, focus attention on different parts of your body. Become aware of your body's various sensations, whether that's pain, tension, warmth or relaxation. Combine body scanning with breathing exercises and imagine breathing heat or relaxation into and out of different parts of your body.
Repeat a mantra. You can create your own mantra, whether it's religious or secular. Examples of religious mantras include the Jesus Prayer in the Christian tradition, the holy name of God in Judaism, or the om mantra of Hinduism, Buddhism and other Eastern religions.
Walking meditation. Combining a walk with meditation is an efficient and healthy way to relax. You can use this technique anywhere you're walking — in a tranquil forest, on a city sidewalk or at the mall. When you use this method, slow down the pace of walking so that you can focus on each movement of your legs or feet. Don't focus on a particular destination. Concentrate on your legs and feet, repeating action words in your mind such as lifting, moving and placing as you lift each foot, move your leg forward and place your foot on the ground.
Engage in prayer. Prayer is the best known and most widely practiced example of meditation. Spoken and written prayers are found in most faith traditions. You can pray using your own words or read prayers written by others. Check the self-help or 12-step-recovery section of your local bookstore for examples. Talk with your rabbi, priest, pastor or other spiritual leader about resources.
Read or listen and take time to reflect. Many people report that they benefit from reading poems or sacred texts silently or aloud, and taking a few moments to quietly reflect on the meaning that the words bring to mind. You can listen to sacred music, spoken words or any music you find relaxing or inspiring. You may want to write your reflections in a journal or discuss them with a friend or spiritual leader.
Focus your love and gratitude. In this type of meditation, you focus your attention on a sacred object or being, weaving feelings of love and gratitude into your thoughts. You can also close your eyes and use your imagination or gaze at representations of the object.

 

(All from this website)