When I first heard about the option of cloth diapering, I was an immediate fan.
It's better for the environment, it's less expensive (disposables are no joke), and it feels better for the baby. From all around, it sounded like a win-win-win situation.
I mentioned it to my mom and she was all about it –usually she'll go ahead and tell me when I have crazy idea- because I wore cloth diapers when I was a baby, too. From all of the things I've heard about it, I was totally on board, especially from moms I've talked to who cloth diaper their children. They're serious fanatics about it.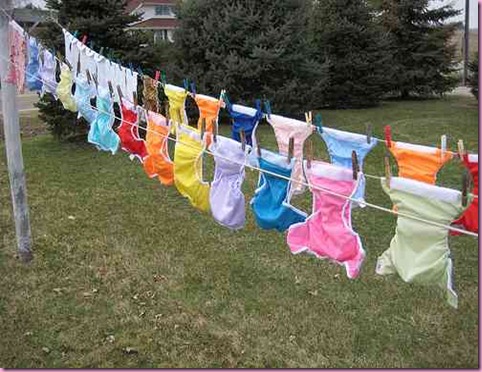 Source
So I started to read more about it to get more info,
and I became overwhelmed and well, a little grossed out.
There are SO many options out there. It's kind of insane. The different brands, the pre-folds, the inserts, the covers… with all of the other books I'm reading, it was enough to make my brain explode. It made it seem like a LOT of extra work, and from what I'm expecting, a new baby already is a lot of work and responsibility… why add more chores to the mix?
Also, I started to think about actually cleaning the diapers. Something about having dirty diapers sitting around in a bag inside of a pail (even for just one day) raised a major sanitary red flag to me, and also the thought of washing said diapers in the same washer with our other clothes. [I know the washer sanitizes the bin too, but just thinking about our clothes going into the same machine gave me the heeby jeebies.] What was a going to do when we were out and about and the baby would inevitably have a dirty diaper to change? I'm not sure how I feel about walking around with all of that in a baggie in my purse, ya know?
I was really excited to ask Sabrina about cloth diapering last night, because I feel like it's one of the things you can read about, but don't truly understand until you talk to someone, actually see the diapers, and learn what the tricks are. [I wanted to ask my madre for more tips, and while she knows how to use them, she had a diaper service so didn't have to worry about washing them.]
These are the diapers she has: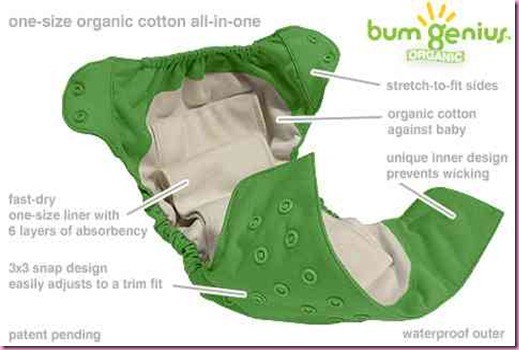 Source
The Bum Genius organic.
I love the fact that they have so many adjustable snaps (so they'll fit the baby for a long time), and they have the cover attached to the insert, so there's not the extra task of stuffing the diapers. That right there made the entire cloth diapering thing seem much easier. So apparently I put the diaper in the washer on rinse cycle, run a hot cycle, then rinse again or something like that? Obviously I need to do more research.
I'm still not sure about:
What to do about having the diapers sit around until I wash them. [I'd imagine I'd have to do a diaper load every day?]
What to do with the diaper if you're out and about.
How many to buy before the baby arrives. [What if the brand I like doesn't agree with the baby for whatever reason?]
Some solutions we've discovered:
Using our old washer for diapers only. [We have an extra hook-up in the garage, so we'll wash the diapers in there and all of our other clothes in our regular washer]
Using bleach-free disposables for a few weeks after the baby arrives to get into a groove before we start cloth diapering. We'll probably use disposables for traveling, too.
It's nice to have so many resources in the blog world, and I still have so much to soak up (pun?) and learn 😉
Did you or do you plan to cloth diaper? Any awesome tips or resources I should check out?