Hi friends! How was your weekend? Hope you had a great one! Ours was packed with productivity and fun events; the perfect weekend mix of low-key and "get it done." I also got to cash in on my Mother's Day gift: sleeping until I chose to wake up! (<— nothing says "I love you" like the gift of sleep haha.) I actually ended up sleeping until 8:40, even though I was convinced I would wake up sometime in the evening, unaware of who I was or what was happening (and on a serious mission for food). 8:40, and I felt like I had slept for 10 years.
Some adventures from the weekend:
Friday morning, Livi and I stopped at Better Buzz on the way home. We were surprised with lots of rain at the end of last week, so it was perfect Best Drink Ever and kid's hot cocoa weather.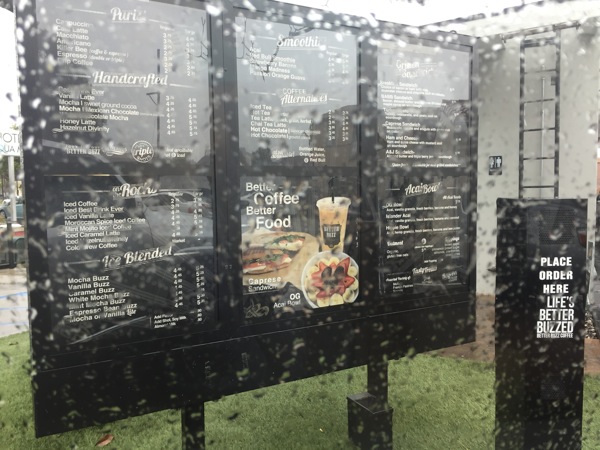 For lunch, I made giant pitaya bowl, and Liv said, "Mama, I'm so glad you made this for me" and grabbed a spoon. We like to say "cheers" and clank our spoons together.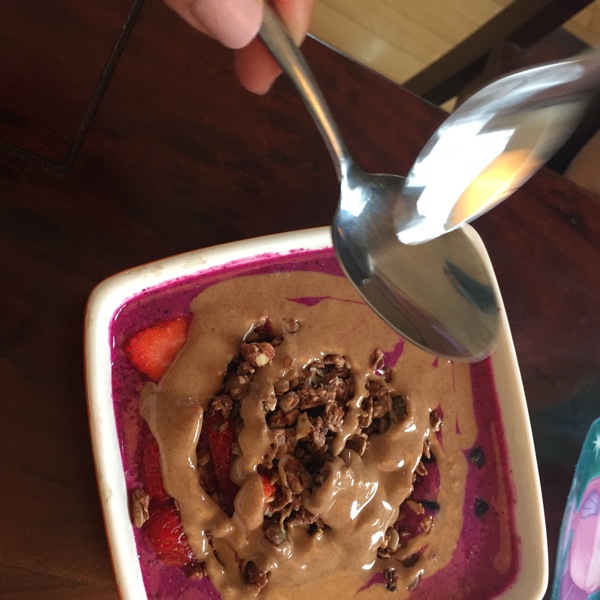 Friday night was an orangetheory class -I was feeling pretty tired, so I took it easy and still had fun- and clean-out-the-fridge dinner at home. Saturday morning, the Pilot picked me up after Zumba and we headed to a Meet the Midwives event. I will definitely recap it on the Family page; I learned a lot and was so glad we went.
Saturday was Livi's spring festival for her school, and I volunteered to bring some desserts. I made a double batch of vanilla cupcakes (using mix from Williams-Sonoma) with homemade chocolate buttercream and sprinkles.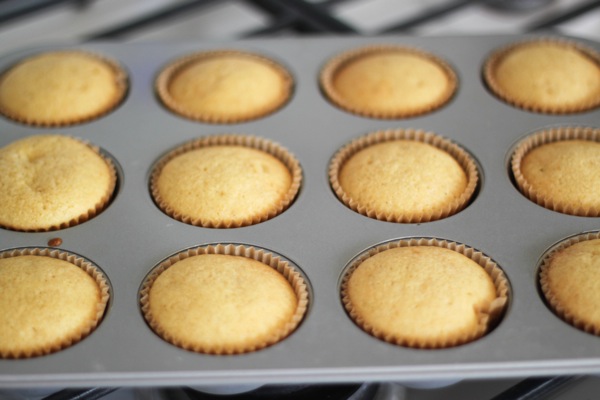 (Somehow I forgot to take a pic of the finished product)
We also stopped at Hungry Lu's on the way for an assortment of Italian cookies, including these macaroons.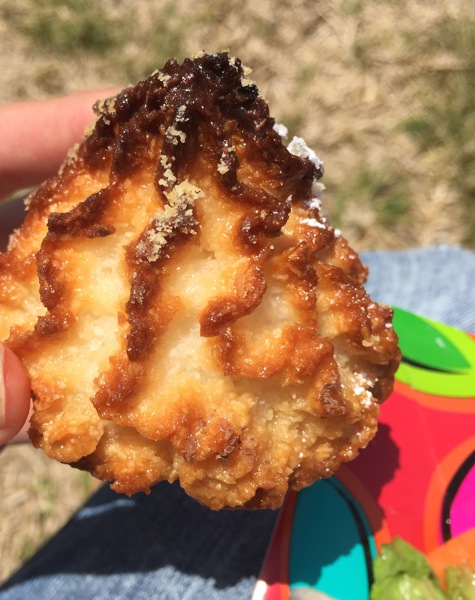 (AHHHHH)
They had jumping castles, face painting,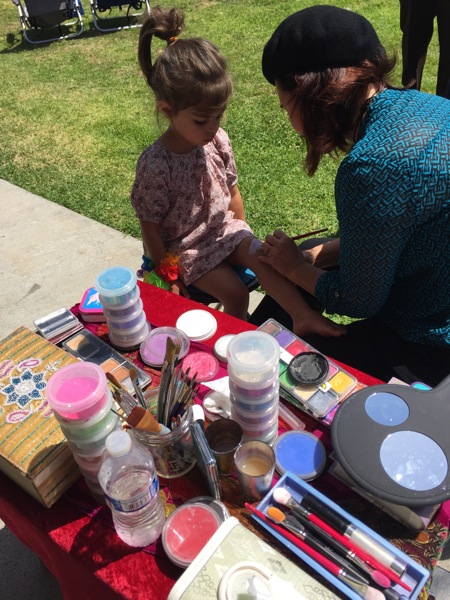 (or "knee painting." Livi got an adorable unicorn on her knee), a show by the kiddos and a raffle. It was absolutely adorable, and the weather cleared up just in time that everyone could be outside enjoying the afternoon. We took her to the same event last year, when she had just started at this school and we were still San Diego newbies. Everything still felt unsure as we were trying to navigate our new home, and it felt nice to go back this year feeling more "settled" (for now, at least). 🙂
Liv has been asking to go ice skating for quite a while, so Saturday night was the night.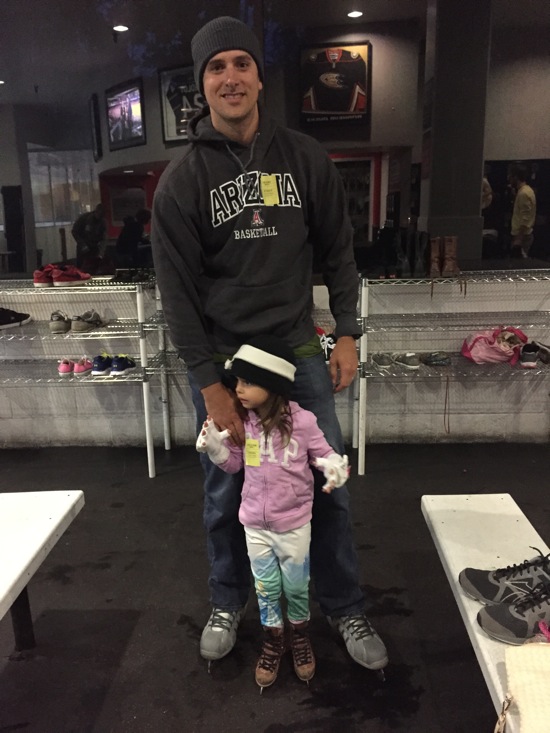 I thought it would be sad to not be out there with her ice skating -I didn't want to risk falling, and I'm already a clumsy person- but it was such a blast to watch. The Pilot held her hand as they skated around, and she LOVED IT. They also had large plastic seals that you could use to push your kiddo around the rink.
Tiny skates = one of the cutest things I've ever seen.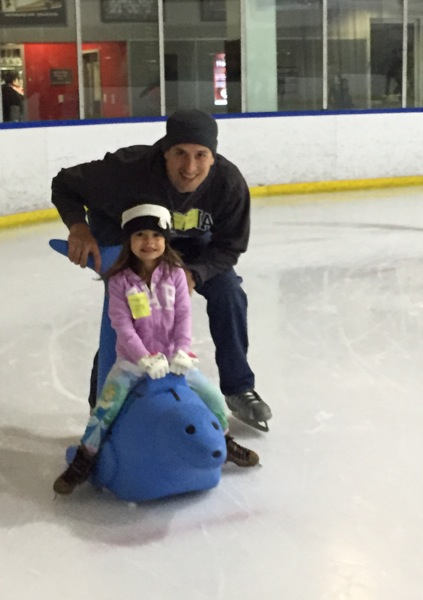 Since we were in the area and everything, Seasons52 happened for dinner. Years later, it's still one of our all-time favorite places.
We got the lobster flatbread to start,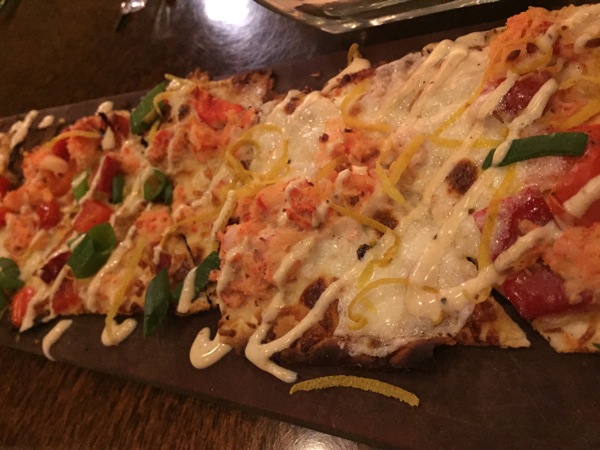 and for my entree, I rolled with the salmon salad.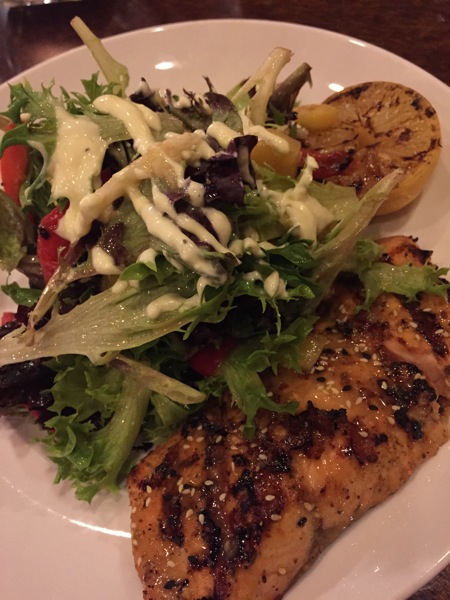 The standard smiley photo was not happening haha. Just lots of sticking her tongue out and then hysterical giggles. The best.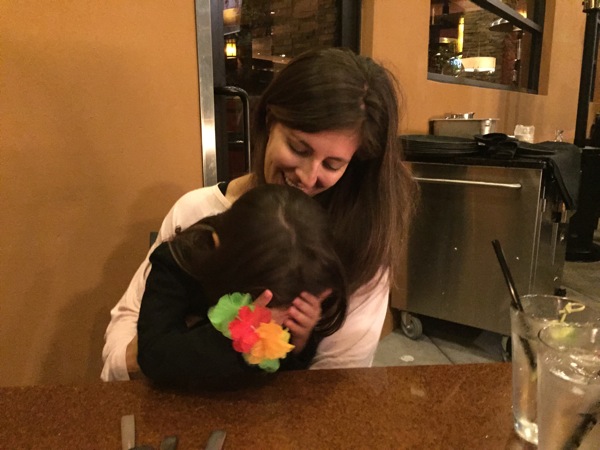 Back to the Monday grind over here! Just wanted to say hello and hope you have a great morning. <3 I'll be back later today with an insane breakfast/snack recipe.
xoxo
Gina
Check in with today's workout here!
Looking for workout inspiration? Try this barre burner and this barre strength workout with this ab combo!