Hi guys 😀 How's it going?? Hope you're having a fabulous day!
I started mine with something that's been MIA in my life for too long…
a Fitnessista breakfast cookie!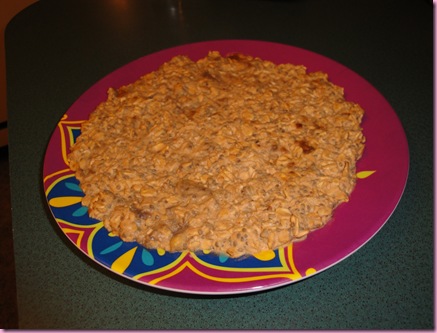 This baby had:
1/2 C oats
1 serving Nutribiotic brown rice protein (it's no Sun Warrior, but I forgot mine in Valdizzy and picked up the Nutribiotic as a sub for the week)
almond milk
1/2 smashed nanner
1/2 T chia seeds
1 T almond butter
1/2 T maca
It was amazing, and the perfect fuel for a crazy spin class. Israel, my favorite spin teacher EVER (and I've been spinning for 5 years) has an awesome Puerto Rican accent and yells at everyone during class (like, "SHOW ME!", "Go, go!!" and "keep that beat!'")—he knows almost everyone's name and while he called me Gina on Tuesday, today he called me by my full name, which is Angelina. (He pronounced the "g" with an "h" sound. Baller). It was pretty funny 😉
After spin, I did a half hour of weights (triceps, chest, back and a little abs) and then came home for protein power.
A smoothie with:
-frozen organic dark cherries
-the other half of the banana from this morning's bfast cookie
-almond milk
-brown rice protein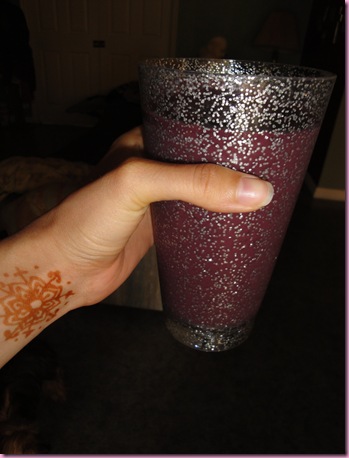 The henna tattoo looks pretty legit, huh??
I texted a pic of it to my brother, who is the tattoo king.
(910): Check out my sweet tat.

(520): You're so lame, haha.
Thanks, buddy 😉
I spent the afternoon doing some work on the computer and then met two lovely blog girls for lunch at Heaven on Earth (aka Whole Foods, or Whole Paycheck): Charlie and Katy!
I wasn't too starving since I'd had the smoothie and a copious amount of dark chocolate eggs, but I still managed to find something feast-able 😉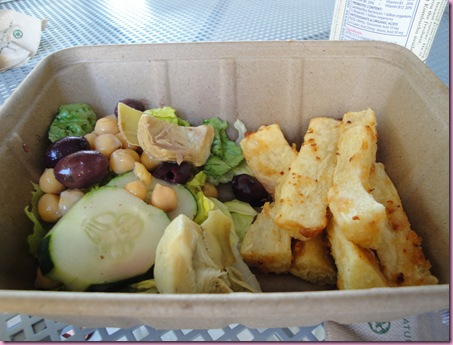 A lil salad with Annie's Raspberry Vinaigrette and yucca fries. Garlicky, starchy glory.
And some bacteria action: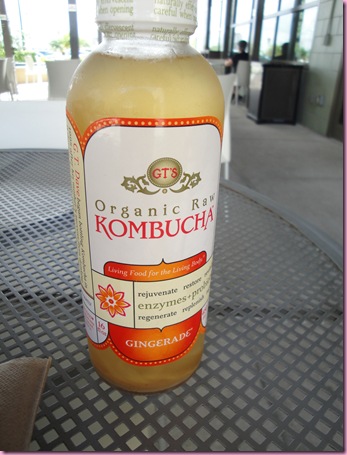 I can't believe I used to hate kombucha- it's SO good 😀 Now, I chug that stuff frat boy style… if I could crush the bottle with my hand afterwards, I so would 😉
I'm back at my aunt's casa and we're hitting up Urban Flatts for dinner.
See ya in the morning <3
xoxo,
Gina
Today's tip: While spinning, try to stand with just your fingertips on the bike. I see so many people clutching the handlebars for dear life! By easing up on the handles, you rely more on leg power (and get a better workout!) while reducing the chance of hurting your wrists.